There's Something VERY Strange Happening With STEEM and SBD In The South Korean Exchange Upbit!
The trading volume of the recently launched South Korean exchange Upbit is absolutely mind boggling. It seems that the exchange only recently revealed its volume numbers, but what it revealed is almost hard to believe.
First of all, the entire trading volume of the exchange is a little over $4 billion.
And second, STEEM and SBD are in the top 10 currencies there:
---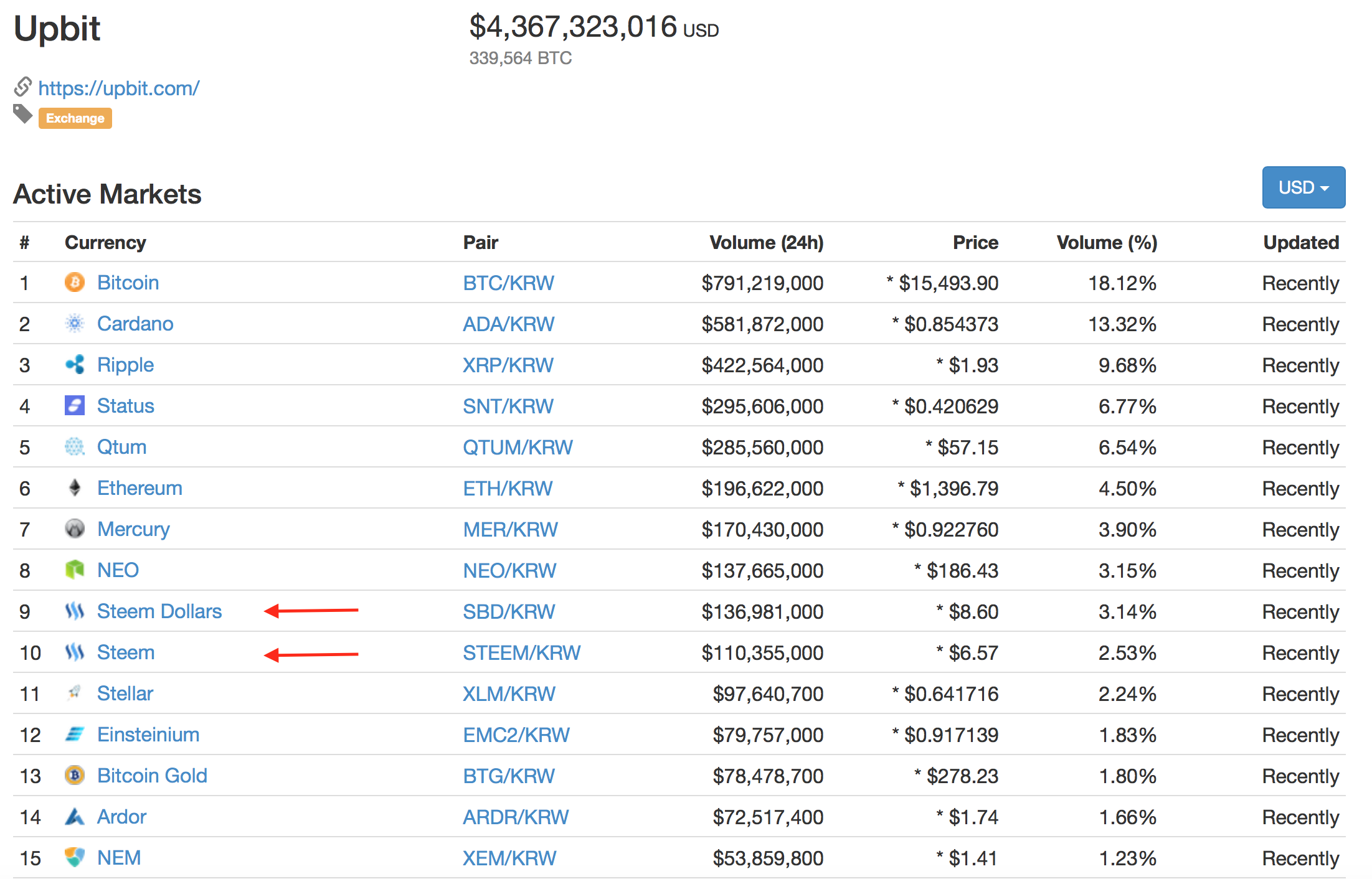 ---
And when we look into details, things are getting stranger and stranger.
STEEM has a volume of more $109 million for the STEEM / KRW pair. Which means, literally, people are buying huge amounts of STEEM with hard cash. Just to put things in perspective, this volume is ten times higher than Poloniex'. And please note that this is not STEEM / BTC, (which is still spectacular, with $13 million, slightly below Bittrex and twice as much as Poloniex), this is hard cash, people are buying huge amounts of STEEM with fiat:
---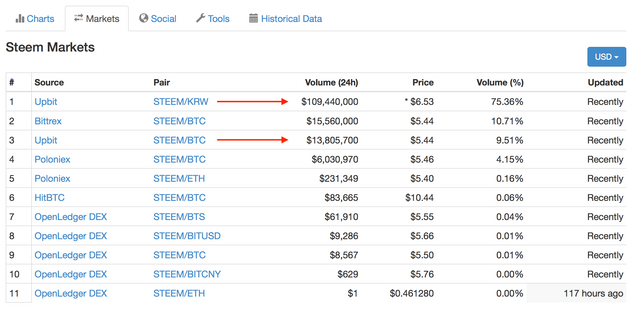 ---
As for SBD, things are even stranger: Upbit is now the largest SBD trading exchange in the world, with a volume of $135 million for the SBD / KRW pair. Again, this is hard cash, this is not crypto to crypto. The SBD / BTC volume is $12 million, 30% more than Bittrex, and 12 times more than in Poloniex.
---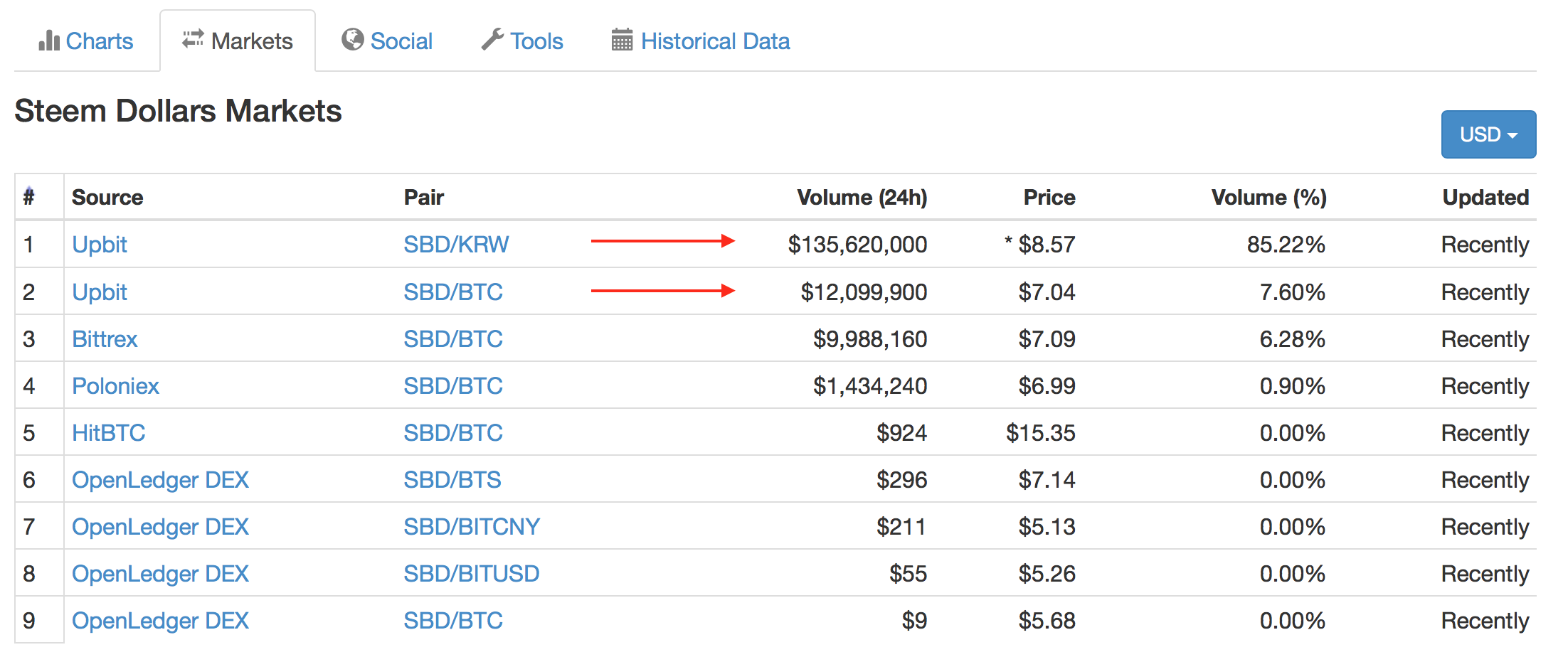 ---
The overall volume recorded by Coinmarketcap confirms this trend, shows a staggering $192 million during the last 24 hours.
---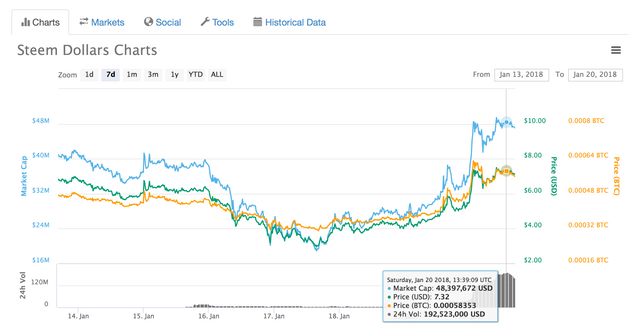 ---
I have no idea what happens in South Korea, but this is beyond a single whale trying to nudge the price in an easy pump and dump scheme. It's even more than a few whales colluding together to do a larger operation. This seems like a social phenomenon unfolding.
Without any information from the field, and with data just being revealed (hence, unconfirmed), I can only speculate in one of these directions:
volume data is fake -> this will end in a hard landing, price will crash badly
somebody is laundering hard cash via Upbit (and there's a lot of laundering going on, if this is true) -> this will end in a hard landing, price will crash badly
STEEM / SBD is seen like a better alternative than Stellar or Bitcoin Gold, which shows a surprising level of maturity from this market -> price will continue to grow
STEEM / SBD is seen like a potentially disruptive technology -> price will continue to grow
SBD has less and less chances to trade for $1 in the near future (unless point one is true, and the data is fake) -> this will impact the debt-to-ownership ratio of STEEM in the long run
I confess I'm completely puzzled by these numbers and I would really appreciate some information from some of my fellow Steemians from South Korea (or at least with some information from the field). @slowwalker? @clayop?
---
I'm a serial entrepreneur, blogger and ultrarunner. You can find me mainly on my blog at Dragos Roua where I write about productivity, business, relationships and running. Here on Steemit you may stay updated by following me @dragosroua.


---
Wanna know when you're getting paid?
I know the feeling. That's why I created steem.supply, an easy to use and accurate tool for calculating your Steemit rewards
It's free to use, but if you think this is a useful addition, I'd appreciate your witness vote.
Thank you!
---