I recently learned about a new mashup on top of the Steem blockchain: http://steemhunt.com. If you're familiar with Product Hunt, then you know what's about. If not, well, it's a directory of products (not sure if only form the Steem ecosystem or from everywhere) ranked based on the number of votes.
One of steem.supply users, @dodybireuen, just submitted the app to SteemHunt and let me know about that in steemit chat.
After looking around a bit, I learned that steemhunt is live for less than 10 days, but it looks surprisingly mature for this age.
Here is a screenshot of the homepage:
---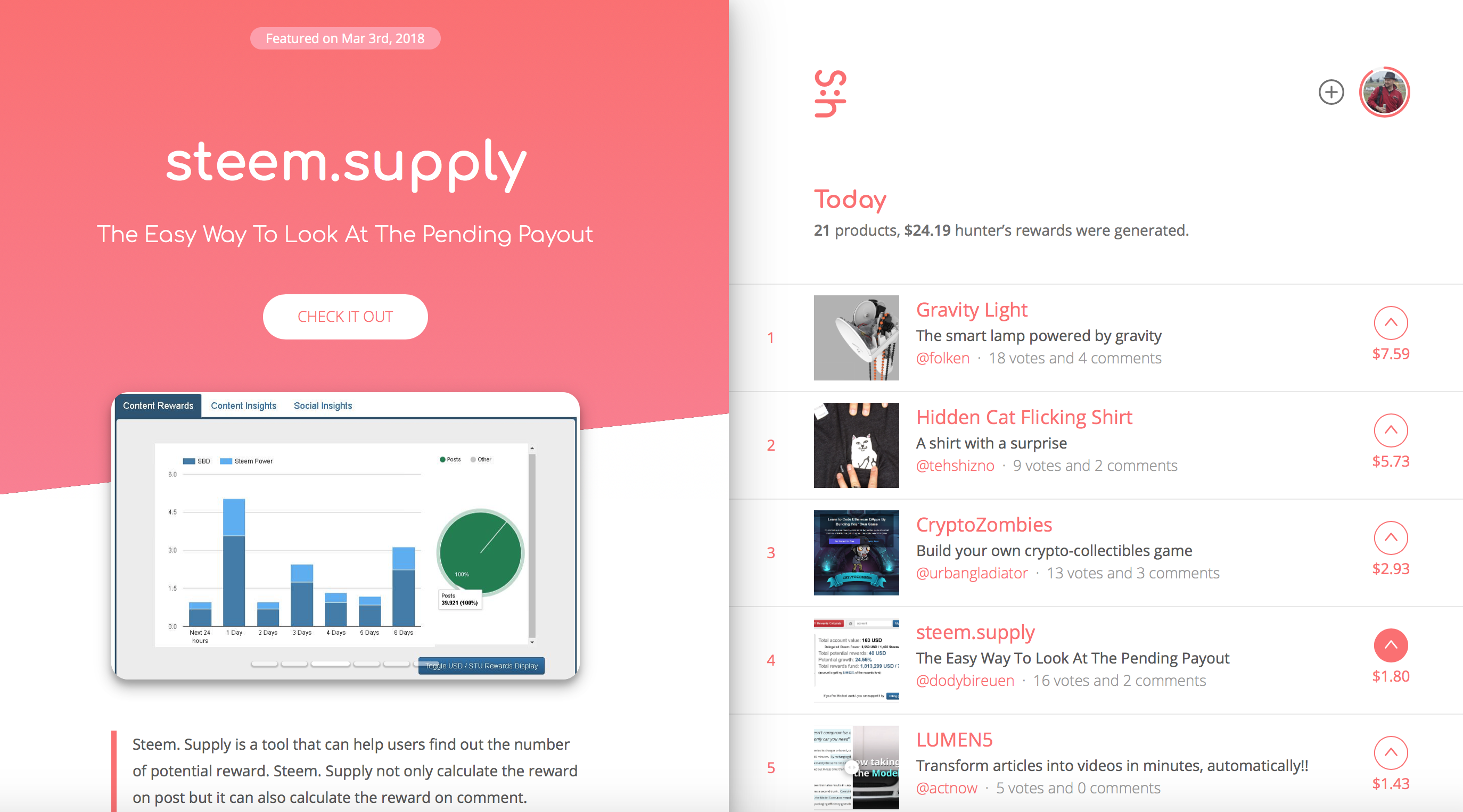 ---
What Does That Mean For You?
Well, if you know of a good product, you can just submit it to SteemHunt.com. It will help the product maker to get some exposure, and, why not, it will help SteemHunt makers to make an even better product.
And if you enjoy Steem.Supply, you can upvote the proposal made by @dodybireuen. It will help a lot, in many ways:
steem.supply will get more visibility
@dodybireuen will get a nice payout for this post (his submission acts just like a post on Steemit, it will get rewards based on votes)
I have a 5% beneficiary reward out of this - just so you know (I didn't even know about the site, but @dodybireuen thought it would be nice to share, thanks :) ).
Steem on!
---
I'm a serial entrepreneur, blogger and ultrarunner. You can find me mainly on my blog at Dragos Roua where I write about productivity, business, relationships and running. Here on Steemit you may stay updated by following me @dragosroua.


---
Wanna know when you're getting paid?
I know the feeling. That's why I created steem.supply, an easy to use and accurate tool for calculating your Steemit rewards
It's free to use, but if you think this is a useful addition, I'd appreciate your witness vote.
Thank you!
Psst: new to Steemit? Start Here