At the moment of writing, STEEM was on a significant spike on Binance, with relevant volume (approx. $200k / hour), thanks @cardboard for the heads up:
---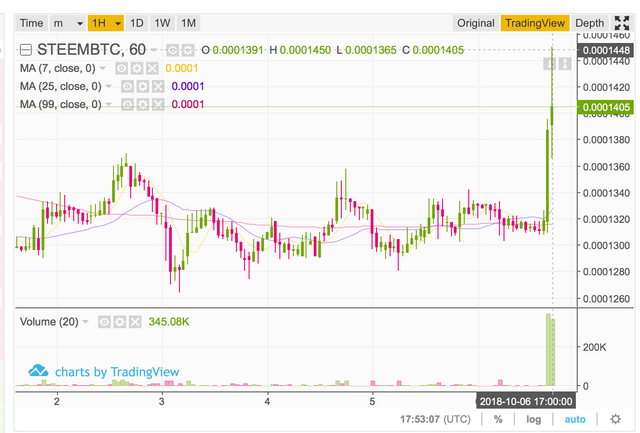 ---
Price gained almost 1k satoshis, climbing as high as 14,480 satoshis, after which corrected down, currently at 14,050 satoshis.
Interesting enough, a mirror of this move could be also seen on Bittrex, but on a smaller scale (both price action and volume). Although it didn't reach 13k, the last 3 hours saw significant volume (for Bittrex, anyway)
---

---
This may indicate some arbitrage trades, which may mean, in turn, that wallets are enabled on those exchanges.
Huobi didn't react to this move, which, again, may confirm their wallets are not enabled yet. I expect some whales would have used their Huobi stake to make a little bit of arbitrage. But then again, on Huobi, the BTC/STEEM pair was already above 14k satoshis.
---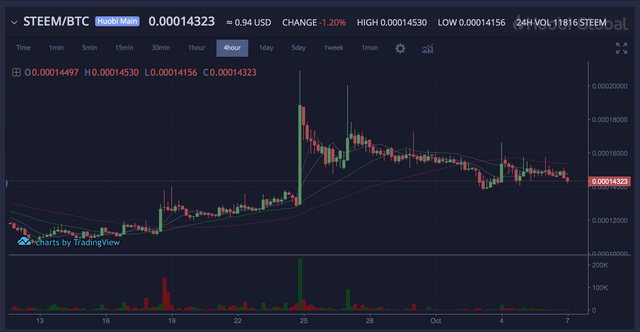 ---
All in all, an interesting move.
Later edit: Wallets are not enabled on Binance, so this looks fishy.
---
I'm a serial entrepreneur, blogger and ultrarunner. You can find me mainly on my blog at Dragos Roua where I write about productivity, business, relationships and running. Here on Steemit you may stay updated by following me @dragosroua.


---
Wanna know when you're getting paid?
I know the feeling. That's why I created steem.supply, an easy to use and accurate tool for calculating your Steemit rewards
It's free to use, but if you think this is a useful addition, I'd appreciate your witness vote.
Thank you!
Psst: new to Steemit? Start Here