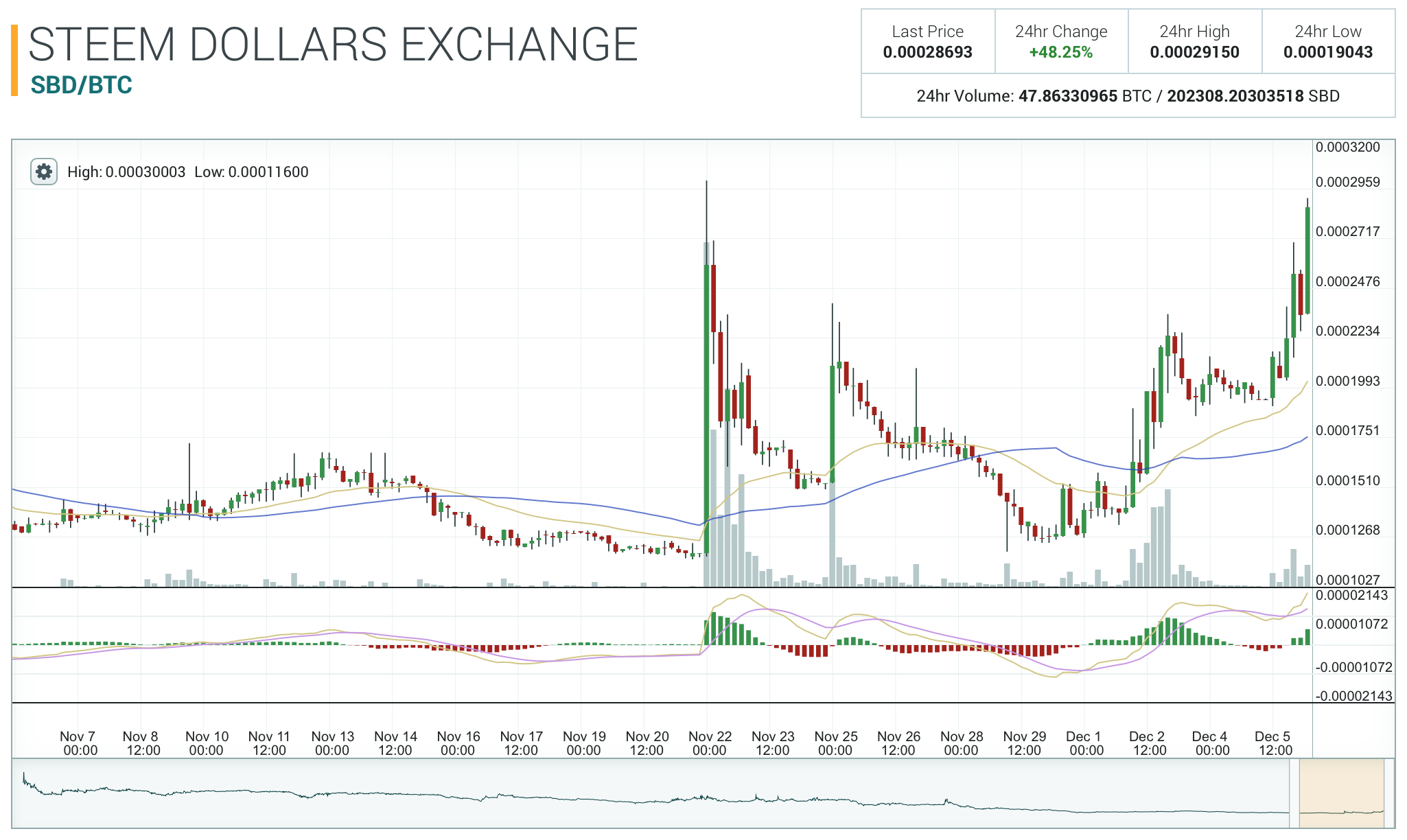 ---
As you can see from the chart above, it all started 2 weeks ago, with a very consistent volume, 406 BTC. For the next days, the price corrected but now the spikes are seen on a much lower volume. For instance, today we saw SBD almost at the highest peak reached on November 22nd, 29k satoshis, but on a far lower volume, only 31 BTC.
Another useful information is that, as of now, according to CoinMarket cap, there are only $3.5 millions SBD in circulation.
---

---
So here are my thoughts about this (as always, take it with a bit of salt, it's all speculation)
at a price 3-4 times higher than the peg, moving freshly minted SBD into STEEM is a no brainer, so I expect this trend to continue
the power of those who started the pump may weaken relatively soon: there is only $3.5 millions available, and is not all concentrated in the hands of a few (although I have no way of knowing this, I'm just assuming it)
the two above, combined, are giving a time window of about 6-12 days (roughly until Christmas) until the peg is restored (if no more moves are made by the SBD whales, or if they decide they bought enough STEEM). In this time window a lot of STEEM will change hands. The demand for STEEM created by this pump should have an impact on the STEEM price as well, so we might see it at least stable during the next week and a half.
All in all, I'm just rambling about the fact that we're going to see a much higher STEEM very soon.
Obviously, I may be wrong and I invite you to start from that point, when you're making your own analysis. Question everything.
---
I'm a serial entrepreneur, blogger and ultrarunner. You can find me mainly on my blog at Dragos Roua where I write about productivity, business, relationships and running. Here on Steemit you may stay updated by following me @dragosroua.


---
You can also vote for me as witness here:
https://steemit.com/~witnesses
---
If you're new to Steemit, you may find these articles relevant (that's also part of my witness activity to support new members of the platform):