We are back! 💎
Dear DKPromoter users
During the last few weeks I have been studying the market situation and how to reorganise my investments in order to overcome this bear market that is doing so much damage to our portfolios.
I have had to make difficult decisions, such as announcing the end of my candidacy as Witness of this community due to the lack of support at such a crucial time. However, I have regained some of the lost support and have found a possible route and redistribution of my assets so that I can continue to offer the content promotion service and as a Witness.
Unfortunately it will not be under the same conditions as before.
Initial delegation: 100000 Steem
Commission on delegation profits: 20% (for tax reasons)
With the current Steem and SBD prices the maximum bid for promoting content as of today is 3 Steem.
It is easy to understand that in the current situation it is not very profitable to delegate Steem to DKPromoter (currently around 15% return) but I am confident that this bear market will not last too long and we will be able to recover better profit ratios and, with that, the confidence of new investors.
How to invest in DKPromoter bot

Get Daily Return by delegating to the bot and earn a passive income on your spare SP while helping the Steem Community

500 SP
1000 SP
2000 SP
5000 SP
10000 SP
20000 SP
How to promote content
Send at least 0.1 Steem or SBD to @dkpromoter with the link to the post you want to promote in the memo.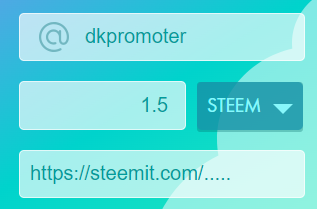 Min mana voting power: 85%
The value of the vote may vary from time to time depending on the total number of votes your post receives and the value and reputation of those votes.
This service is provided by @marcosdk Witness