Welcome in New Year! We had to write this post yet in previous year but Christmas season was hard to us 😂🍾. Let's get down to business. 30 December we shared new update, which actually should appears in 2019 year. But we figured out publish it in 2018 and now we're describing in 2019 😏. Before we go any further, we'll tell something about previous year.
2018
Thanks for this shortly year for Discutio. Short, because our app appeared 2th December as 0.1 version. For a whole December we docked to 0.4 version. That means during 28 days (2th-30th December) we shared 4 pack of fixes. We have introduced lot of bug fixes, new layout for discussion page and the most important - polls. We hope that next year we'll can write the same post like today. Thank y'all once again and happy 2019!
Introduction to Polls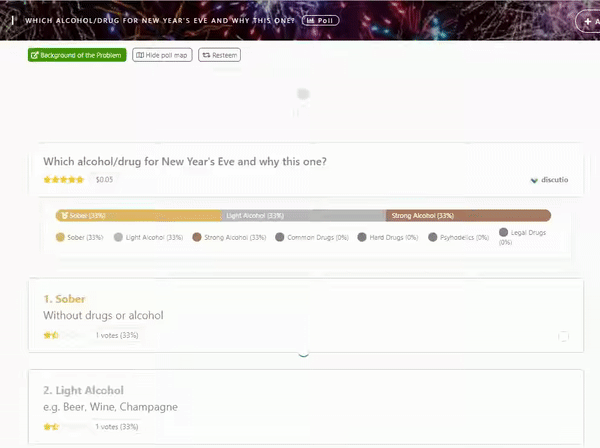 Polls feature is our most rich update. Let's start over. From now, during creating new post you will find two options: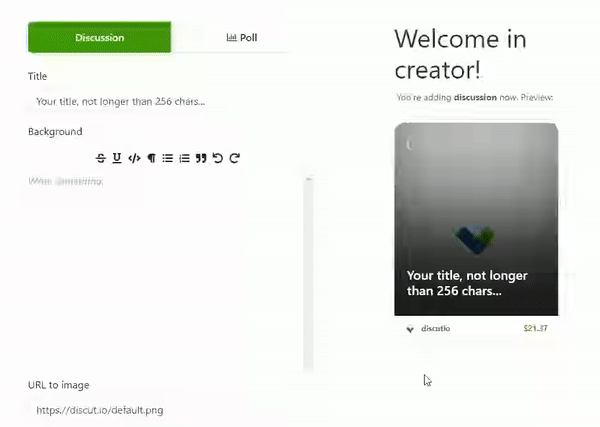 If we chosen "Poll", under description textarea will appear inputs with options for poll.
Each poll option has title (required) and description (optional). Poll must have at least two options.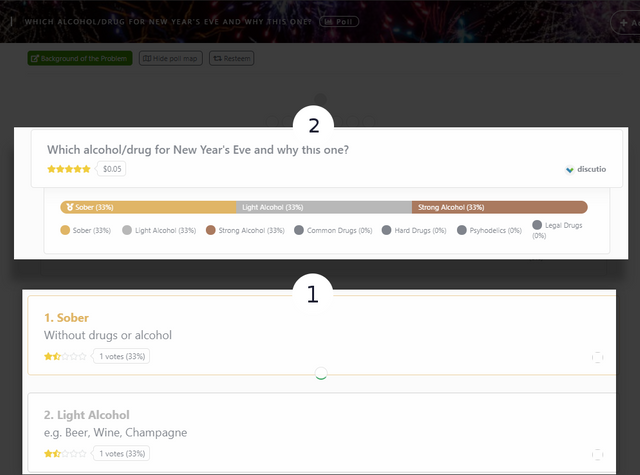 Front page of the poll has the same layout like discussion. Options (1) and chart with poll result (2). The first three options which have the most votes have colors from 1th to 3th: gold, silver, bronze. All other options (top4 and lower) don't appear on chart but will be visible on chart's legend with percentages domination.

Just like in discussion, poll has stars too. Stars is showing which option is the most popular. If you want vote in poll - to hover on stars and click "+1 vote" (just like in pros or cons). That's simple :)

We wouldn't be us if we developed "normal" polls. For every poll's option you can add pro or con and reply for them (exactly like in discussion). This is power of our polls :). Any poll's option has information about quantity of cons and pros (bottom of option's box, look at photo above)
Win free STEEMs
At the moment application received around 30 steems. We know it's not much but we want to give it for contest.
Steems earned in this post will be added to total prize money. The contest goes to 31th January. Rules are simple:
Author of element (pro, con, discussion or poll) which will earn the most, receive a total prize money (currently +/- 30 steems)
Good luck!
We're looking for partners
If you can help us with promotion Discut.io - leave a comment or send transfer with information (not donate!). Perfect partner must have good reputation and many of readers. We can offer you participate in beneficiaries of our app (lifetime or specified period of time).
What's next?
Layout for mobile devices,
Mobile app for Android and iOS
Other changes in 0.4v
Text format in cons/pros repaired,
Non-directly comments in button. Previous version was too big,
Code refactor, small bugs,
Auto-vote while adding new con/pro/discussion/poll disabled.
Check recently created discussions and polls
Is violence your go to tool when things don't go your way?
[poll] What is your favorite gaming platform? On which you spend the most time?
[poll] What kind of movies do you like?
Internet Censorship
[poll] Which alcohol/drug for New Year's Eve and why this one?
School Is brainswasing and should forever be cancelled?
[poll] How old are you?
Is Individual Change The Only Way To Change A Society ?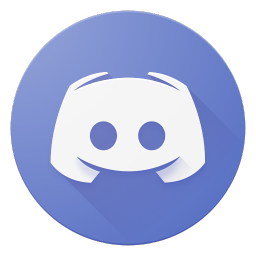 Join to our discord