What is State of The DApps?

It is a website that brings together a collection of Decentralized Applications (DApps) all in one place specifically for the Ethereum, EOS & POA blockchains.
This, however, changed a couple of hours ago after Rosanne Dubbeld or @soyrosa on Steem made a request on Twitter to have DApps on Steem added on the website.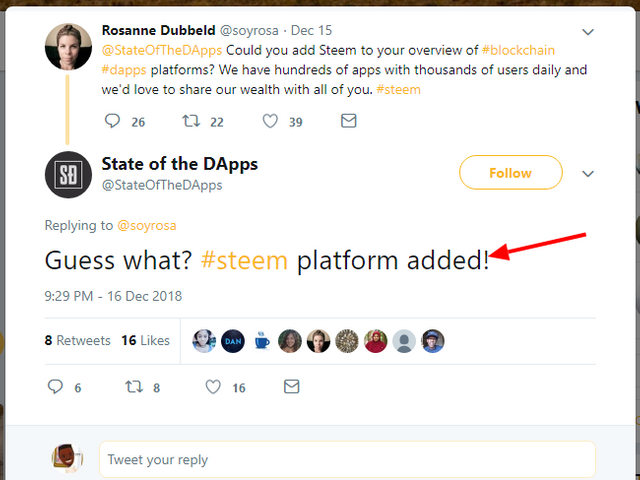 This is quite a simple and incredible achievement for Steem because it shows that not many people know enough about Steem past the fact that it is a blogging platform. Not many people are aware of the many applications that can be launched on the Steem Blockchain now and in the future when the SMT's are launched.
This is a step in the right direction to bring this information to the forefront so more and more developers and investors can come in and build the value of the blockchain with new ideas and funds. The fee-less transactions are particularly attractive especially for people who have developed DApps on other blockchains such as Ethereum.
How can you play your part?

Even though Steem DApps have finally been listed on State of the DApps Website there is more you can do to spread the word.
Head on over to the Rosanne Dubbeld's post on Twitter and drop a like, a comment, a share and/or a retweet to help push it out there in front of more eyes.
I have gladly done my bit shouting out one of my most favorite DApps on Steem, Steem Monsters.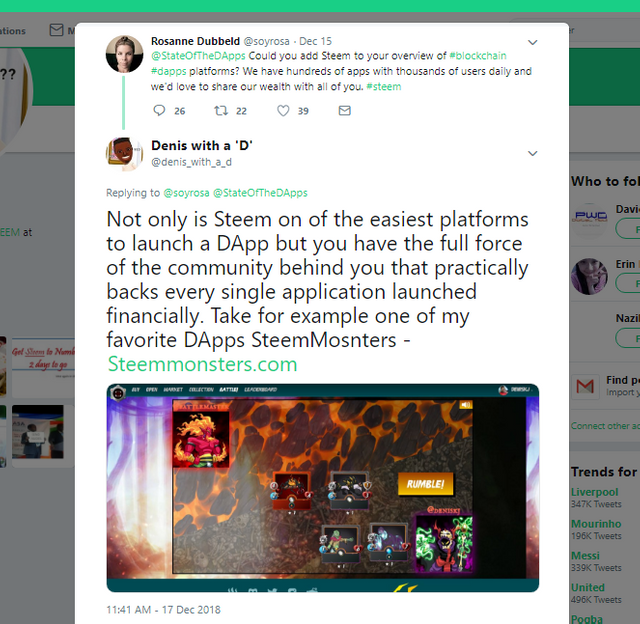 Steem Monsters is an incredible store of value and entertainment especially if you are a minnow struggling for votes. You can easily make a couple of Steem daily by selling a couple of monsters on the Market that you receive through rewards from Daily Quests and Season Rewards.
Take a bit of time out of your busy schedule to complete the task and help build Steem back up one brick at a time.
Have a lovely day, people.