Delegationhub.com Steemit market update November 2018
In the last 3 months delegationhub.com has increased its user traction in a consistent manner. We see this as a confirmation from you, the STEEM community, that we are on the right track to reach our goal which is to provide a superior service to you. In today's short update we would like to share the numbers behind our growth.
Delegate Steem Power at lowest fees!
For those of you that are not familiar with delegationhub.com: We are striving to become the leading delegation market for all DPOS utility tokens incl. STEEM. We developed the platform with the goal to provide a smooth interface at minimal fees.
5% Delegator fee only (in contrast to 10% from other platforms)
Ongoing Christmas competition: Delegatee & Delegator rewards in November / December
Be part of the change and visit our Steem Power delegation market. We would like to welcome you on our platform!
Delegationhub.com steemit market development
After a slow start more and more people got to know our platform and consequently, the growth has been accelerating as we expected it. From your feedback we know that the simplicity and transparency is mostly valued among others. We take that as a confirmation that we are on the right path and will continue to develop delegationhub.com accordingly. Thank you for using our service!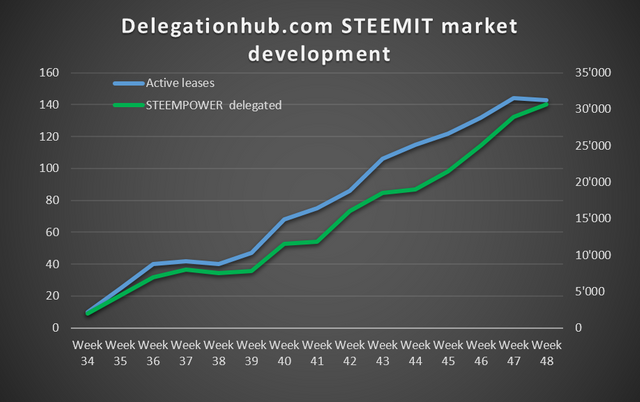 About Delegationhub.com
Delegationhub.com is striving to become the leading delegation market place for selected Delegated Proof of Stake (DPOS) utility tokens such as STEEM and EOS. The Delegation Hub aims to connect different stakeholders of the STEEM and EOS ecosystems and thereby foster the growth and strength of communities and help them succeed. Delegation Hub is an independent initiative not associated with any block producer and self-funded.
Please get in contact with us via the channels provided below and visit delegationhub.com.