Delegatees! Get additional 2 Steem Power for every 1 Steem invested
We want to wish you all a successful start into the new year! This January, we have a special promotion for all our loyal Delegatees. Get additional 2 Steem Power for every 1 STEEM invested via the Delegationhub.com Steem Power delegation market!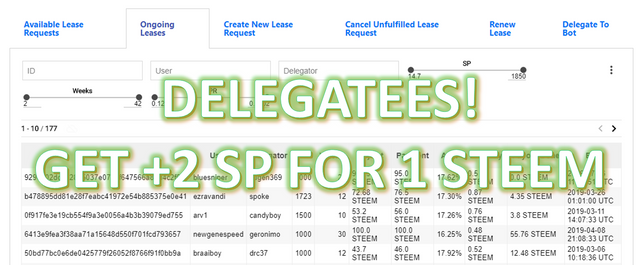 Delegatee booster: + 2 SP for every 1 Steem invested
For every 1 Steem paid by you for SP delegations, we will delegate additional 2 SP to you during the entire month of February.
All your payed Steem from filled lease requests are summed up at the end of the promotion period.
Minimum 50 STEEM investment required (total of January) to qualify for the promotion.
Promotion period: 01.01.2019 - 31.01.2019 UTC
Example: Delegatee A has 7 lease requests filled in January that cost him 178 Steem. Delegationhub will delegate additional 2 x 178 = 356 Steem Power to A during the month of February.
For detailed information and the overview of the current leader board please visit our delegation market rankings.
Happy Steeming!
About Delegationhub.com
Delegationhub.com is striving to become the leading delegation market place for selected Delegated Proof of Stake (DPOS) utility tokens such as STEEM and EOS. The Delegation Hub aims to connect different stakeholders of the STEEM and EOS ecosystems and thereby foster the growth and strength of communities and help them succeed. Delegation Hub is an independent initiative not associated with any block producer and self-funded.
Please get in contact with us via the channels provided below and visit delegationhub.com.