What does a Steem app have to gain from attending a blockchain conference?
If you haven't heard by now, @steemcreators is partnering with Steemit, Inc. to bring you the initial Global Block Builders conference in Steemit's home town of Austin, Texas this April 10-13th.
Global Block Builders is an opportunity. This is a 4+ day conference that will bring the strong community that Steem has to the enthusiastic investors, students, and established blockchain companies that will attend the conference.
So what does this mean for Steem apps? Steem apps have the opportunity to expand beyond the Steem ecosystem. Get their name and product out there to more people and more blockchain companies that have been around for much longer and know how to expand their business model. Not to mention, Austin is a rising giant in the tech industry.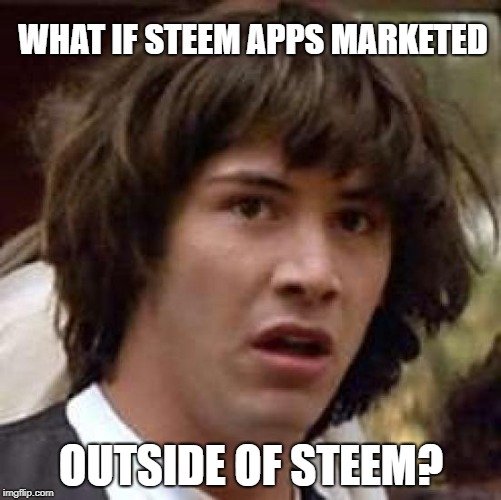 Network outside the Steem blockchain. Get UT students to play your game, @steemmonsters and @magicdice, or start recommending products on @steemhunt. Get people to start uploading their awesome videos to @dtube instead of Youtube. Do you think there are any startups in Austin that might need some crowdfunding, @fundition? Help normies get rewarded just for walking, @actifit. @steemstem, I'm pretty sure it'll be easy to find STEM professionals and students at a conference in Austin, what do you think? @appics, do you think you anyone takes photos/selfies with their phone in Austin that might like to earn money from it?
Shall I go on?
This could positively impact the whole of the Steem community, not just apps.
Here's a statement from Steemit, Inc.'s Director of Content, @andrarchy:
After getting to know the team behind this conference, it became clear to me that they understand entrepreneurship and marketing and this conference is really geared at bringing that knowledge to those trying to build blockchain-based businesses. I think that's exactly what this space needs, which is why I can't wait to attend. - Andrew Levine
So, Steem apps, if you'd like to join the likes of @andrarchy, myself, @steemcafe, @llfarms, @birdinc, @coruscate, @steembasicincome, @captainbob, @jongolson, @maryjaney, @kenmelendez, @larrymorrison, @freedompoint, @thehoneys, and more at Global Block Builders, here is the website again: https://www.globalblockbuilders.com
Email me personally at cryptosupertramp@gmail.com to get you set up with a speaking spot. While you're at it, invest a little for a table so that people will COME TO YOU. Look at that, you won't have to try to hunt each prospect down that way.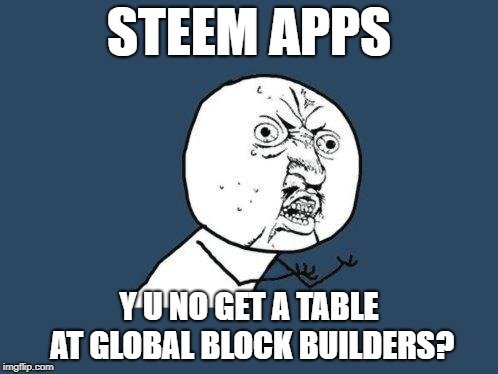 This is where I spam tag all the apps so that they might see this:
@steemmonsters, @esteemapp, @steemhunt, @partiko, @busy, @magicdice, @dpoll, @dtube, @smartsteem, @actifit, @steempress, @steempeak, @share2steem, @dclick, @steepshot, @fundition, @tasteem, @dsound, @vimm, @musing, @utopian-io, @engrave, @the1ramp, @steemstem, @steemgigs, @spunkeemonkee, @scorum, @discutio, @knacksteem.org, @stemq, @smokenetwork, @dlux-io, @steemit-casino, @zappl, @appics, @oracle-d, @sndbox
Upvote and resteem this for exposure if you think Steem can benefit from this.
Have a blessed day. Sincerely,
Grandmaster of Corporate Sponsorships, Global Block Builders