STEEM - The support line has been broken
Hello all,
Here is the chart of yesterday :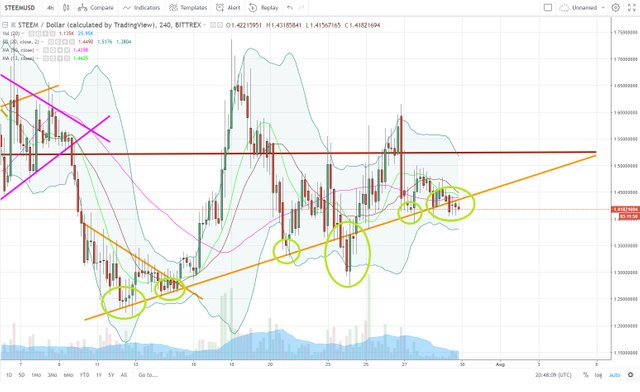 Here is the current chart :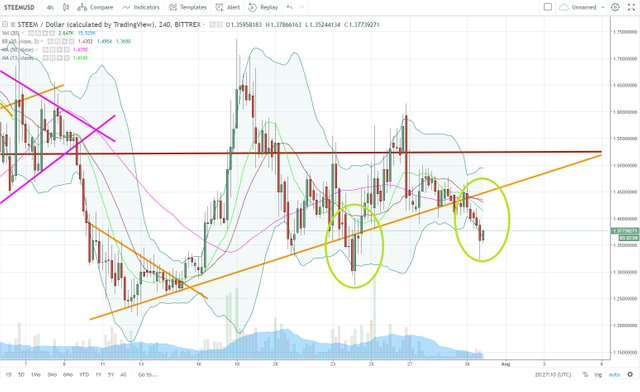 Unfortunately, with the correction on the BTC, the STEEM also broke it's support line. The difference with the BTC is that the BTC is already back to its previous level before the correction but the STEEM has more difficulties to do the same...
It is really like if our altcoins are suffering a lot from any little correction on the BTC. This is really a good period to buy altcoins because I think the difference between altcoins and Bitcoin is becoming too much important. At one moment, they will come back powerfully.
So for the STEEM, let's see if the break is confirmed. If this is the case, we should go quickly around 1.30$ et perhaps even lower... If we are able to come back upper than the orange line, nothing is lost.
I wish you massive profits,
Cryptopassion.io
Disclaimer : Never invest more than what you can afford to lose. This post is my personal opinion, do your own research before making any investment decisions. If you make any trades after reading this post, it is completely in your responsibility. I am not responsible for any of your losses. By reading this post you acknowledge and accept that.

Are you looking for a user friendly way to exchange your cryptos in £, $, € ?
Do you want them spendable directly via a dedicate plastic Visa card ?
Do you want receive back 0.5% of your spending in Bitcoin ?
I recommend you the platform