The Truth About Ridiculously High Steemit Payout
This is an article attempting to explain how I got such a high payout in such a short time.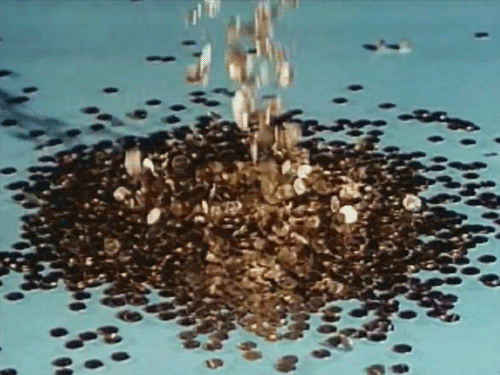 Hello dear Steemians
As of today, I am the number 1 content creator on steemit.com in terms of payout. I do not write this article to brag or to boast but to reflect on how a guy that is not a whale (actually #698 on the richlist and falling) and to top it off, has English as a second language can do something like this. I will openly admit that I am not the best writer and that I probably have a lot of grammar mistakes in my articles.
So how could I have generated such a ridiculous payout in such a short time?
In this article, I am attempting to answer that question so that anyone who is interested in having similar results can replicate the formula that I have used.
1. It's not about how much you work on your article

Some people get pissed because they work hard on a piece of content and then get very low payout. It's similar to the marxist idea of the labor theory of value. How much you work as very little to do about how much you are going to be paid. After all, Steemit, work under Subjective Proof of Work, meaning how valuable your content is, is in the eyes of the voters...not you.
2. If the word for real estate is "Location, Location, Location"...
...in the Steem world the word is: "Reputation, Reputation, Reputation". You basically have to build a brand by demonstrating that your contribution is increasing the value of the Steemit.
How does one increase his reputation?
There are many ways to do this and you have to use your own skills and talents. Some are just such fantastic writers that they can simply write and have votes pouring on them. If you've read @stellabelle or @donkeypong, you'll know what I mean.
Be courteous whenever you reply to post and add value to the conversation. If you don't like an article, sometime it is better to not comment than to write something negative. You don't want to make enemies who would downvote you in the future. Keep your downvotes for spam not for opinions you don't like. Remember, you are acting on a public unalterable ledger (a blockchain). Whatever you say will remain. Think twice before writing something negative.
I would suggest anyone who's looking to increase his influence and reputation to join the Slack channel of Steemit. Then create connections while following the best tips I've ever heard on how to get what you want:
"If you can help enough people get what they want...you can get anything you want".
Don't go on the Slack Channel to get but to give. Give as much of whatever people on the Slack channel needs and you will never be chasing after votes.
If, for example, you were a french person who would like to do a translation of the whitepaper, create tutorial videos, bring in big bloggers name, etc. You would get my votes for a long time. I would probably even ask you to send me a private message everytime you post content so that I can support you.
If you want to know more about how to become more influencial and increase your reputation, I would suggest you read my cliffnotes on the 6 principles of influence here.
3. Make your article irresistible to click on
If you have ever been at the checkout counter waiting in line at the grocery store, I am sure that at least once, you've picked up one of those tabloid magazines. But why? Next time you find yourself in that situation ask yourself that question.
But here are a few queues:
The image was appealing and peaked your curiosity
The headline was weird, interesting or shocking.
The topic interested you
In some way, shape or form, the cover of that magazine stirred up your emotion enough for you to take action. That's the same kind of effect your want when you create a piece of content (if you want to maximize payout). If you do it well enough, people are even going to vote up even before they've read it.
I like to use animation as the first image of my post. It makes my thumbnail stand out from the crowd. Also, I come up with many headlines for the same article and choose the one with the most "humph". People complain about clickbaits as being something negative. It's only negative if the article that follows is low quality and vaguely related to the headline.
In short, you want to have a seemless message. From the thumbnails to the conclusion of your article.
4. Create High Value Content
Like I said above, value is in the eye of the beholder and is completely subjective. But here are a few queues to help you find out what is most valued at any given time.
- Pay attention to Trends
Go in the "hot" section and look at what is being upvoted. Look for patterns. Is the "introduceyourself" type of post hot right now? Maybe you should jump on that train since it's an easy one to jump on.
Also, on the Slack Channel there are many conversations that people have that can be a great inspiration for topics that are important to the most active members of Steemit.
- When you find a topic or trend that is hot, deliver more than anybody else
Let's take the example of an "introduceyourself" post. If you basically drop 3 lines, you probably won't get a big payout. But if you go full out about your life, your dreams, your goals, your experience, your connections along with a picture of yourself...you bet people are going to upvote that!
- Format Properly
Your article must be easy to read and pleasing to the eye. At this point in time, steemit.com uses markdown. It's very easy to learn and you can read this guide to help you liven up your post.
Also, leave plenty of whitespace and make your paragraph short.
There are many interesting post on this topic already. Make sure to visit the #writing tag for some tips on how to become a better writer.
- Practice, Practice, Practice
When I first started my career as an internet marketer, I started with a blog. I literally blogged everyday for more than a year and I only made a few hundred dollars. But what I've learned in the process was much more valuable. I've learned how to write in a way where my readers genuinely feel like I want to help solve their problem.
My focus is outward and I constantly try to examine how the reader would react to my word in a positive way. With practice, you can do it too.
5. Promote your content properly and build a following
I am surprised by how many people have come to Steemit because of my articles. That's because whenever I write a post I believe would interest people outside of Steemit, I promote as far and wide as possible. Many of them now follow my writing and also help build my reputation.
So if I write an article, I want it to:
Rank on the Search Engine
Get picked up by people on social media
If you are here for the long run, once you publish, follow the cheatsheet below.
Upvote Yourself!
Ping your post with Pingler
Send an email to your email list if you have one
Pin the image you are using as your thumbnail on Pinterest with this plugin
Craft a smart tweet linking to your blog (use hashtag and tag people when relevant)
Share on your facebook wall
Submit to Digg
Submit to a related category on Reddit
Conclusion
I have tried to distillate to core fundamentals of how you can gather a ridiculously high payout on Steemit. In short, build your reputation, follow trends, provide more value, touch people on an emotional level, practice and promote.
NOW, is the time to take action and apply those simple principles.
Good Luck!
(Labor Under Correct Knowledge)