In the beginning I earned around 3 STEEM per day from the daily reward based on drug production, and now it has gone below 0.2 STEEM. I'm not upset about this as I knew from the beginning this was going to happen based on the way the reward structure was set-up. The second reason why I can't really be mad, is that I've reaped a massive 215% return for my investment: I put in 23.359 STEEM, and have ended up getting 73.517 STEEM back from the game so far, 50.158 of which is pure net profit.
But of course now you should not buy anything from the game with Steem as it is so late by now: 2 months – more like 2 years in Internet time – since the game started, so what you put into the game, is likely never coming back. This is, of course, with the assumption that it's money you're after, which most of us probably were – I at least was – but if you like the game itself, it's not much different than spending money on something whatever you can get in Candysaga, Kingdomhearts or whatever mobile games there are. The names might be complete nonsense as I don't play any mobile games.
When putting all my drugs into heist, I can still get something around 0.3 STEEM per day. But when I've gotten similar amounts just by curating a single post, it's getting close to the point where it's hard to justify putting the time to even make the few clicks a day for that little STEEM, since, like I have said: I don't really like the game itself, I just like the STEEM I was getting out of it.

And when counting all the rewards from a single day, I'm consistently earning more just from upvoting content (although some of it with auto-votes).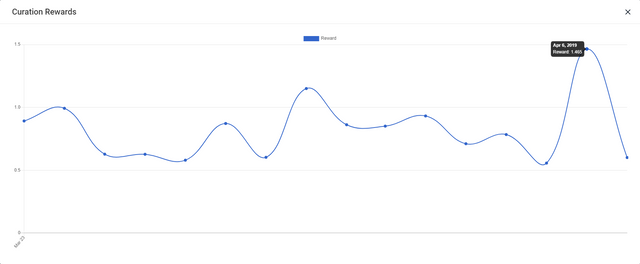 And the great thing is, that curation rewards are only going up along increased stake and voting weight: it's all compounding. Meanwhile Drugwars just keep going down.
Though it's kinda amazing they're still at the top of the State of the DApps.

But I guess that only confirms the appeal people have for games. I wonder how low the dose must get until I decide it's not worth it to even push couple of buttons... or is it that addictive that I'll keep coming back even for a single cent?