We have reached a 1000 raffles already?!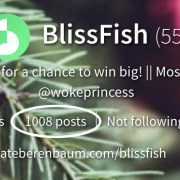 You guys are the best and we all want to thank you for the continous support that we have been given. The continuous raffle entries are one of the ways you all show that this really means a lot to everyone here.
We have met so many wonderful people through @blissfish and we must say that it really feels great! The love and passion is what makes the community strong!
In order to return the gratitude, we'll keep hosting raffles as long as we can!
---
Blissfish was originally created as a small blockchain project, more proof of concept than anything else but it quickly grew into something bigger than we ever dreamt of. Here's to becoming bigger, better and a household name!
Leave a comment if you've won a BlissFish raffle!
---
Thanks to you all, our team is also rapidly expanding! Please welcome
@rw20x
and
@meowgan
---
Lastly, if you aren't already a member, join our community by sending 0.003 Steem or SBD to
@blissfish
with a post URL in the memo!
---
Thanks, the
@blissfish
team
@tbaumer2
,
@steemitqa
,
@lightestofideas
,
@meowgan
, and
@rw20x