The crypto-currency market cap sites are showing Steem as the #3 crypto by market cap.
It's been a source of pride and excitement to watch Steem climb the charts and challenge some of the more established cryptos.
But there is reason to question the accuracy of the figures being reported. They appear to be much higher than I would expect, given the amount of liquid STEEM in circulation.
Both http://coinmarketcap.com/ and https://coincap.io/ are showing an available supply of 90,707,969.

This data is clearly dated. The current figures as reported by http://steemd.com/ at the time of writing are: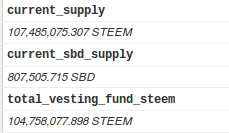 The current_supply is 107,485,075.307
However, the bulk of the supply is Powered Up...
current_supply minus total_vesting_fund_steem should give us the amount of Steem that is in a liquid state, available to be traded.
107,485,075.307 - 104,758,077.898 = 2,726,997.409
So 2.7M STEEM is sloshing around in a form that could be sold on an exchange.
Plus there is another 807,505.715 SBD, which represents
feed_price: base 3.703 SBD quote 1.000 STEEM
...about another 218k STEEM.
For a total of 3 Million available. That's less than a $12,000,000 market cap of liquid Steem.
But there is another consideration...
The Worth of Steem Power
There is a much harder thing to quantify, and that's the actual value of Powered Up Steem. The vast majority of Steem users have opted to invest long term, which could mean a few different things.
They...
have faith in the platform
see the potential for growth
think the market undervalues STEEM
enjoy using Steemit
never bought STEEM and earned it as SP
Or maybe something else entirely...
This makes is almost impossible to quantify. It's clear that Steemit users value Steem Power a lot. But it's subjective and based on a wide range of expectations, hopes, and fears.
Is that worth $325 million? Could it be worth more? It's a discussion we should be having! Please comment with your thoughts.