Making some STEEM commercials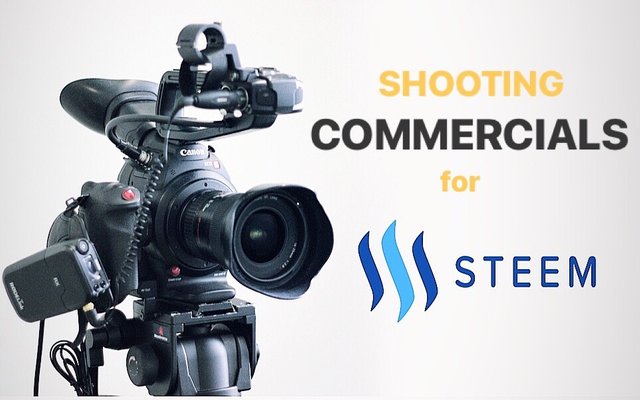 Hello all, just wanted to do a post looking back after the dust settled on the incredible momentum that was the #60secondsofsteem video advert campaign.
I want to say that I'm properly inspired to keep on making commercial videos for us Steemians to use to push our wonderful network far and wide.
The reaction from the community to @surfermarly's fantastic video initiative was incredible and I'm sure I'm not alone in saying that it was humbling to see such positive support for our little 60 second videos that came out.
It appears that the STEEM community morale is very strong at the moment (as is the token getting stronger too), so this kind of 'commercial' video content seems really appropriate as a resource for us to use right now.
I've also had kind and encouraging words of support from Steemit Incs very own @andrarchy, to keep doing my thing
It's very positive to know that STEEM might get behind my work (as long as my work is not total rubbish, obviously)
What's next?
It's still early days, but I'm voluntarily scripting and planning a couple of 60 second-ish videos for me to shoot and produce in the very near future; of which I want the tone to be simple, engaging and lighthearted with a clear message.
I want to show the world what they're missing.
I'll sure make the videos in a similar style to my original 60 second entry, here..
I want to keep the simple voiceover and filmic shooting theme as I feel that style comes across quite easily.
I'm thinking a little deeper into who we should be aiming these videos at too
I believe there are plenty of new signups from ordinary folk who want to join this 'new kind of social media'.
It's fantastic! It's makes a stronger community.
But what also became clear during (and since) the #sixtyseconds campaign, is that that instead of aiming the video towards the broadest public there is (which was entirely my first videos intention) it's going to be more productive to be aiming it towards a more invested and growing audience who can take the blockchain to the next level.
So I've chosen for this time to aim my videos towards: the individuals who are creators, entrepreneurs and business generators.
It's those whose can utilise Steem as a tool to develop their big ideas, and thus, take Steem along for the ride.
This doesn't mean I still won't shoot something aimed at regular Steem users again, in fact, we need users in the community more than ever.
What do you believe are the all important selling points of STEEM, that we want creators to know about?
I want these videos to act as a catalyst, to plant the seed in the minds of those who have a use for the Steem platform - but perhaps haven't quite found us yet.
It's not particularly the hard sell I'm going for, but the long game.
To get the name out further and be recognised.
We need to peak the curiosity of those who can use this space in a creative way to bring value to the blockchain.
Comments and suggestions welcome, - welcome along for the ride :)
Cheers for reading, updates on my little production to follow. @ashtv.
Posted using Partiko iOS