Easy way to help Steem! Vote on State of the dApps to push Steem Apps to top
View this post on Hive: Easy way to help Steem! Vote on State of the dApps to push Steem Apps to top
---
In mid-February 2020 Justin Sun acquired the shares in Steemit Inc and proceeded centralise the blockchain under his control, improperly using Steemit's founders stake (intended for development and decentralisation of the blockchain) and tricking exchanges into initially supporting his power grab.
After extensive efforts to resolve the dispute failed, the community revolted and formed a new, fully decentralised blockchain - Hive - without the pernicious influence of Justin Sun and his minions.
Because of Open Source licensing, Hive was legally able to duplicate all the code and content on Steem.
The vast majority of the community and decentralised applications and projects moved to Hive and Hive was listed on many cryptocurrency exchanges without having to pay the normal listing fees.
On 19 May 2020, a Steem hard fork (0.23) designed to steal the Steem from 65 accounts associated with creating Hive became public.
My position on this hard fork can be found here: https://peakd.com/hf23/@brianoflondon/letter-to-exchanges-do-not-run-steem-hard-fork-23-hf-0-23-0
This was the final straw for my involvement with Steem.
I will now post exclusively on Hive at https://peakd.com/@apshamilton/posts
All my old Steem content can also be found on Hive.
---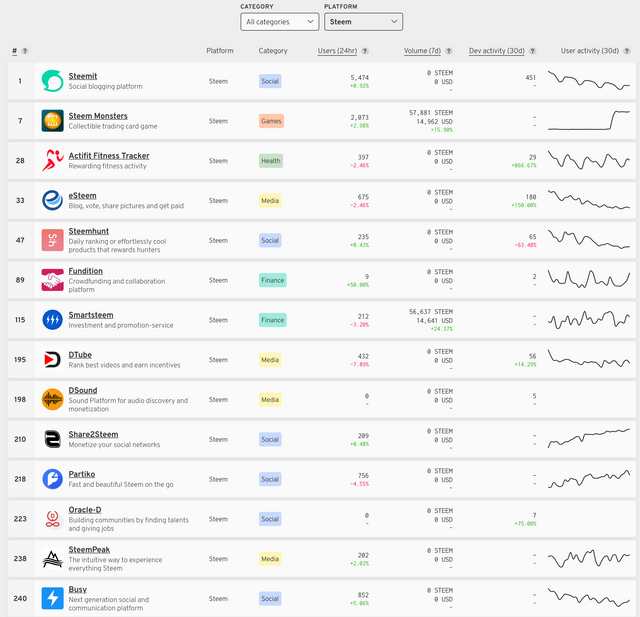 Since Steem dApps got listed on State of the dApps I've been following things closely.
Currently Steemit is ranked number 1 and Steem Monsters 7th (above EOS Knights).
I was wondering why Steem Monsters was ranked higher even though EOS Knights has more users and noticed that the number of likes was much higher for Steem Monsters.
I've noticed that the ranking system also takes into account votes for the dApp on the State of the dApps website in its ranking system.
So go into State of the dApps Steem dApps, click on the dApp itself and vote for your favourite Steem dApps like @steemmonsters, @partiko, @steempeak, @esteem, @steemhunt & @dtube
This is how we show the power of the Steem community and get Steem recognised for the leading blockchain for real world uses that it is!