Yesterday I posted about two Presidential candidates from opposite sides of the aisle talking about censhorship on social media platforms like Facebook. While these problems are certainly never going to go away, this feels like an especially unique opportunity to spread the word about Steem as it is a perfect example of how centralization and censorship are not "left" or "right" issues. That's why I created the following video which I hope you will share on external social media so that the public can gain a better understanding of the nature of the problem, and how Steem is uniquely positioned to accelerate progress in the right direction.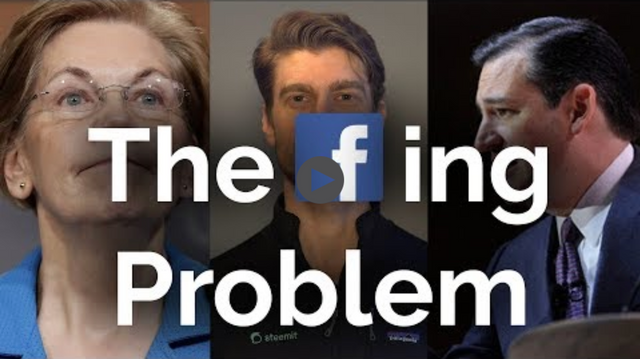 From The Video
Facebook has had a lot of problems over the years from hacks, to election scandals, and now Elizabeth Warren and Ted Cruz are talking about censorship on the platform. At Steemit we saw this problem coming over 2 years ago which is why we designed and launched the first, and now most used, open source decentralized blockchain protocol built from the ground up to power web applications like Facebook, Twitter, and Instagram. Because it's open source, that means no one owns it; it belongs to the public. Because it's decentralized, that means no one controls it, or the content stored on it. And because it's on a blockchain, that means your account, and your content, belong only to you.
The Real Problem: Control
People are finally starting understand that this isn't about left or right. When a tiny group of people control all the information, and choose what gets seen and what gets hidden, we all lose. Elizabeth Warren thinks that breaking up Facebook is the solution, but that won't change the fact that a tiny group of people will still have total control and ownership over your information. That doesn't just mean that they determine what other people see of yours, but you see from other people, and that danger can be even insidious because you don't know, what you can't see.
Breaking Up Facebook?
The argument for breaking up Facebook, or any tech company, is really about decentralization. Not having any ONE organization in control, but instead, putting control back where it belongs: in your hands. Facebook, Twitter, YouTube, their monopolies only exist, in our minds. Alternatives … exist … today, but the only ones that are open source, decentralized, and using blockchain technology to secure digital ownership are Powered by Steem. But since Steem was specifically built to power web applications, if you don't like any of the apps that currently exist, any web developer could launch their own in a matter of days by using all of the open source software that already exists.
To learn more about how you can become a part of the movement, go to steem.com and check out steemit.com to see the most used blockchain-powered social application in the world. For a list of more amazing Steem applications, go to steemapps.com and Steem On.
@andrarchy
Head of Communications & Advocacy, Steemit