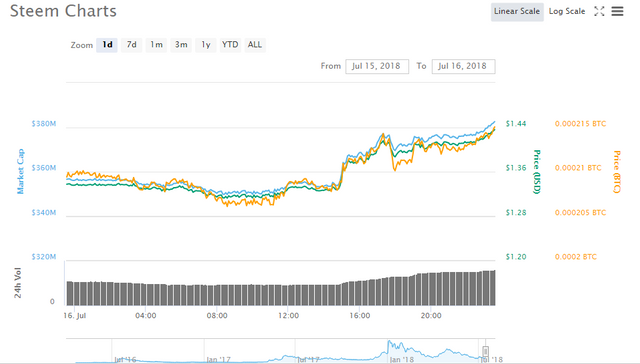 If you are thinking to invest in cryptocurrency and you are a fan of Steem coin and of there work. So it is the best time to invest in Steem coin now as now today market give a breakout again over $6687 at the time of writing this and where Steem coin is trading at $1.43 at the time of writing this and currently is raking at 36th position at this point both Bitcoin and Steem coin is going to provide a break through as Bitcoin is going to break $6800 for sure by tomorrow the price of Steem coin is also going to rise by around 7-10% more till tomorrow so Steem and Bitcoin are currently at very crucial stage now.
Steemit beta version is currently working very gud and performing great.The Steem network is widely known for its use in pioneering social media apps and for distributing Smart Media Tokens (SMT's) which is used to reward users of the network for their content.
Steem, the social media game-changer, has reached the heights of blockchain success in a little over 2 years.
Major Devportal updates are mentioned below-
So people who are member of steem community knows about what devportal update is which is going to be the new feature and updates that is going to be add to the Steem network by the Steem development team.The Dev Portal update 5 features a new guideline for tutorials on the Steem network.