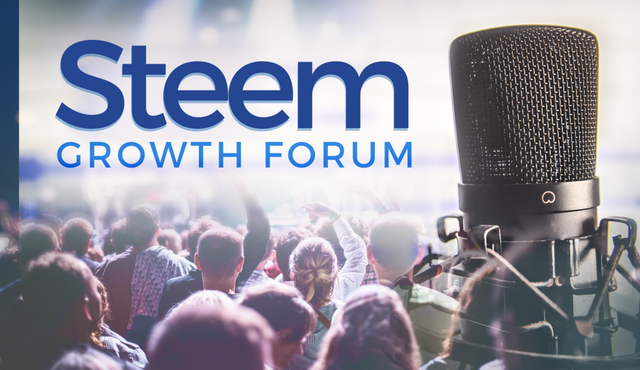 So, I've gone around and contacted a fair number of the biggest names on the platform and I don't think you're going to be disappointed. We'll have folks from Steemit INC, around a dozen of the top 20 witnesses including @timcliff and @jesta. We'll have some of the biggest whales on the platform around. This is the start of a conversation you're not going to want to miss it!
Steem Growth Forum
This is a chance to gather some of the most influential people on the platform, get them into a virtual room together, and start the discussion of how we are going to grow the ecosystem. The world is a little broken and many of us here know that the Steem platform can address an incredible number of issues. We know HF20 Velocity and SMTs are coming and those innovations can elevate the Steem platform from one of the best platforms to the single best platform to spend your attention on.
Come have this discussion. If you're a whale, a Steemit employee, a top 30 witness, a follower whale or host a large Discord community we're happy to have you come on the live broadcast. If you're not one of those you're welcome to join us the Discord chatroom and type in questions, pose questions, or submit some ideas. Those interactions are recorded too.
Format
We'll take a quick poll at the beginning of the show and see who wants to start us off (looking at you @andrarchy). Folks that want to speak will enter a 1 in chat. They'll get logged in order on a spreadsheet. We'll go through the spreadsheet and talk to some folks. I'll have a 5 min timer and let people go. After the first round we'll collect names again and potentially expand the participation rules depending on who is there and who else wants to speak. If there are some members that don't meet the requirements I'll work on hosting another meeting later for them.
Voice chat needs
Make sure you have a headset and mic.
Show up a little before the start to test your mic and headset. We have some waiting room voice channels that are good for testing.
Community Standards and Rules
These will be in effect during the broadcast. If you can't abide by some fairly simple rules you'll be shown the door. This isn't a forum for you to flame. If you have some constructive criticisms they'll be welcome. If you're there to target people or Steemit don't expect to last long.
You can find the basics of what you need to know about our community here: https://discord.gg/dpGVBcy.
Logistics
The Moderated discussion will take place at 11AM EST (this is NYC time) Saturday November 18. This I believe is 16:00 UTC time. I will moderate the discussion.
It will take place in the Peace, Abundance, and Liberty Network Discord channel: https://discord.gg/dpGVBcy
The Minnow Support Project has created a streaming internet radio station called mspwaves. We'll broadcast the event live and save a recording for the block later.
Typed in questions and discussion by the audience will happen here: https://discord.gg/BS8WTzM
You can listen to the show in the PALnet discord room here: https://discord.gg/pGHjVtc
You can listen to the show live on air at mspwaves.com/listen.

This is just the start of the conversation
Since I've been here the platform has increased the number of accounts 4X and the price between 5X and 10X. We're growing. We grew the platform around 2% just last week. There's more to do and we're going to meet and figure out what we want to prioritize as a community. I'll extend this conversation out to other groups as well (just like I mentioned in Witness Chat in Steemit.chat). This is just the starting point. Come join us and lend your voice to the chorus and be an active participant in the forum and in the growth of a remarkable platform.