Steem is Dead!!!!!!!!!!!!!!!!!!!!! or is it?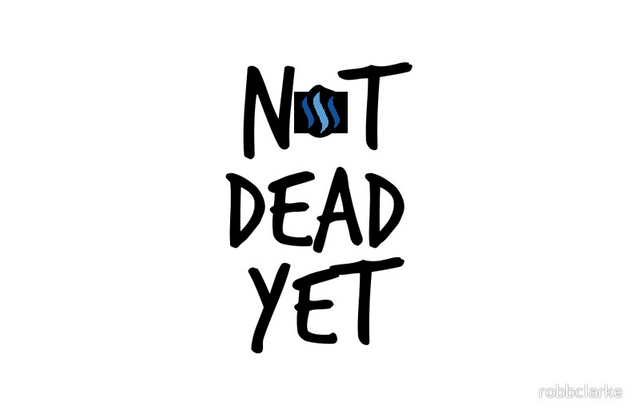 Ok, a few people have been mentioning Steem is dead to me recently. So, I want to clarify a little FUD that's out there and try to bring my perspective to the FUD.
First off, Steem is really hard to kill. The only way I see it dying is if the price of running a node exceeds the proceeds of running that node either for a long time or drastically for short times.
Boring witness math
Right now a top 20 witness makes 110,000 steem per year or something in that vicinity. Each Steem is worth 33 cents right now. So, witnesses are earning $36,000 per year. I run two witness nodes (and pay for half of the minnowsupport rpc, but that's separate from this). My nodes cost $120/month each. So, that's $240/month. So, that's about 3k per year. The price of steem has to get down to 3 cents before I start asking myself "do I even want to run a node here?" Maybe some of the backup witnesses would stop hosting Steemd by 3 cents, but I don't see enough leaving to stop the chain until Steem hits 3 cents. At that point it's not immediate either. I have liquid steem I don't think I'd kill my witness just cause it isn't profitable for a while. I was losing money when it first started. It can lose money again. Witnesses could also change the reward pool to ensure that there's enough money for the basic infrastructure.
RPCs cost more and maybe we could see the number of full RPCs drop or maybe even many of them stop, but in that case i think more people will band together to cover partial costs and Steemit has some cash. They may make decisions I don't always agree with, but I don't think they'd let the project die over RPCs as long as they could afford to, and they have some runway.
MIRA
More importantly than the right this second discussion is that MIRA seems pretty close. MIRA allows nodes to run with data that's currently stored in ram to be stored on hard drives. The difference in cost for that is staggering. A full node would drop from 512Gb of Ram to closer to 8 or 16 Gb. The server would go from something like $650/month to something closer to $20/month. Witness nodes are gonna be less. So, now run the math again. If it only costs $20 a month and yeah you probably run 2 for $40/month as long as you can make more than $480/yr there will be people willing to donate time to run them. Post MIRA the discussion of closing my witness starts if steem hits 0.004 cents per steem.
Steem from that end is pretty unkillable. It takes a calamity to kill steem and make the chain stop and this project completely die.
Loss of people
So, the next Fear is that Steem is running out of people that will stick around and this whole enterprise is doomed. Whales are selling, price will go down, no one will post, and even if the chain is still going the whole ecosystem is basically dead.
Some aspects of that are happening, and the price of steem vs BTC has never been worse. So, I can't outright dismiss it, but
there were 400k posts last week
4M votes
49k accounts transacting
4k new accounts created
the least net amount of steem powered down in 2 months (260k powered down below what was powered up)
Side lined
Eve online has a pretty funny idea. They think they never lose players unless they die. They just go on break. Same is true here. Human behavior is pretty predictable.
Price is high Madlib: Hi (synonym for friends), it's great to see everyone one. For the past while I've been experiencing (random excuse for leaving). It's kept me gone, but now I'm back to keep my discussion of (random blogging topic) alive and well. Great to be here, and don't forget to follow me!
Price is low Madlib: Hi (synonym for fuckfaces), you guys can eat my (sexual body part). This platform doesn't even comprehend my (self aggrandinzing adjective) ability at (random skill). You don't appreciate me and now I'm the fuck out. (entitled sign off)
My point is that people don't actually leave. They just stop posting when they don't think it's financially worth it. When it is worth it they'll all come back.
Tree Rings
I think it was @demotruk that spoke about this as rings on a tree. Every season as the tree grows it gets rings to mark the growth of the inhale and exhale of life. Steem has really thick rings. It's thick because:
Distribution makes for high amounts of sell pressure
people come to earn, when earning potential is high they flock, when it's low they leave in droves
SBD makes steem more volatile than any other crypto. At the lows we're adding 5% inflation in a year due to conversions at the high we're paying out premium SBD.
In order to improve the cycle
We need a better distribution which is already happening to some extent.
We need people who buy steem to invest rather than just earn it to cash out, so we need businesses they can park steem into
We need the crypto market cap to rise and Steem will float with it
We need the Steem Alliance functioning with coordinated efforts across the ecosystem.
We need less reliance on Steemit to do stuff and more community driven work and hype
My actual prediction
Bitcoin has already bottomed. A bear trap is forming. It's going to knock the price down again and shake out the last of the weak hands before rebounding in the face of the impending halvening. When it rebounds it's going to 100k in the next 2 years.
Steem is going to lag behind bitcoin and the rise of other altcoins. Eventually the other sexier and better hyped projects will get saturated and investors will go looking for bargain alt coins. Steem will be sitting there with big doe eyes. The price will start rising, and the rising price will attract bloggers and investors and the pendulum will swing the other way hard are fast. By the time BTC hits $100k steem will be $100/steem or more (before 2022) and the people that hodled through this or buy some at 33 cents will see something like 30,000% gains on their investment if they have the balls to hang with it to the next ATH of btc.
If you agree with that assessment then you should be dollar cost average buying in right now with what you can afford in case this analysis is wrong and the biblical flood is actually approaching (ie buy a little at a time rather than blow your wad all at once).
Anyway, that's not financial advice and all that other disclaimer shit. It's just how I see it and I hope it helps provide a non-fear based perspective from a optimist.