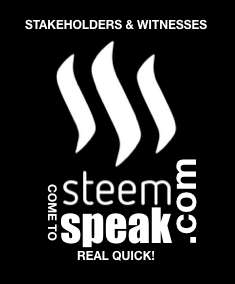 SteemSpeak continues to be a STRONG community continuously removing inactive/rekt members as the new generation of Steemians are joining our almost 3 year original STEEM Voice Chat.
SteemSpeak is and continues to be the #1 place for rapid information spreading across all STEEM communities. Our mission is to be a FREE SPEECH arena and an AMA arena populated 24/7 with active speakers and listeners. Before you join:
An Investor discord for stakeholders in SteemPower
An arena for Bot-Owners/Operators
A place for Developers across languages
A place for Skilled Witnesses
A debate & Afterparty Arena
A Support-center for most STEEM related situations
A fire-station when there is none to be found
A tradepit for STEEM-Traders with EXPLICIT language
A Home for us, a home for you - Co-Owners of the STEEM Blockchain.
And so much more.
Come join us at http://STEEMspeak.com or https://discord.gg/sbsjcgN