One of the biggest hurdles I've encountered with onboarding non-crypto people is "I don't understand crypto" -- and they're done with it; won't even take a peek because it's been summarily rejected.
But there is a growing wave of non-crypto people joining Steemit, ignoring the fact that it's "fake internet money"; posting despite the nay-sayers crowing that they're wasting their time. And in the last few weeks several people have asked, "How does it make money if there aren't any ads?"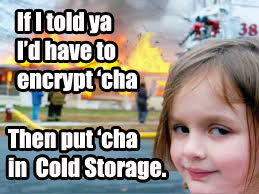 I made this meme! Funny, right?
Seriously, I don't know the algorithms or the mathematical mysteries behind the HOW. Then again, I don't need to know how electricity moves from the power station to my house. I just want to flip the switch and know my lights come on. And isn't that what the big question is?
How do I pay for stuff with this funny internet money?
---
So, you want to know how to get from Steemit to cash.
So many options! Which to choose?
There are probably a hundred different ways to get from A to Z.
Today, I'm going to show you the steps to get from your Steemit wallet through BlockTrades to LocalBitcoins

I wrote a post about the dangers of using PayPal for LocalBitcoins in this post but I'm still going to share this process because there are safer trade options in LBC.
What you need if you DO NOT feel like playing the crypto market:
This option may incur higher fees
Prepare BlockTrades for trade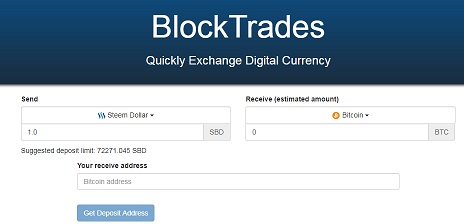 Notice that SEND is set to STEEM DOLLARS (SBD) and RECEIVE is set to Bitcoin (BTC)
Be aware which token you are sending through BlockTrades or you risk losing your earnings.
Sign in to LocalBitcoins and get your wallet address.
Copy that long number and go back to BlockTrades
Paste into your receive address
Click Get Deposit Address button
A note should appear that says "We're ready for your trade" and it will have a memo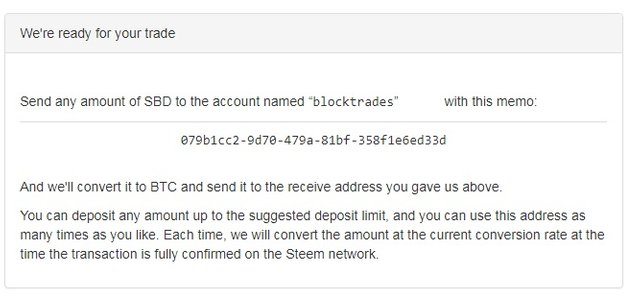 This long alpha-numeric memo is very important!
---
Copy the memo and go to your Steemit wallet
For this guide I am going to transfer 5 STEEM DOLLARS (SBD).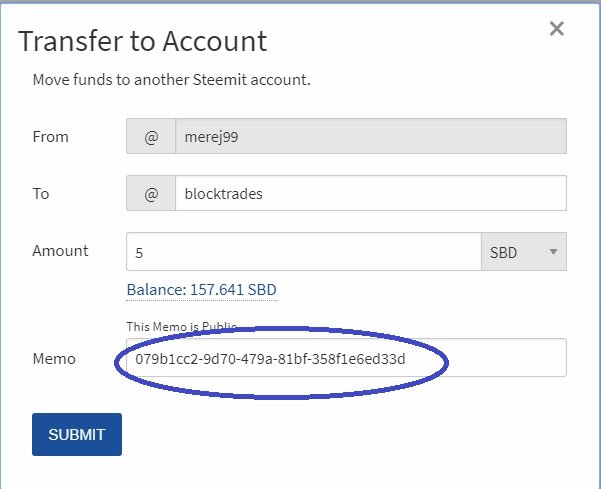 Click Submit
Sign with your Active Key
And wait...
---
BlockTrades will show completed transactions fairly quickly

In LocalBitcoins you should see an incoming transaction.
It can take 20 to 30 minutes for your funds to clear.
---
At this point I'd like to remind you that you are probably getting less than market price through BlockTrades but they get kudos for convenience. Also remember that LocalBitcoins now charges deposit fees so your money is getting shaved in a few spots.
Sorry. That's just how it is right now.
---
YAY! Your BTC cleared and is now sitting in your LocalBitcoins wallet.
Now what?
The safest way to ensure a smooth transaction through LocalBitcoins is through a CASH DEPOSIT.
The buyer needs to physically go to a bank, deposit cash, and you can request a photo of the cash receipt before you release your BTC from escrow. This is probably the safest method and not likely to be disputed. LBC also serves many other countries and they have a fairly large list of deposit options.

Find a trader and initiate a trade.
Key things to look for:
Make sure you are trading within their limit. Many have a cash minimum of $200.
Make sure your bank is one they deal with.
Are you initiating trades during bank hours?
Look at their profile. How many transactions have they successfully made? What is their feedback score? READ their feedback. Are they verified and trusted?
Chances are if you're going this route you're not too worried about anonymity. Depending on your bank, cash deposits require the person making the deposit to fill out the slip with your name, address and account number.
---
I'm pretty sure you've got the rest figured out once you get to this point but there are always a few people who need extra hand-holding and moral support. That's okay!
Once you've found the trader that you feel comfortable with and you have enough BTC to fall within their minimum requirements, it's time to sell.

---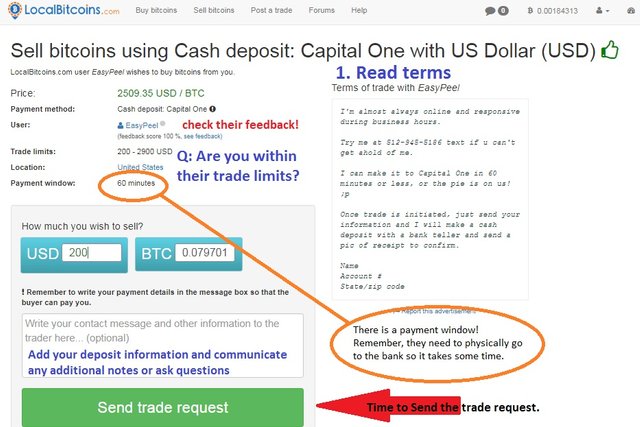 Now you wait for the trader to accept the request.
Once that happens, they need time to go to the bank. Make sure in your request that you make it very clear that you will release your BTC from escrow once you confirm the cash deposit (online banking) and receive a photo of the cash deposit slip.Double check that the deposit slip has the correct date and same amount that's showing in your bank account.
Congratulations! You got paid!
But there's one more thing to do. Release the BTC from escrow in a timely manner.
Optional: Leave feedback about your transaction. If it was a good experience, save their profile for future transactions.
That's it!
Now go. Blog. Earn. Build your Steemit Tribe!
---
PUBLIC SERVICE ANNOUNCEMENT
You have a duty as a new Steemian to learn about witnesses and their important role within the community. Read @pfunk's Complete User's Guide to Steem Witnesses. You have 30 votes. Use them wisely.
---