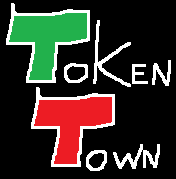 Token Town has been busy growing leaps & bounds on its discord server. Come join us!
We now have some of the top Token/Tribe Owners in our discord server along with their fanatic fans so its been a good time so far and only going to get better as we are introducing a Radio Show around Tokens/Tribes which will be piped into MSP waves. We had a previous request put out there here.( Once we have a host we'll apply to MSP) . So if you are interested and have a little spare time do comment below , or come to the discord. We have the layout of what the show will be like already. We'll be doing token giveaways during the show.
---
Comment below if interested!