Wow, it's only a month ago I was saying how pumped I was to have the smart contract platform go live. Since then around 150,000 Steem has been deposited into the exchange! We're over 160 tokens now that have been created. We're just getting started!!!
What just changed?
We've been working on getting tradable cryptos onto the platform. Tuesday was the breakthrough and we let it exist for a day or two live before fully announcing the change.
You are now able to trade Bitcoin, Litcoin, Doge, and Bitcoin Cash on Steem-Engine.com!
Yep, @someguy123 is a machine and again showing why he's one of the best top 20 witnesses Steem has to offer. It took him about 100 hours of code in a single week, and he coded up a crypto exchanger that can run on the Steem-Engine platform. It's opensource so others can add to this, and it helps get trading of cryptos in general out to the masses faster and cheaper than anything that's come before it.
Wait what?
In addition to being a smart contract platform where you can issue and trade your own tokens we leveled up as an exchange. You can now trade Bitcoin, Doge, Litecoin, and Bitcoin Cash here. We'll be adding more cryptos as well!
How does it work?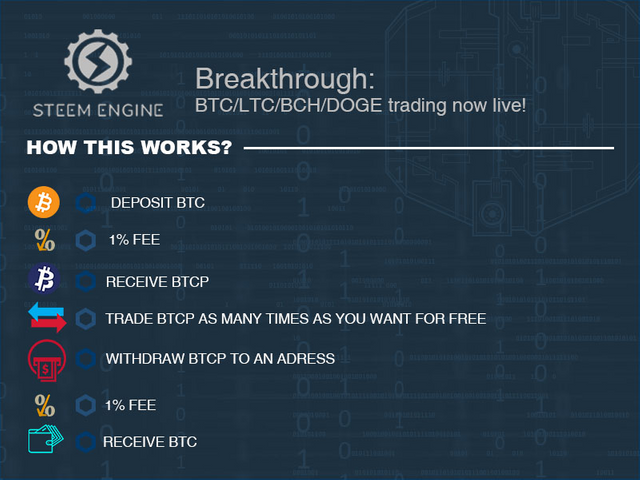 Steem and BTC are two separate blockchains. Steem doesn't exist on BTC and BTC doesn't exist on Steem. So, that makes it impossible to trade the tokens directly on the same platform using the native tokens. You could find a buddy in the real world and just swap tokens, but if you want to swap them with someone you don't know or don't perfectly trust things get tricky.
The work around to trading with strangers is going through an exchange (which you may or may not trust). Exchanges make tokens that represent the crypto for you to trade back and forth and then send or recieve the real thing only when you're depositing or withdrawing them from the exchange. This can be done in a centralized fashion on exchanges like Bittrex or decentralized with all trades on the blockchain like Bitshares.
What we've done is effectively add Bitshares like decentralized trading of cryptos onto the Steem Platform through Steem Engine.
Steps
When we receive other cryptos we accecpt for trading we will mint what we call pegged tokens. For every Bitcoin, Steem, Litecoin, or Doge that we hold we'll issue one BTCP, LTCP, DOGEP, or BCHP. We charge a 1% fee for depositing other cryptos onto the exchange.
As a user you can then trade it back and forth as many times as you would like for FREE! So, if you're an active trader you no longer have to get dinged by .25% trading fees on every single trade you make.
If you make a lot of money through Steem Engine tokens, or Pegged Steem Engine tokens and want to withdraw the money you can do that at any time. You'll click the withraw button. You'll send the pegged token back to the steem-engine exchange so it's no longer trading in the wild, and we'll send you the real crytpo currency back. There's a 1% fee when you withdraw tokens from the exchange.
What makes this so special?
Well, in many ways we're completing steps here that have already been in place on other chains. So, we're adding functionality to Steem and Steem-Engine in particular, but there's more to this vision than what the other chains and groups have done!
We want to be the number one place that businesses go to launch LEGAL Security Token Offerings in the United States. We want Steem-Engine to be the Nasdaq of crypto businesses. We'll be combining a few things you can't find anywhere else in one convenient place: legal services, a place to host an ICO/STO, and a dex to trade the tokens.
The dex is live. We just added other cryptos to it. Next up we'll be launching the pricing to make legal US Securities here on Steem-Engine (in the next week or two). Then we'll get to work on a kickstarter/startengine style website to let businesses get their STO out to the world.
We're going to make Steem the premiere desination to launch your STO in the next bull run!
How can you help?
Deposit and trade your crypto here! If you use other exchanges pull some or all of your bitcoin, litecoin, doge, and bitcoin cash and move them here.
Why move your crypto to Steem-Engine?
There's no fee per trade. Just one when you deposit and one when you withdraw.
You can see all your balances on the Steem-Engine and Steem Keychain wallet.
It helps grow the home town exchange.
It helps provide liquidity to all the new businesses that launch here on Steem!
Get started today