Hope you all aren't tired of my south park art yet because this post is filled with it and I'm probably gonna make more in the future especially with the new season that's gonne come up by the end of the month so brace yourself because I'm not coming outta south park hell anytime soon//no
But yeah here's another post compiling some south park arts I did. No progress shots for them because that would make this post way too long and I was lazy to take progress shots of these arts anyway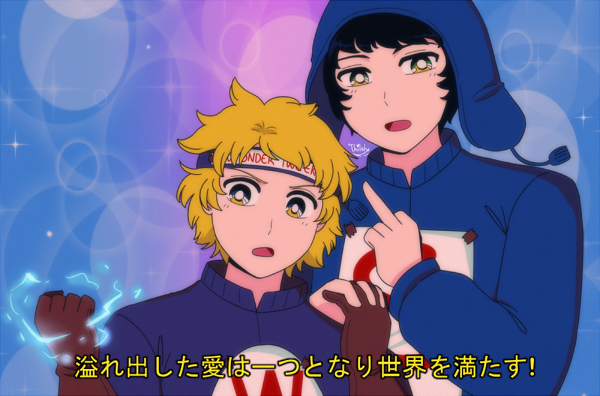 Uploaded on
tumblr
(fake subtitle version you're seeing) &
twitter
(no subtitle version) And available to buy at
redbubble
So first art is me yet again attempting to draw in 90s anime style but this time with the characters Tweek and Craig in their superhero persona outfits, Wonder Tweek and Super Craig! Looking at this again I probably should've added some more noise filter but oh well. The line they're saying is from their beautiful ultimate in the Fractured But Whole game(which inspired me to do this drawing in the first place) I used the Japanese line for the fake subtitile in the pic because when I tried to find english translations of what they're saying there were some variations of said translation and I couldn't decide which to go with sweats

Uploaded on
tumblr
So since the original designs of south park characters are relatively simple, it gives fanartists flexiblity to kinda give their own spin on it. I've seen many ways peeps have drawn Kenny's parka hoodie thing so I decided to doodle some of those out~ I might do a proper drawing with a different hoodie style one day if it fits I guess but till then I guess I'll stick with how I usually draw it(which is the second hoodie/middle Kenny)Let me know which Kenny hoodie design that I doodled is your favourite! Oh and the coloured Kenny at the most right is just me randomly referencing the You know I had to do it to em meme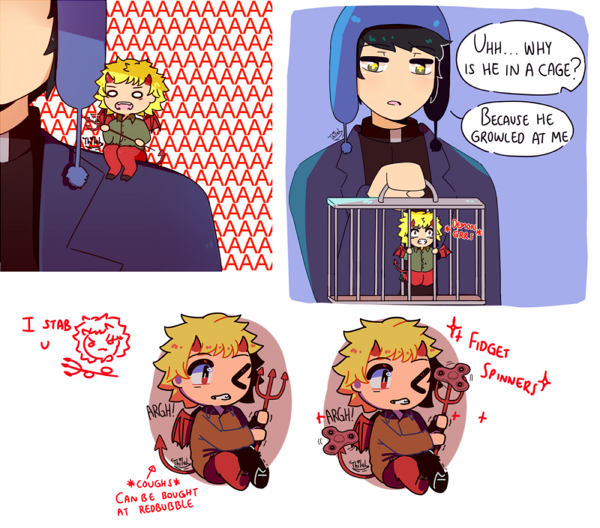 Uploaded on
tumblr
(the compiling the pics into one picture version you're seeing) &
twitter
(separated picture version) The chibi imp Tweek at the lower part of the pic is also available to buy at
redbubble
Some more art of Craig and Tweek but this time in their outfits from South Park's mobile game, Phone Destroyer!(Imp Tweek and Young Pastor Craig) Top left is a parody of the bird screaming meme(I don't know if it has a proper name and I can't find a proper page giving info on it RIP) while the right one is a parody of a screne in spongebob from the episode "Born Again Krabs"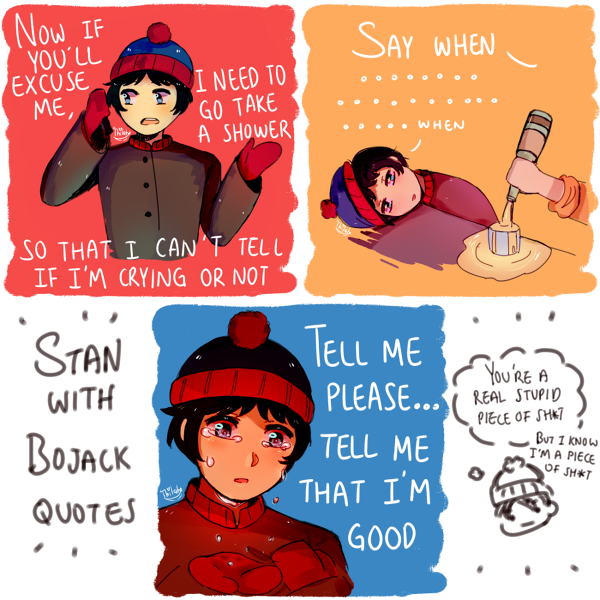 Uploaded on
tumblr
(the compiling the pics into one picture version you're seeing | The tumblr upload also has a bonus sketch of my attempt at drawing an older Stan in Bojack's clothes) &
twitter
(separated picture version)
My latest fanart that I posted just yesterday(well technically the day before yesterday because it's already 1am where I am) This time it's Stan Marsh saying quotes from another series called Bojack Horseman. Bojack Horseman is pretty good and funny and can also be a punch to your heart with its emotional moments. If you have netflix please maybe give this show a watch it! The 5th season is coming out on the 14th(which is today oh my god...but then again timezones so not entirely sure if it's coming out today today if you know what I mean) But seriously give this show a chance. I would draw fanart of this show if I could but animals let alone a horse aren't exactly something I can really draw well and I would really like that if I ever do draw fanart of it, I want that fanart to do that show justice(though if I'm unable to draw Bojack I'd most probably draw Todd who I think is my favourite character and he's human so I drawing him would definitely be easier compared to Bojack) Anyway, back to Stan! I sometimes imagine him saying some of the things Bojack says but it was pretty hard to decide to choose which Bojack saying to doodle him with(because I still need to be mindful with how much I draw to avoid overworking my hands and all) so I just doodled him with these 3 quotes you see(+ a lil's cheeb head bonus quote I guess just to kinda fill in that empty space)
Okay, that's it for the post! Thanks for checking it out ,please give Bojack Horseman a watch and South Park too if you haven't and goodnight!