Inktober Day 29 : Double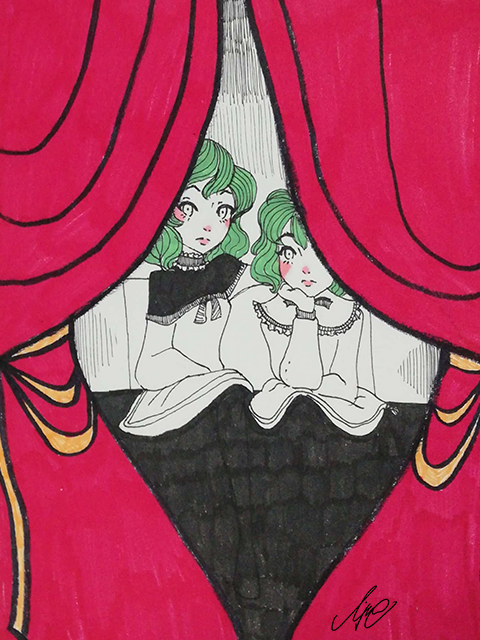 " I'm seeing double..."
So......I have two oc....That looks almost the same....
My two babies Nana Kuraki and Gwendelith Garrafeira... both created when I was still in high school. I was 14 I think... But anywho, I don't know why but I love love characters with short wavy/curly hair and green hair. So I created an oc but the reason why I have two characters with the same physical features is cause I can't make up my mind on what type of person my oc is gonna be.
On one side, I always love feminine girly characters who are soft spoken and well mannered, a princess to put it in simple terms but on the other hand I also want a character who is a strong independent women who likes to brawl and have a sharp tongue, A badass selfish queen-like character. Two very contradicting personalities. I wanted to mesh them into one character but the end result is just... plain weird...
So I decided to make 2 copy paste characters and change a few minor detail and I'm DONE!!!
I even created two different worlds/storyline for both of them.
Nana kuraki was the selfish queen/dictator that belongs to a crack/gag world that me and my friends created called OMM. The story is basically about 3 selfish alien princesses from planet OMM who are banished by the king and queen to earth to live among the humans to learn about compassion and all those stuff.... We wrote like 3 season worth of content . Nana appears on season 2, she is the eldest daughter of one of the princesses.
As for Gwendelith....omg....her first name was actually... Kairi Heiwa.... And I created her for the sole purpose of writing a naruto fanfiction that I CRINGE everytime I reread them....It was so bad... and angts and cheesy...just...why....
Ehem!
So as I grew older, I decided I wanted to give this character her own story and not be just some love interest for my fav naruto character. So, I renamed her and polished her look more, give her a proper back story so now she is the main cast to a story that I'm currently writing. That is all I'm gonna talk about her cause she's still a work in progress.
Well that is all for now and OMG I HAVE MISSED SO MANY DAYS OF INKTOBER LIKE OMG NANAWAWA GET A GRIP!!!!
NanaWawa Out!!!