Moonlight Wo-owl
---
There is a myth told as the bedtime stories that the punies have long passed down to their children,
" If you are a good Punie, keeping your hearts pure and willing to help others without asking for a return, the moonlight owl will grace you with her visit and behold, it is the greatest honor... If you happen to see her, cherish the moment because only the chosen one could lay their eyes on her. Her visit will only be known by the Punie king and the chosen one."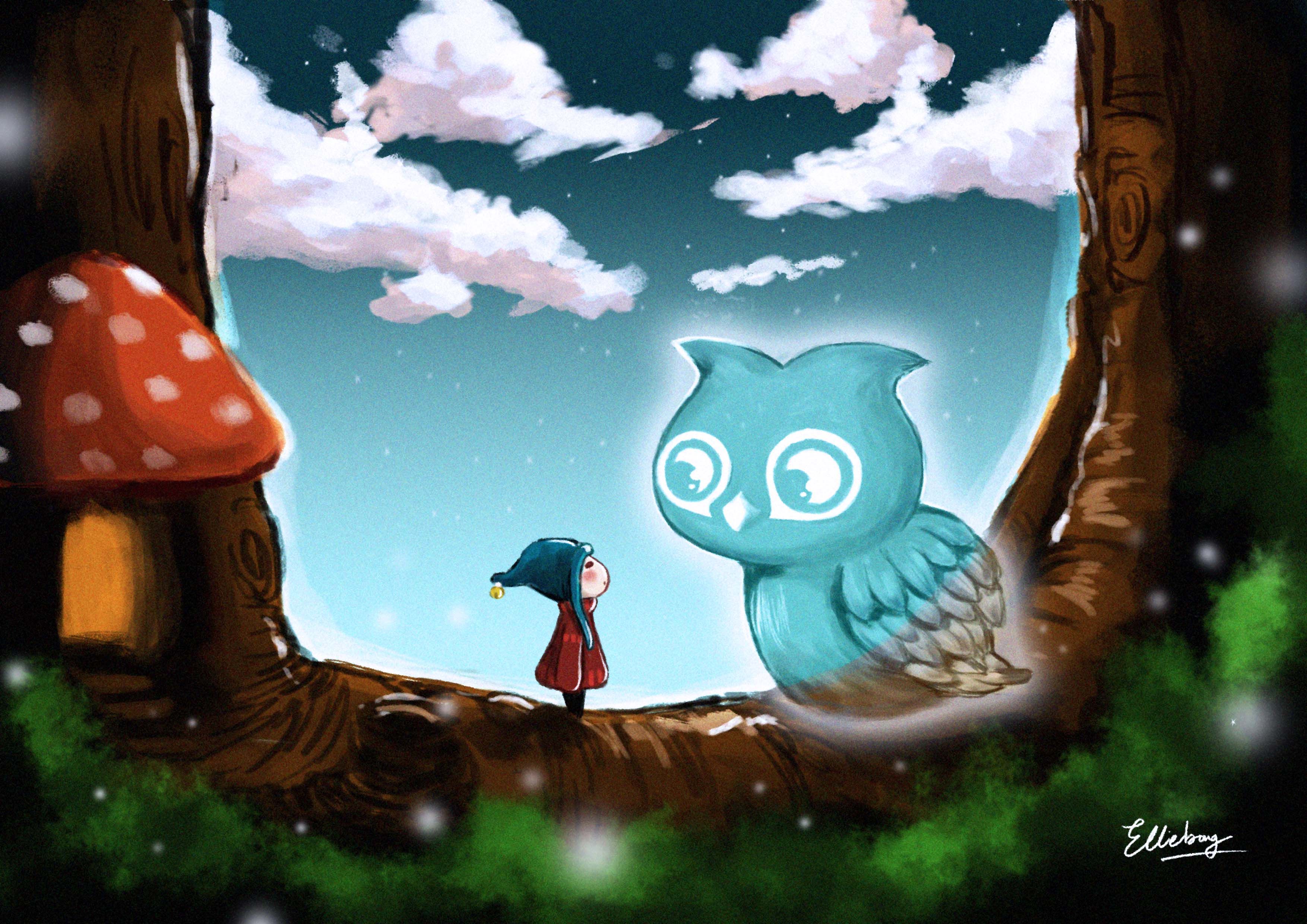 Nighty greetings
---
Heyloo everyone!
The illustration above are my entry for #steem-cartoon first ever challenge!
The challenge is based on the logo created by @cartoonistpandan where we must incorporate it in the artwork.
The theme of this challenge is "Fantasy".
Steem-cartoon
It has been a month now since I first join this community and I am truly blessed to be here.
Steem-cartoon was created by @sireh and @perennial to help us, student to get more exposure to the world and get real feedback on our work. The coolest thing is there are many other experienced artists from the industry are also in this community and the knowledge they share are simply valuable. I know I had learned a lot from them.
So for this challenge, I am really excited to give my very best to create something out of the cute logo Wo-owl!
The reason I choose to draw the punie and owl is because it is like my encounter with steem-cartoon. It was sudden and it opens up a whole new world.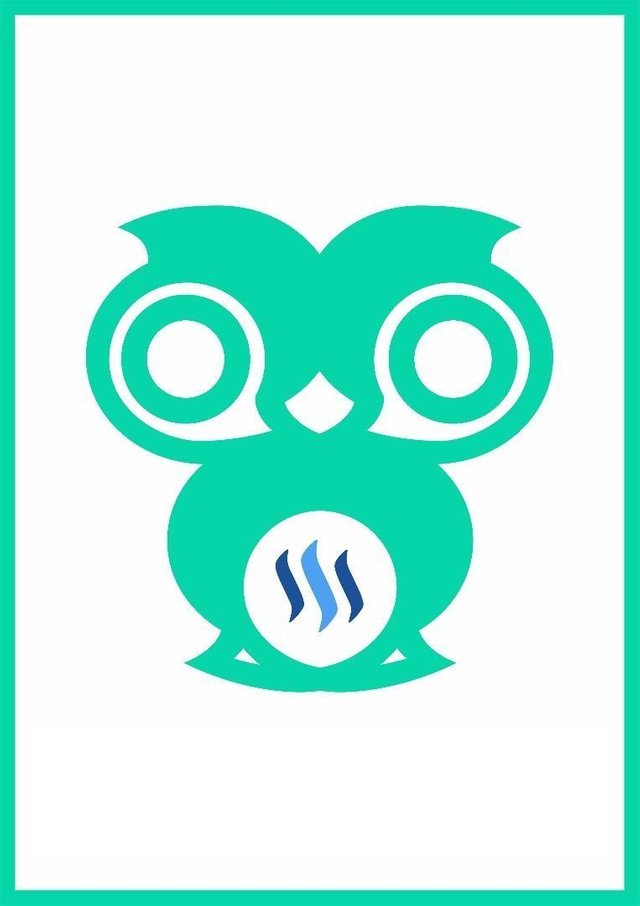 Owly process
---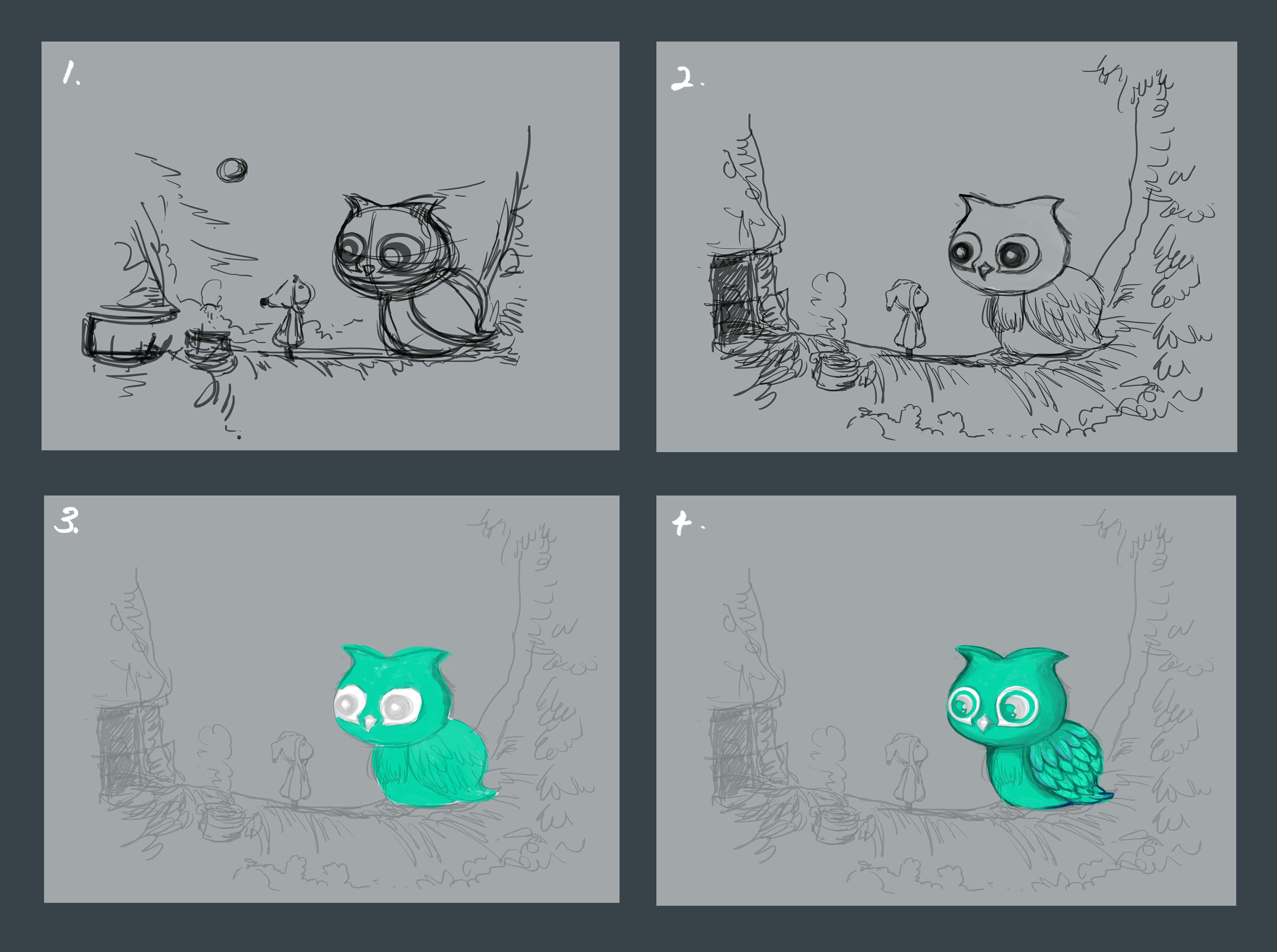 As usual, I start with a very rough draft of what I had in mind for this piece. I wanted to create an encounter of my punie and the Wo-owl to be enchanting, and magical. So I start with the owl, trying to make it look like a 3d version of the logo and draw a tiny punie staring at her. After that I create another sketch on top of it to make it cleaner and easier to see.
Then I start to paint the Owl first; taking the logo color and made it the base color. I took a darker shade of it and paint the shading, taking into account the source of light which will be from the middle.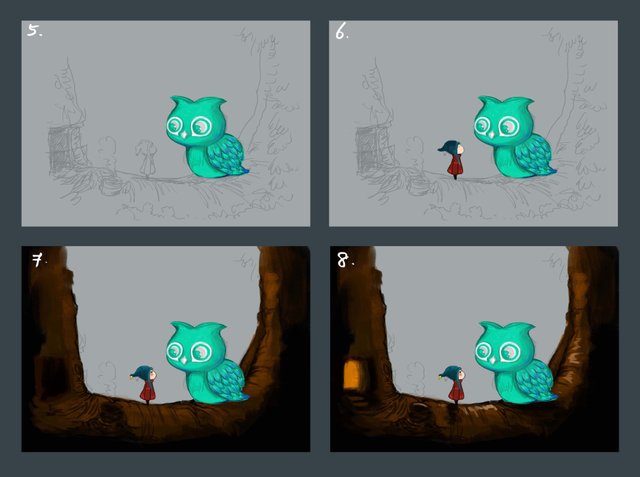 Now on step 5, I add a little bluish color to her wings to give more color and depth to her. Next, I move on to little punie which is very simple cuz he's so tiny! I painted some base color, shaded it and add details to it. I want him to be really cute even when zoomed in, you can see little details. After this, I painted the trees and add the lights from the entrance of punie's house.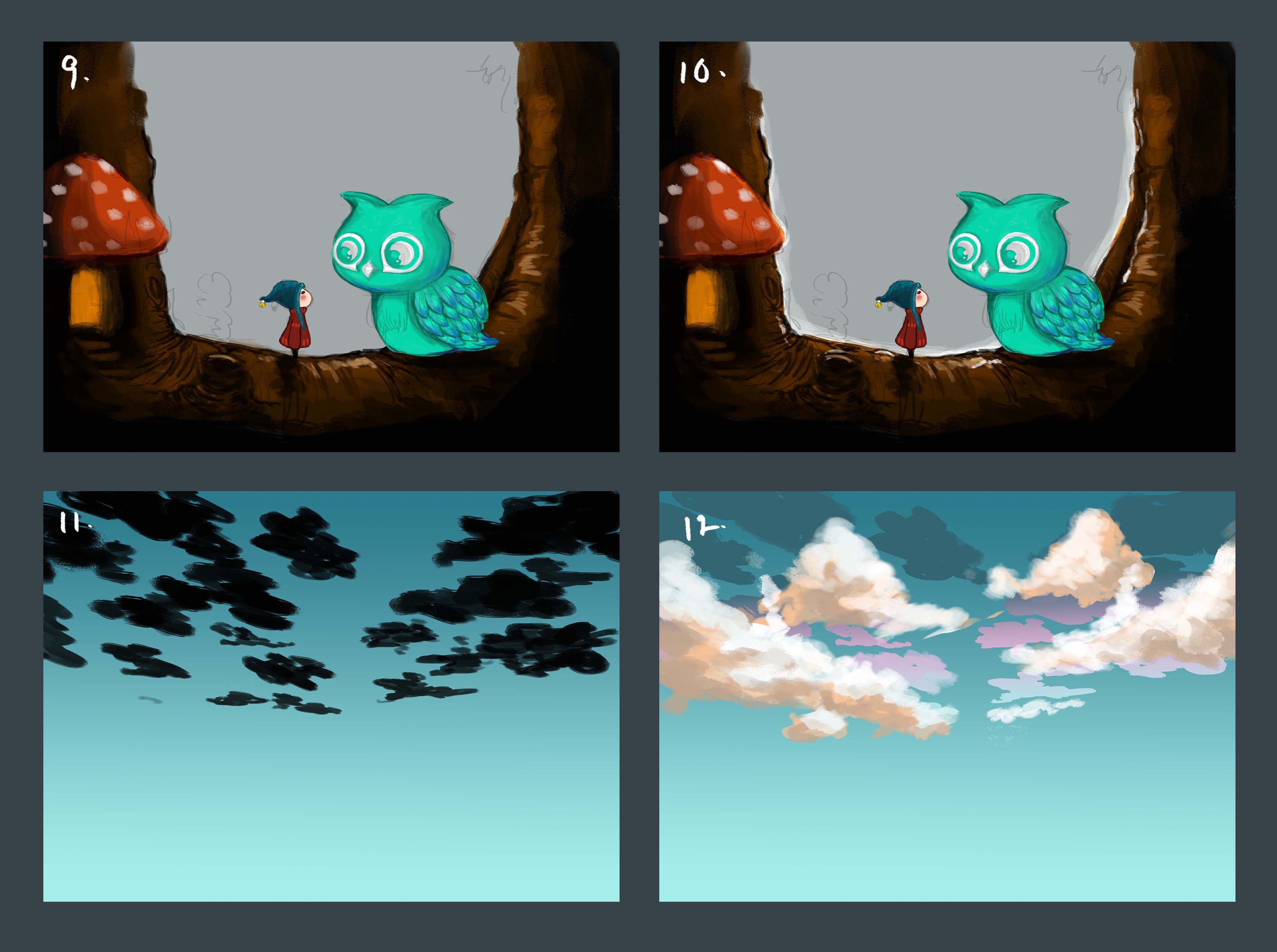 Punies love mushrooms and who doesn't love mushroom house on a tree :P On step 9, I painted the mushroom on the entrance and on step 10, I add some lightings on the surface of the trees to show where the light falls.
Now the base is almost done, It's time for background.
Here I tried @aurah How to create clouds tutorial to make the clouds. His clouds are so fluffy and looks so real. I am a bit impatient so I just made big clutters of clouds instead hehe..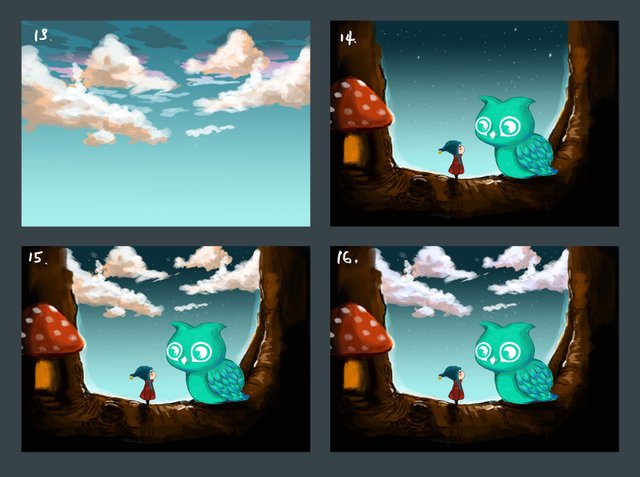 I finish it, but when I put it behind the drawing, I think it looks a bit too bright and doesn't blend well. So I create another gradient background and add stars to it. Then I use the clouds I have created but made it further away. I use a blue filter to make it more blue but it came out a bit purplish which looks great and I like the color.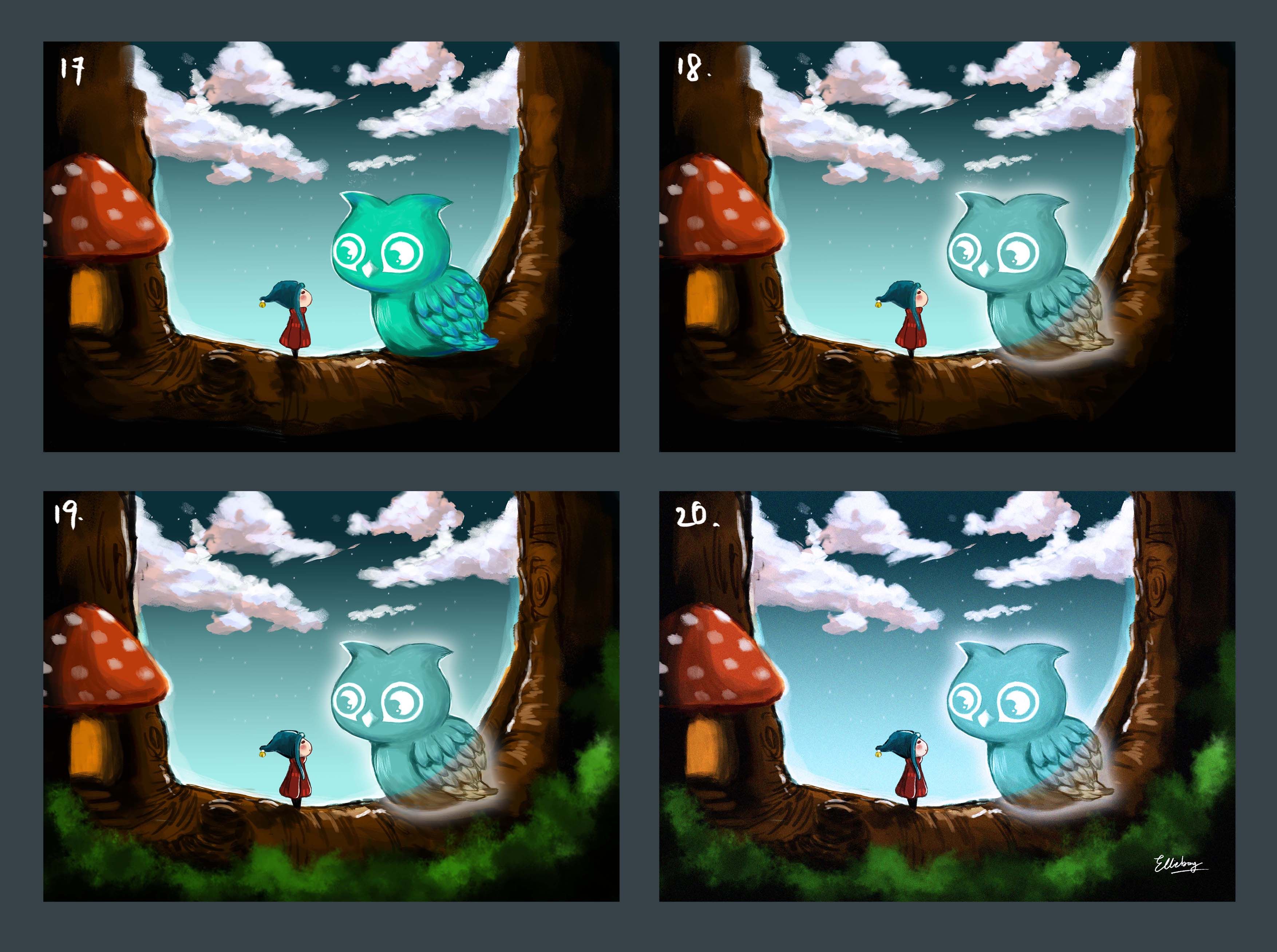 Now, almost everything is painted.. so I come back to my owl to further enhance it. I turn her layer to luminocity which turn it into a pale ghostly look. I like the ethereal effect but the colors are too dull so I increase the brightness, duplicate the original layer and lowered the opacity to get the original color.. Combine them and increase brightness again. To give more effect, I add glow and Moonlight Wo-owl are now a mystical being. Finally, I add some light touches and I am done!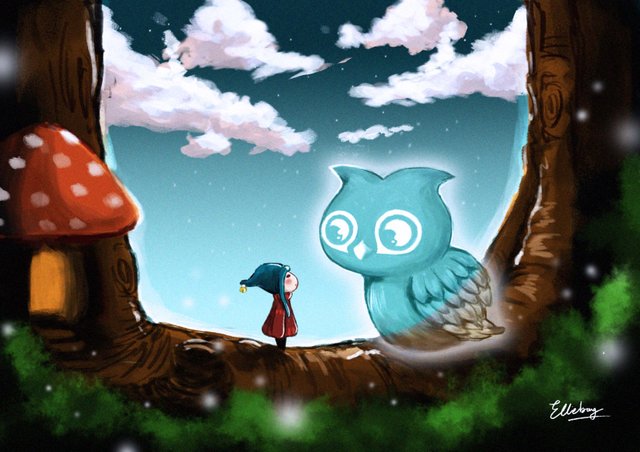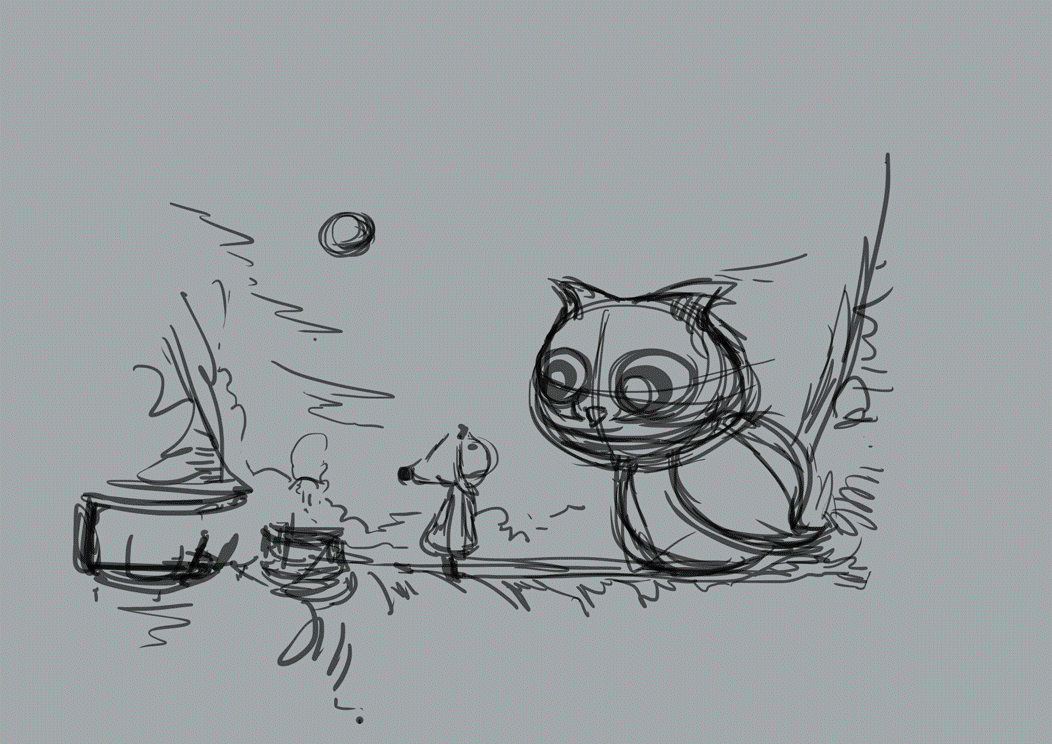 I hope you enjoy the process and thank you for reading!
Love,
Elliebong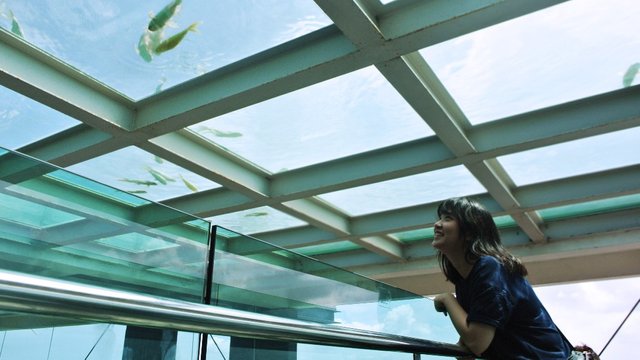 animated by @zord189


credit to @zomagic!