Steem-Bounty will reward you during the Russia World Cup
Steem-Bounty will reward you during the Russia World Cup.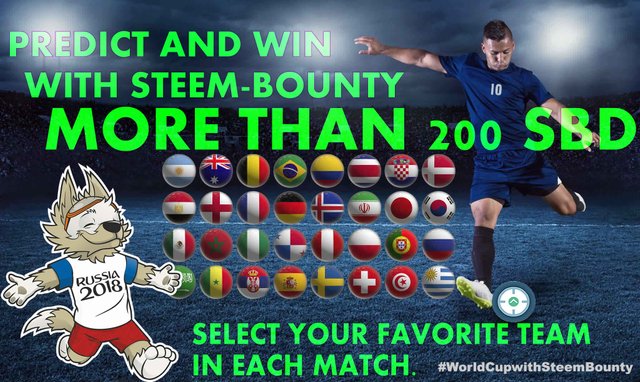 @jmhb85 with the sponsorship of Steem-Bounty has prepared a fun contest that during the world cup, will allow you to earn SBD through the rewards system @ steem-bounty up to more than 200 SBD distributed in each of the publications that you will have to discover and win by simply guessing the exact result of each match, there will always be a publication available in each game to win many prizes.
How To Participate
1. The dynamics are extremely simple, go to the account of @jmhb85 and there you will find the matches available.
2. Choose the matchs or enter to all, just have to predict and write the result of the game in the comments. For example: Peru 1-1 Denmark
3. You Follow the accounts: @steem-bounty, @knircky and @jmhb85.
4. No votes are allowed in the comments. (this will lead to down-votes)
Rewards: Over 200 SBD
@jmhb85 was so kind an sponsor every game with 1 SBD for a total price pool of 64 SBD, since there are just that many games. @steem-bounty will add additional bounty funds of at least 150 SBD during the course of the tournament. As an example the games on fathers day of Germany and Brasil will have and extra 5 SBD per game. More special games will be announced as the tournament progresses.
1. The reward of this publication will be reflected in the comments through the @steem-bounty account.
2. The reward will be given through votes from the creator of the reward.
3. Some publications have extra bonuses in the award, discover them.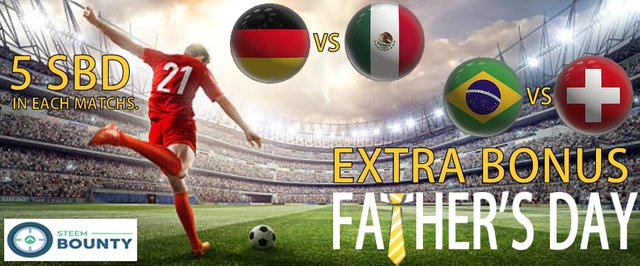 Rules
1. Only one result per user is allowed.
2. 15 minutes before each game no more predictions will be taken into account.
4. If an abuse of the rewards system @steem-bounty is detected, the user will be sent to the blacklist and will not receive more rewards.

Support our witness
Thank you very much for your attention and we hope you will vote for us as witness!
In order to do so you can go to:
https://steemit.com/~witnesses
And enter the "steem-bounty" account into the text field and click vote.

Or use steem-connect to vote directly for us as Steem witness!