Steem Bounty - Week in Review & Your chance to Earn up to $17 this week
Overview
This is our latest report for the week 7th July - 13th July 2019. We will update this report once a week and let you know the latest in the world of steem-bounty.
Current Top Active Bounties
These are bounties that are currently active and pay users for posting comments on articles written by someone. Currently, there are 39 active bounties worth roughly $16.94.
Bounties change daily as new ones are created and other are complete. Make sure to check the steem-bounty.com website to be up to date.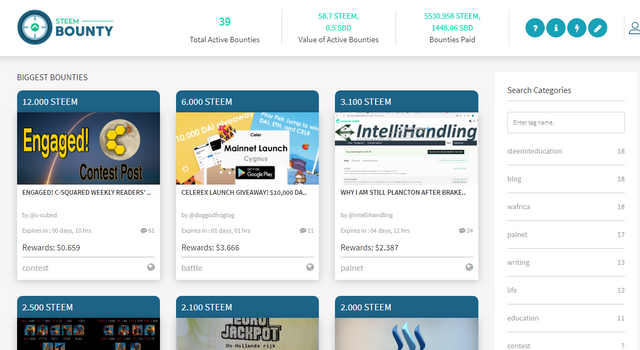 ---
Essential Stats to know
201 users participated in 40 active bounties this week (post date range). The collective value of these active bounties was around 128.28 STEEM and 0.9 SBD for a total value of about 36.95 USD.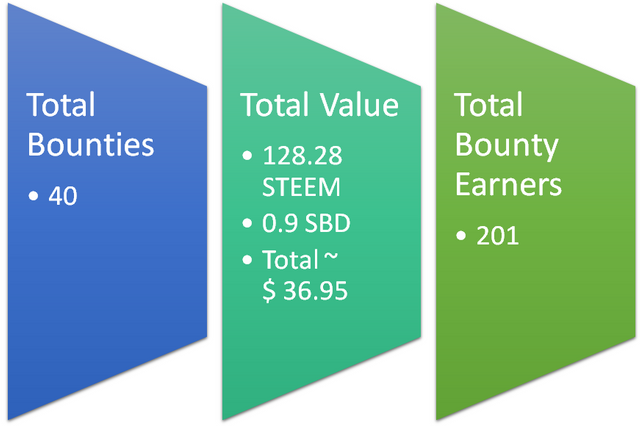 ---
Top five bounty creators of this week
Bounty creators are authors who set bounties on their post/articles. They set bounties to encourage users to make useful comments on their articles/posts. The comment UpVoted as the best by the author gets the lion's share of the bounty set on a post.
The top bounty creators of this week are shown below.
@c-squared, @doggodfroglog, @intellihandling, @focusnow, @pundito

Top five bounty hunters/earners
Bounty hunters/earners are users who comment on posts offering a bounty. The names of this week's top five bounty earners are as shown below.
@chireerocks, @steemingmark, @ew-and-patterns, @heymattsokol, @red-rose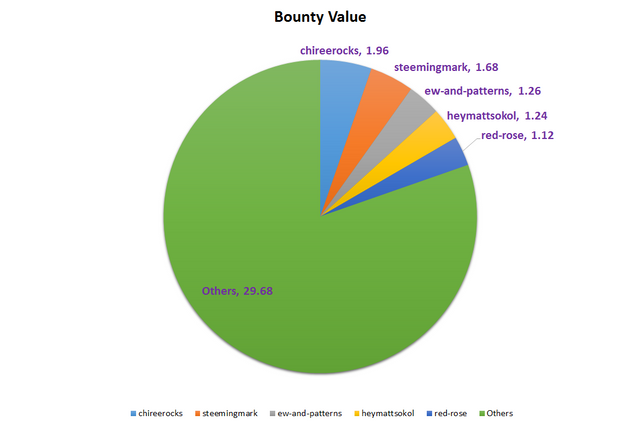 ---
About Steem-Bounty
Steem-Bounty is a platform built on top of the Steem Blockchain that rewards the community members with additional rewards, besides what Steem has to offer by default. Authors pay bounties to users who post useful and meaningful comments on their posts. So it is great to get attention and interaction from users even if you do not have much SteemPower.
For Bounty hunters it is a great extra way to earn rewards independent of your SteemPower: Simply do what the author asks of you and if you do a great job, the you may be selected a winner and earn parts of the bounty.
Have more questions? Read our FAQs or leave a response in the comments section below.


| Steem Bounty | Steem Forever | Vote Exchange Club |
| --- | --- | --- |
| | | |