Second chance to get my whole town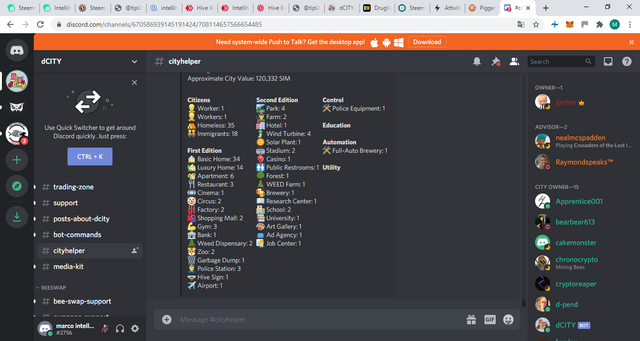 Dear friends
even i am going to sell my town on dcity game, i must keep it growing if i do not want to go out from top 200.
So now, as you can see, the town is over 600 units, good popularity, producing 0,1 BEER token daily and having 2 tech cards, last week there was none.
The offer is easy, i will sell this town from base price of 10 INTEL for every people living in my town, so now i have 601 people and i will sell my town for 6010 INTEL.
The rules are easy, just write your offer on comment and at the end of the week, who will give the best offer, will be drived to buy the coins and get the whole town.
If someone will offer to buy whole city for 10000 INTEL, will get the same amount of INTEL in the other engine and will get back 10% of investment as reward to be owner of my company token as 2020 year profit.
The tokens can be reinvest and get again 10% of profit at the begin of 2021 as new year profit in advance or send back to me and get back money invested (400 STEEM or HIVE).