statue friday — a stone angel
Angels descending, bring from above,
Echoes of mercy, whispers of love.
Fanny J. Crosby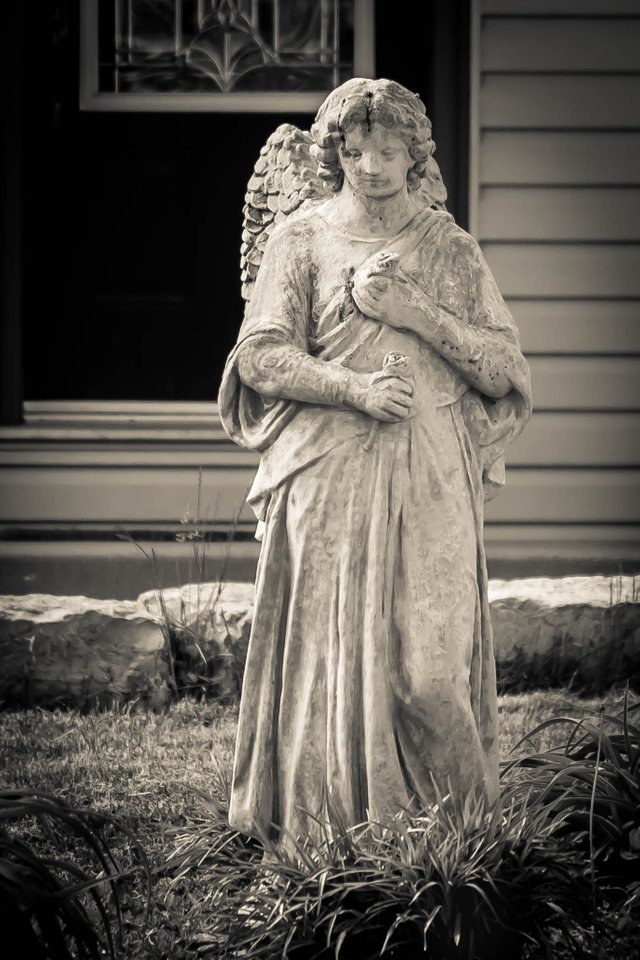 ISO400 | 100mm | f/5.0 | 1/500s
photos by

Nikon D3100
Nikkor Lens 55mm-200mm
Adobe Lightroom
©All rights reserved, 2018
#WindowMonday – Windows
#DoorTuesday – Doors
#RustArtWednesday – Rust
#GateThursday – Gates
#StatueFriday – Statues
#BrickSaturday – Bricks
#StreetlampSunday – Street Lamps
Use the #sevendaysoutside tag along with the daily tag.
Use your own photos - no paintings, no drawings, no digital art please!
There is no prize here, this is just for fun.




Thanks to @erikah for initiating #sevendaysoutside photography challenge.
---

an important reminder

---
The posting key is used for signing into your account and for posting.
The active key is used when you make a transfer of your money, place orders in the internal market and to vote for witnesses.
The owner private key is the master key for the account and is required to change the other keys.
Do NOT give this key to anyone, EVER. No matter who they are and how many times they say it's okay to do so.
Keep it offline as much as possible.
Keep it in a safe place, on paper and one other place.
The Keys are found in your Wallet - to the left in a tab named Permissions.
If you are ever in doubt about giving keys to third party apps or someone who asks for it, go to Steem Chat and inquire at #steemabuse or #help.