Cent- An income generating Social media network (Dapp review)
Cent social networking platform is described as an incoming generating social network that is enabling anyone to earn money by sharing their wisdom and creativity. The Cent platform is decentralized and built on the Ethereum Blockchain. Its interface is sleek and well designed. Cent has a vision of allowing Users to Earn from anywhere. Cent is one of the favorite dapp picks on the Sateofthedapps website.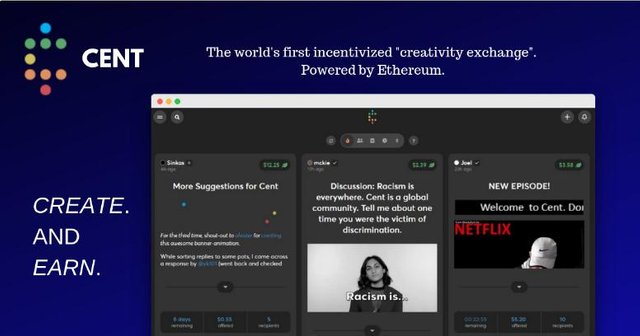 image source
How to get started
Cent can be accessed on any browser and on any device as long as there is an internet connection. You will need to create an account with your email and an Ethereum wallet for your rewards.
Mobile
There are many mobile apps that provide both an Eth Wallet as well as the Web 3.0 enabled wallets such as the Coinbase Wallet, Opera, Trust Wallet or Status. The combination of these 2 enables you to seamlessly send and receive ETH as well as sign unique messages on DApps such as Cent all within one app.
Desktop
You will need to First Install Metamask on your web browser which may be Chrome, Firefox or Opera, an action which allows you to connect your Ether wallet to your web browser. After accomplishing the Setup of your Metamask account, proceed to the Cent's Website to sign up.
FEATURES:
Bounties
These are simply a way for you to incentivize thoughtful responses and increase visibility for your content. Therefore if you are in need of anything that is crowdsourcing active responses for surveys, figuring out what book you should read next, getting your thesis or paper edited or if you just want to say something; You simply set a bounty to your content and post it. However, the minimum bounty you can set is 0.001 ETH or ~$0.15.
Seeding
This is attaching money onto the creator's content. When a seed is attached to someone's content, apportion of that money goes directly to the creator of that piece of content and the other portion goes to the users who seeded that content earlier than the rest of the users. Content supporters operate in speculation of the future popularity of that supported piece of Content while funding the creator and rewarding its earlier supporters. The more seed money a post gets is the more supporters are attracted to the content creator.
Channel
This categorizes your post. You can add only one tag per post and can be written like #Channel, #music, #food, #photography depending on what your content is all about. Various Cent users follow specific channels to curate/ support content in that category.
Editing
It enables content creators to re-visit their posts and do some corrections or add certain content they have missed out. It should be noted that Posts without bounties can only be edited within 24 hours.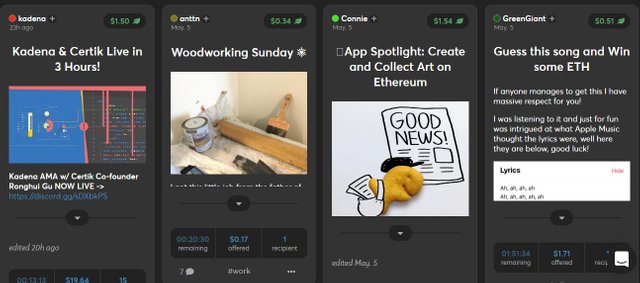 Screen shot taken on Cent home page
In the upper right conner is the seed which is denoted by a green life. At the bottom, is the channel with #tag. The dollar amount painted in blue represents the bounty amount attached on the post.
NSFW options
Cent provides liberty to everyone to publish all sorts of content they like, however, in order to make the platform comfortable for everyone, it has an NSFW feature that hides certain content such as the Adult content which might not be liked by some people. Every user has an option of opting in or out of being presented NSFW content.
Comparing Cent with Steemit
Cent prohibits Self-seeding which prevents its users from manually inflating the perceived value of a post in order to gain more seeds. Whereas with Steemit, its users are not restrained from Self-upvoting their own posts, which brings about a manipulation of the system payouts.
With cent a user receives his payout in a short time, for example, I made my first post on Cent and I received my payout in just 3hours which is of an advantage to the Cent users as they can get their money earned at a reduced risk of it fluctuating when delayed for a much more time whereas on Steemit a user takes a long time that is a week to receive his payout of a particular post.
Though Cent is still a new platform having less than 50,000 users, it's exerting a very big competitive advantage on the current social media applications through resolving the issues associated with them.
Therefore, according to my observations, I provide Cent with a 4.5-star rating and encourage all social media dapp lovers to use it.
For more details checkout:
Cent Website