AlphaWallet is an Open Source decentralized application that provides a wallet on which DApp developers can seamlessly publish their apps. It provides usecases for cryptocurrency.
---
The use-cases of cryptocurrency tokens have been established in several key areas of human day-to-day activities. Ranging from health and education to various financial institutions, big firms have leveraged on this ever-growing advancement to better their influence in the world's market. Now, the entertainment industry has joined the elite industries to build a market around cryptocurrency. In 2018, the world's greatest sports event held in Russia; the 2018 FIFA World Cup created a path to be followed by many. It was the first sports event to accept cryptocurrency as a form f payment. ERC875; an Ethereum network token published by AlphaWallet set a record by handling the soccer event tickets securely in 2018. Here is my critic review of this awesome DApp.
AlphaWallet is currently ranked 357 on State Of the DApps.
---

Source
---
Introducing AlphaWallet
---
AlphaWallet is a decentralized application, a cryptocurrency wallet that facilitates products and services on Blockchain and delivers tangible use-cases for cryptocurrency. It supports Ether, the famous interchangeable ERC20 token and ERC875 – a non-fungible token all built on Ethereum network. AlphaWallet brings various functionalities which include protocols and a wallet that can be used by any application built on Blockchain technology. It also has a framework that allows Blockchain to be used for identity attestations and to crown it all, it creates undiluted use-cases for cryptocurrency.
---
The Leading Components of AlphaWallet
---
There are various functionality components on AlphaWallet. In this review, I am going to focus on the three major ones: Protocols and wallet for DApps, the ERC875 token and Blockchain attestation.
Protocols and Wallet for DApp developers
Creating decentralized applications is much easier with specially created AlphaWallet protocols. There are designated protocols that support Blockchain apps on AlphaWallet and their mobile app make things easier for project owners. There are various Blockchain projects that give room for DApp developers to use their ready-made Standard Development Kit (SDK) to build apps. However, many developers still need to own private wallets to run their apps. This presents limitations for developers that do not have much money at their disposal. AlphaWallet gives room for developers to use its wallet to seamlessly run their decentralized apps. This does not make the DApps dependent in any form.
AlphaWallet is the first ever cryptocurrency wallet to support ERC875, a non-fungible token. This token was created to solve various problems and bypass the limitations of Ethereum network's most- famous token - ERC20. Numerous Blockchain projects have published their protocol tokens using ERC20. However, it has been established that ERC20 cannot handle highly-complex functionalities. This has made it an unsatisfying token for projects with massive functionalities. To securely trade ERC20 token, trade parties (both the seller and buyer) are usually required to have Ether (another Ethereum network protocol token). This results in ERC20 having limitations even for trading implementation. The ERC875 allows the tokens built on it to encode complex data, thereby requiring only the buyer to have Ether. This token has provided successful use-cases in buying and selling of events tickets.
This is one of the few things that are hard to come by on Blockchain. There is no doubt about it; Blockchain technology has brought about priceless benefits. However, the importance of attestation is rated as trivial here. Attestation refers to a proof of functionality of a system or thing (it can be anything, anyway). Think of this as a signed proof that testifies to the value of something. It is very ideal for verifying and identifying purposes. It is, however, handled as a trivial functionality on Blockchain since it cannot be used to signify a successful transaction. Attestation often requires private information of the involved users which is kind of an opposite to Blockchain mode of operation. After all, Blockchain is best known for its security and privacy features. This limitation has been a reason why some firms find it hard to adopt cryptocurrency. AlphaWallet saw an end to this barrier by ensuring that FIFA (Federation of International Football Association) sold some tickets in the world greatest sports event – FIFA World Cup 2018 using with cryptocurrency. Since the tickets served as an attestation to the event, holders could sell their tickets when they see need to resell and get the non-fungible token (ERC875).
---
Getting Started With AlphaWallet
AlphaWallet services can be accessed through their mobile app that is available for both the Android and iOS devices. We will go through the application (for Android device since that is what I am using currently).
Click here to get their AlphaWallet app on PlayStore.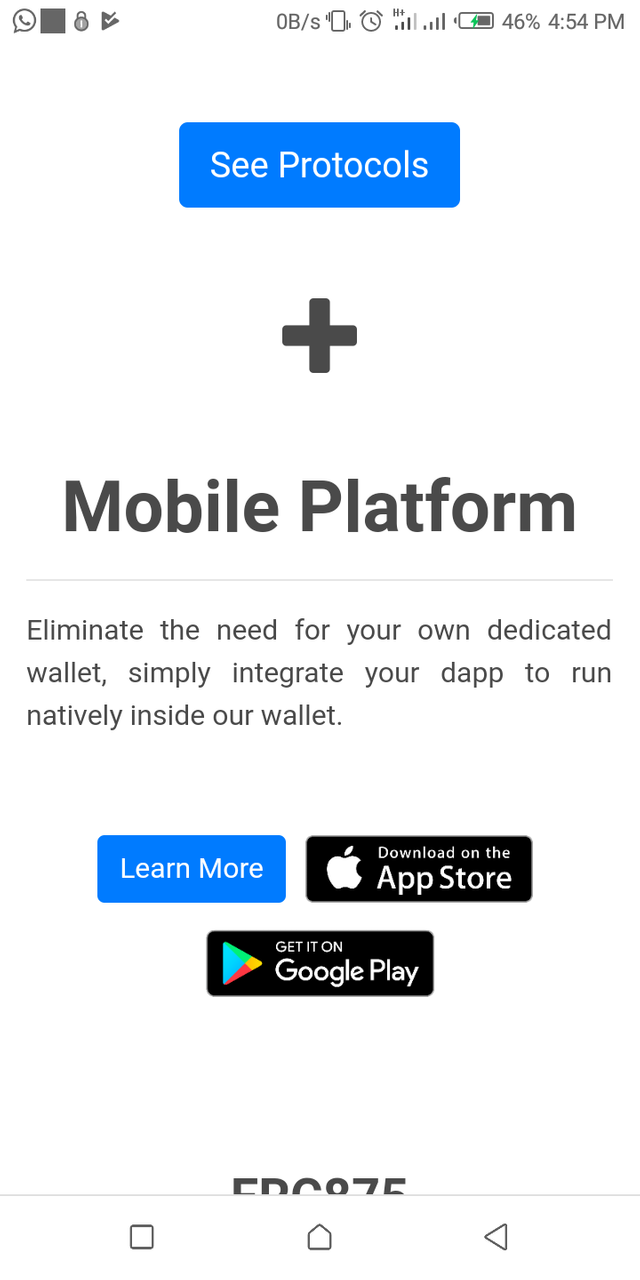 After successfully downloading and installing the app on your device, launch it to get started. As you launch the app, you will be directed to the wallet page. See it below.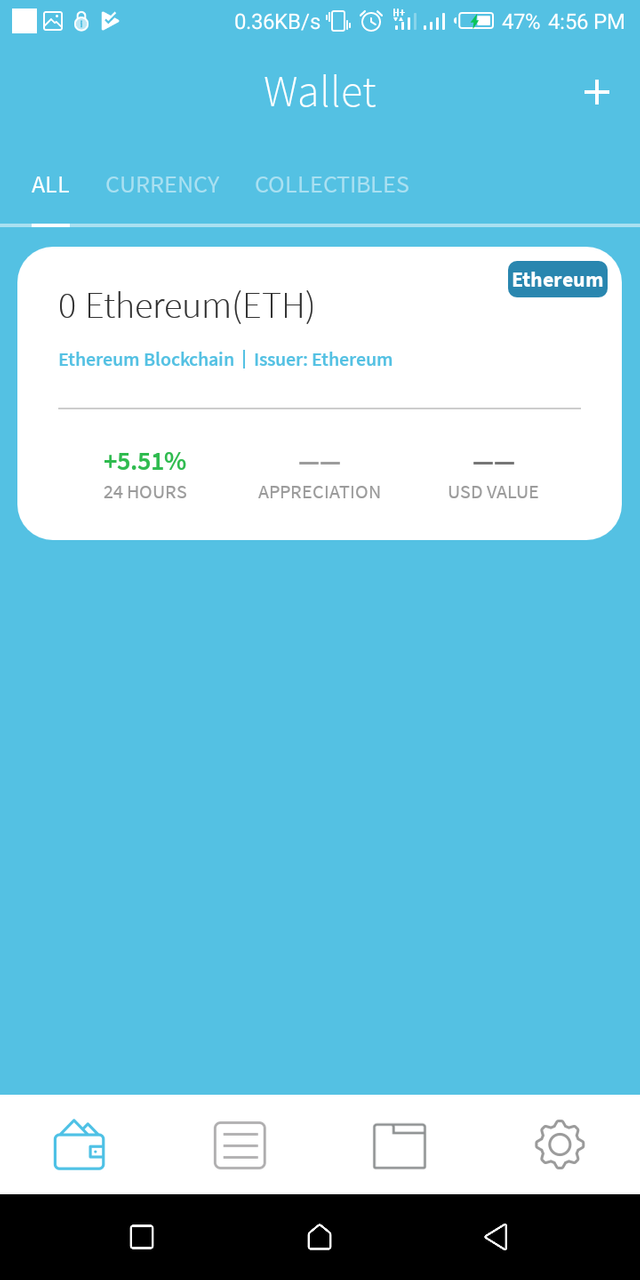 We can see three items at the top menu tagged All, Currency and Collectibles. The only default currency on the app is ETH. Although you can add custom tokens (we will talk about that later). Clicking on the default token (ETH), we can see the recent transactions done with this token. It also contains information about the real-time token value in USD. As well, we can send and receive ETH token from this page. See how it looks below: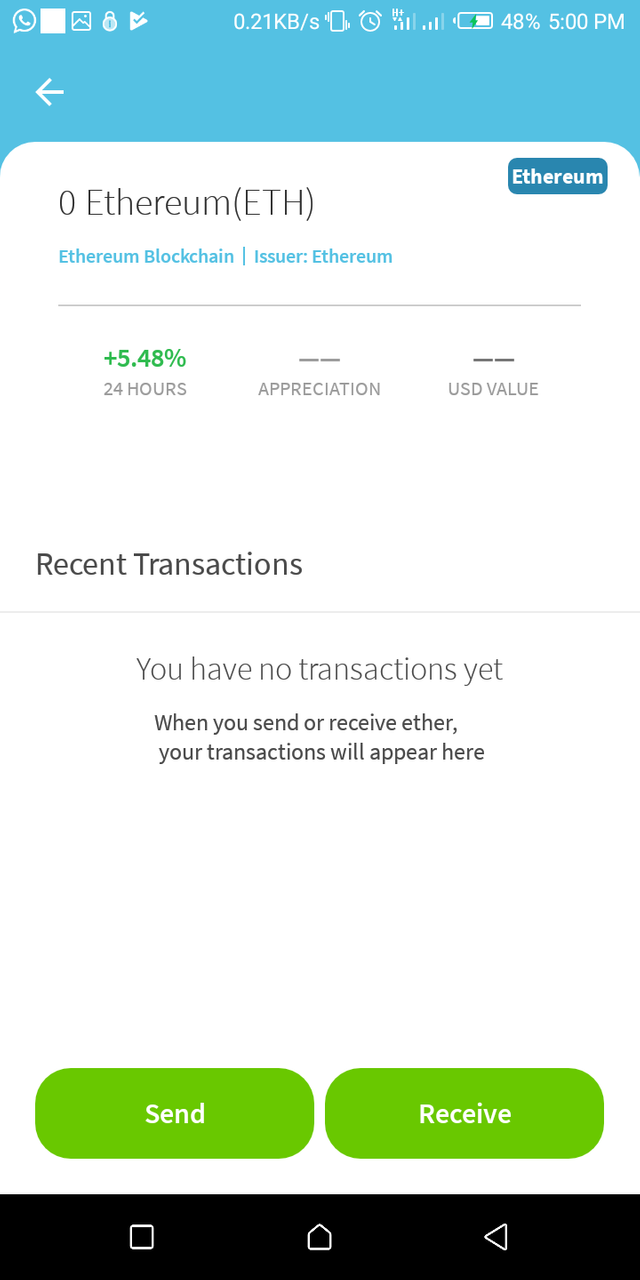 ---
Sending Tokens on AlphaWallet app
Now let us click on the Send button and see how we can transfer tokens out of our wallet. Below is the screen that appears as we click on Send. Firstly we are required to paste the receiver's wallet address or simply scan the address code. After that, we need to specify the amount of the token we intend to transfer and then click on Next.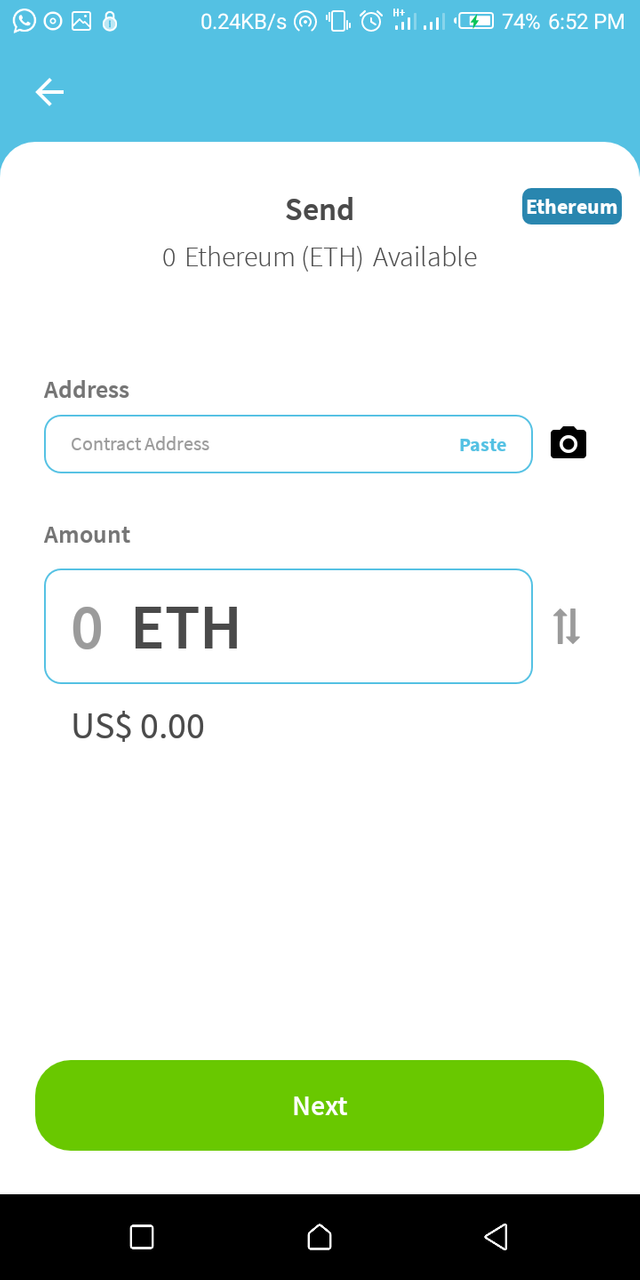 Well, I do not have any ETH balance on my wallet so I cannot show you the next phase. I believe it is going to be self-explanatory anyway. Now we will go back and check on how we can receive ETH on our wallet.
---
Receiving Tokens on AlphaWallet app
To receive some tokens, first select the token from the list of coins you have added to your wallet from the homepage. Remember the other time, we selected ETH. That is because it is the only toke we have (by default) in our wallet. Now click on Receive and you should see the following screen.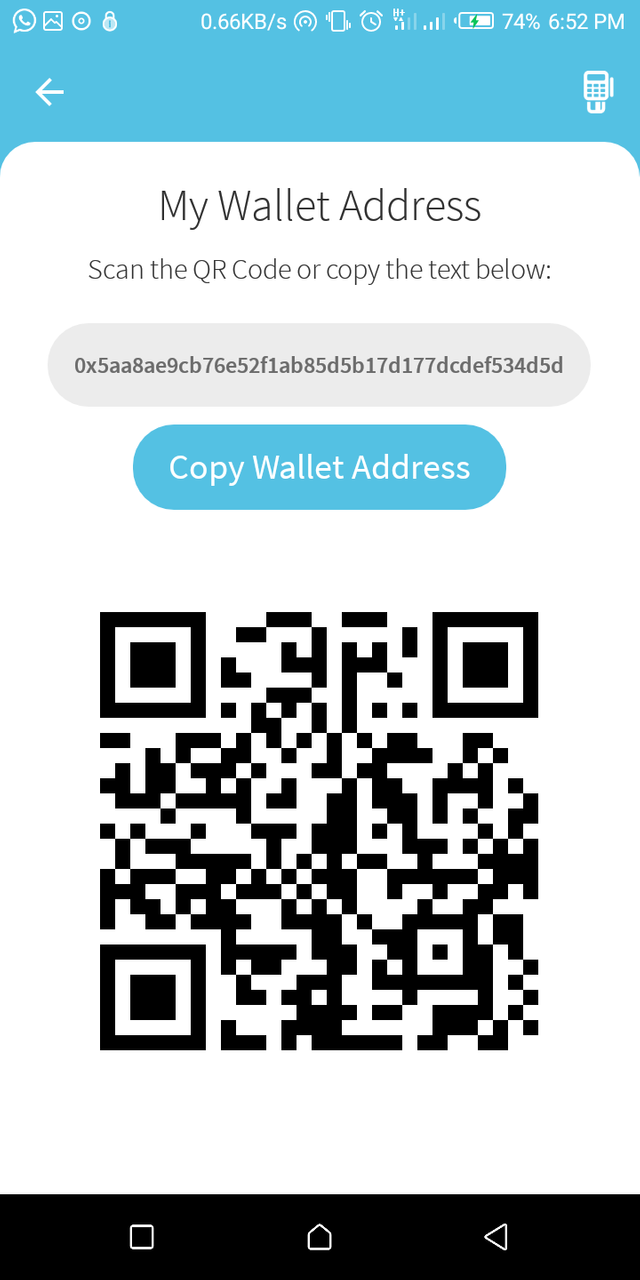 That is my wallet address and QR code. As we know already, copy the wallet address and send it to the sender.
---
Now we want to explore other pages in the app. The next to the wallet icon at the bottom menu is the Transactions page. This page displays the details of our transactions in the app.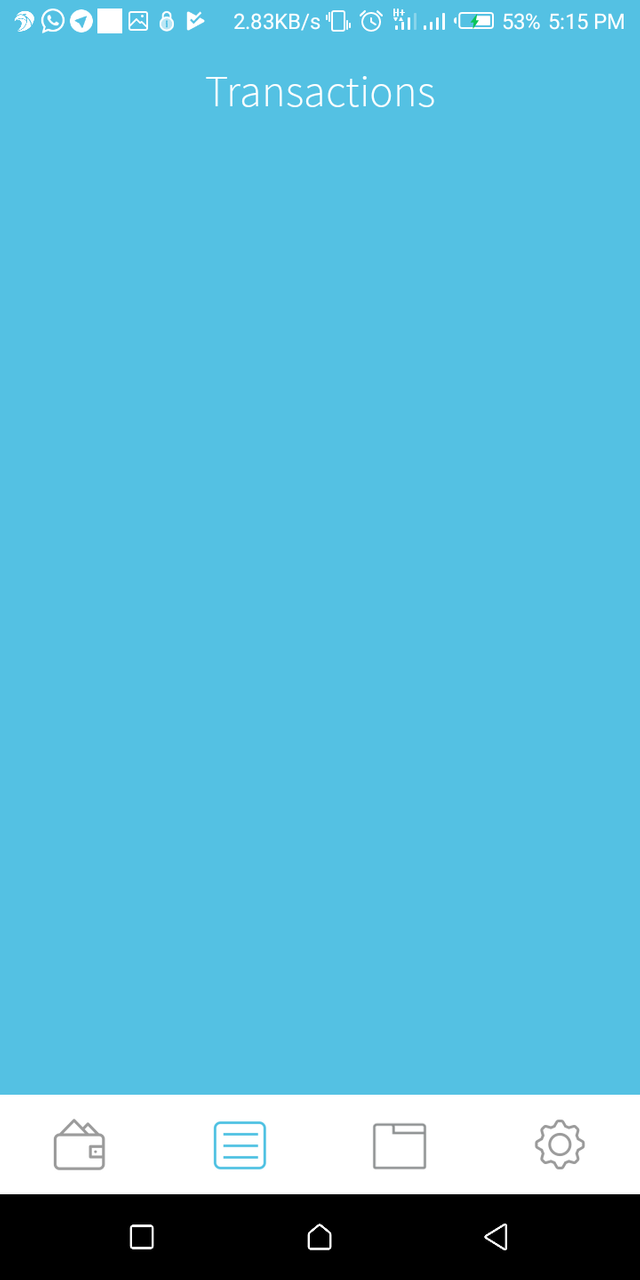 Following the Transactions icon is the Decentralized Web icon. This is an inbuilt browser through which we can explore the various DApps available on the internet. It works just like any browser you know of. You can use the search box to search for anything on Google.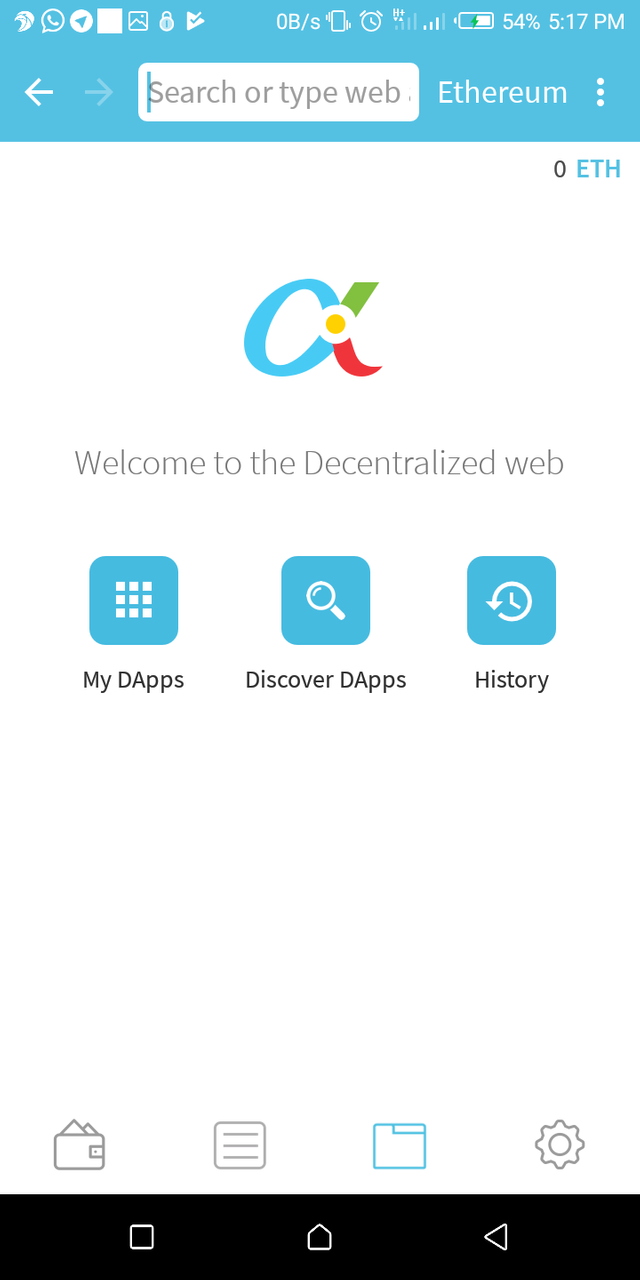 The My DApps icon takes you to the list of the DApps you have personalized and added to your DApps list. Since we have not added any yet, we can see that no DApps is being displayed to us.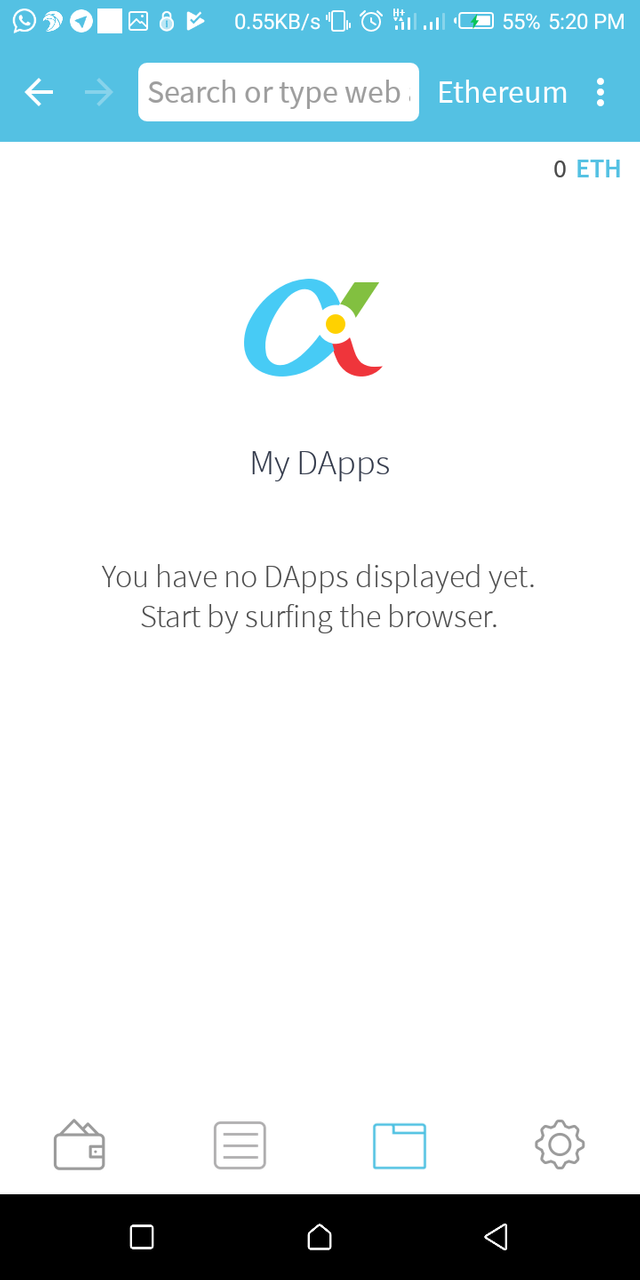 Now let us explore some DApps on the Blockchain world. Click on Discover DApps and you should see the following screen.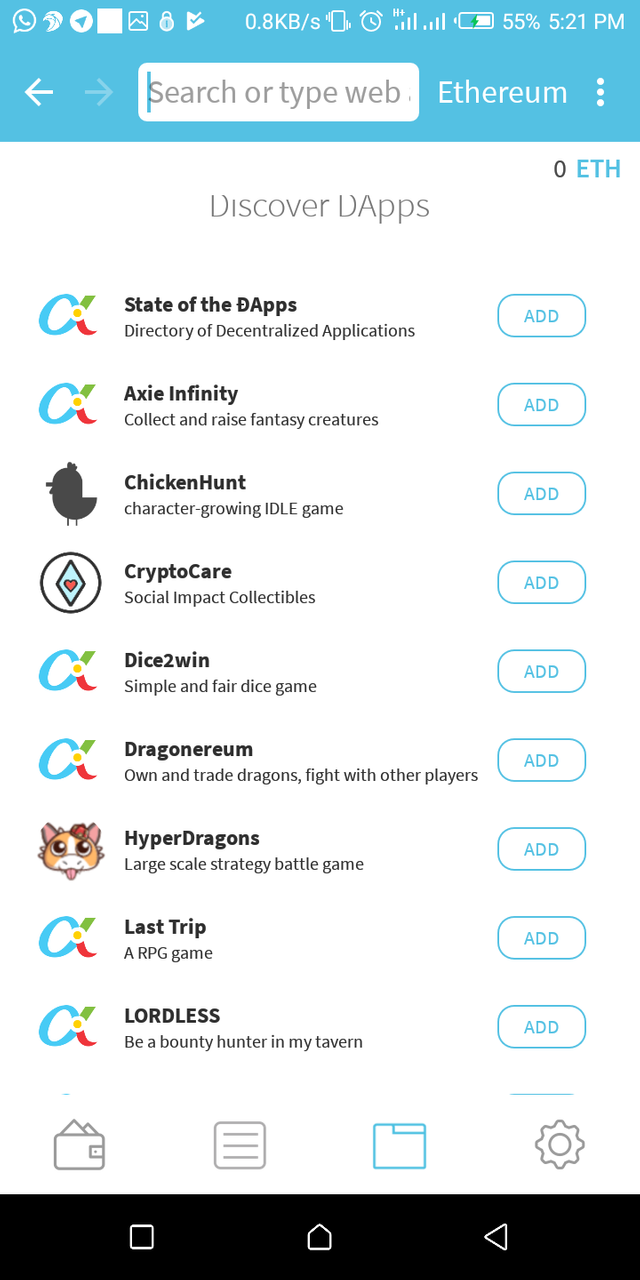 From the list of DApps displayed by default, I am going to add the State of the DApp. Going back to My DApps, I can see State of the DApp already added to the list. Interesting!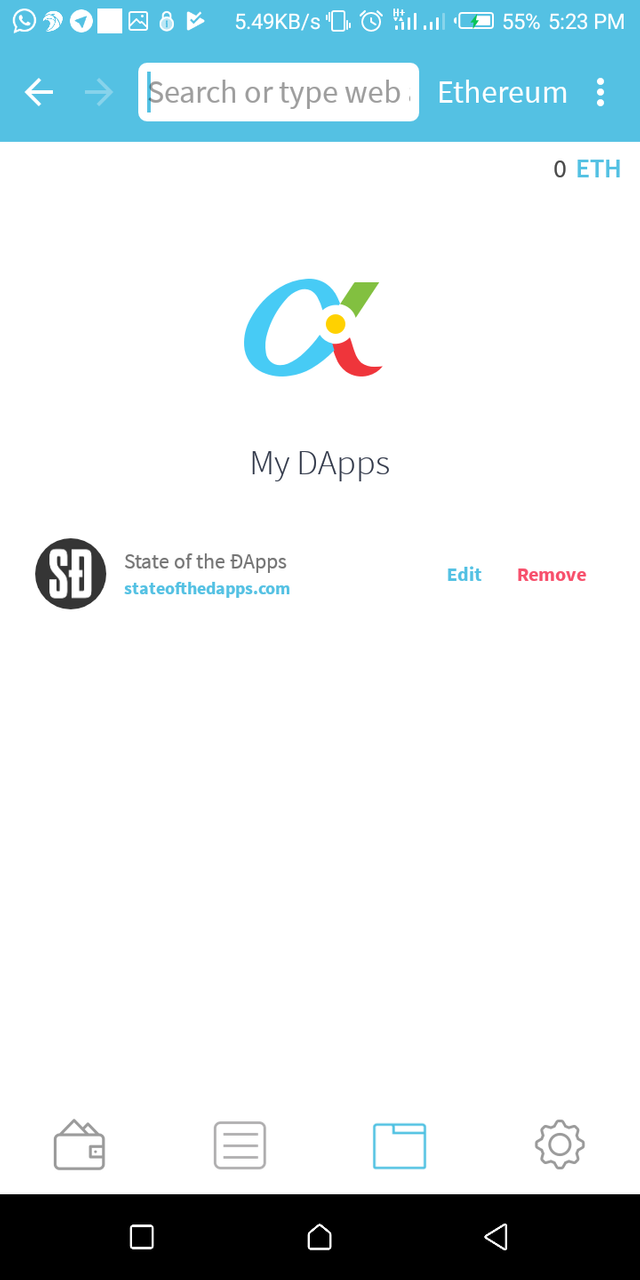 The History icon takes you to the page where browsing history is displayed.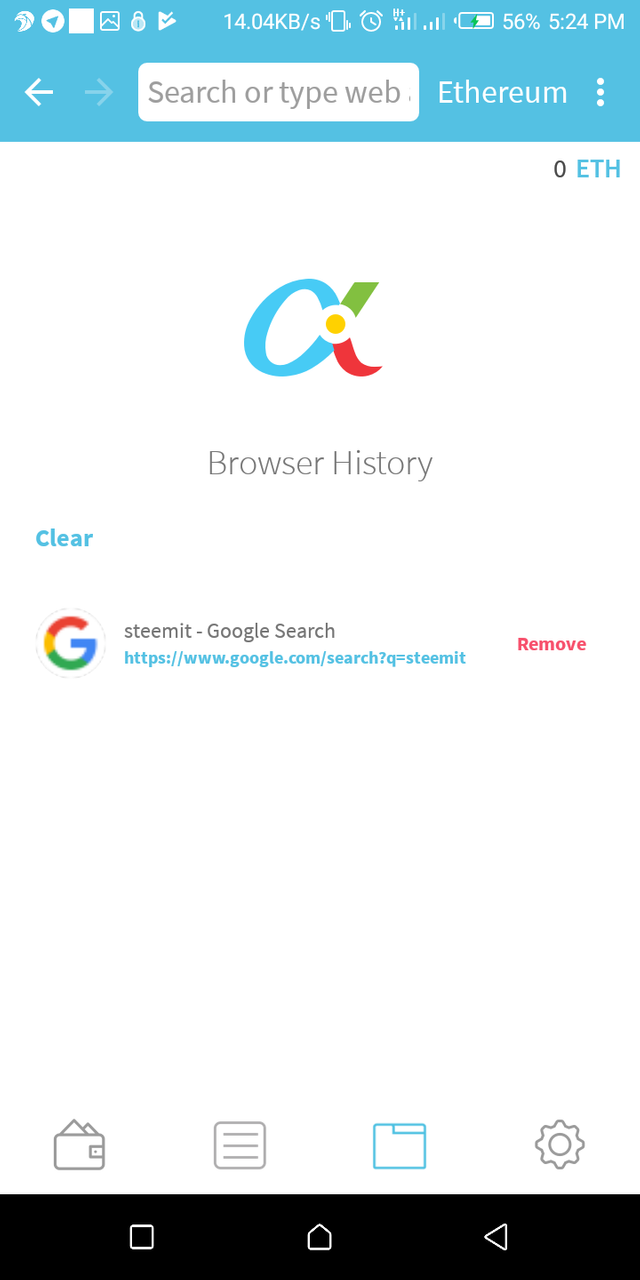 The last icon at the bottom menu represents the Settings. Here, you can see your wallet address, network filters and notifications. You can also access help, Frequently Asked Questions and AlphaWallet social media pages. As well, you can enable custom XML override.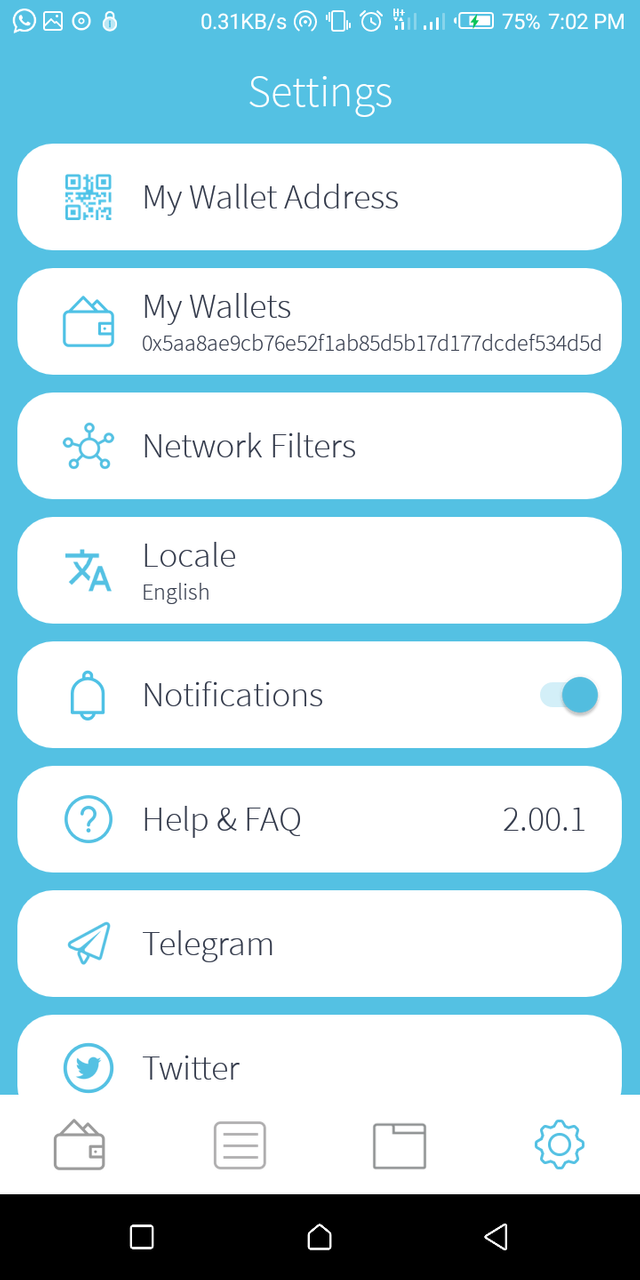 ---
What I like About AlphaWallet (Pros)
---
Various use-cases for cryptocurrency
Attestation is used in various different concepts. One of them is identity attestation which is indeed a very great use-case for cryptocurrency. AlphaWallet provides a tangible use-case for ERC875 token, an undervalued token on Ethereum network. This token was adopted by FIFA to adopt cryptocurrency and AlphaWallet did a great work connecting the event tickets to Blockchain. This is a barrier-breaking achievement and I believe we are going to see more of this in the future. After all, we all want the mass to adopt Blockchain and cryptocurrency.
An ecosystem for Ethereum DApps
If you are an enthusiast this era-defining technology and cryptocurrency holder, you will understand how much of a benefit this feature can be. There are various amazing projects on the Blockchain. Using one does not stop you from having several others since most of them have their unique functionalities and implementations. What is more, the Ethereum Blockchain is the foundation on which many of these amazing DApps are built. With AlphaWallet app, I can now have multiple DApps in seamlessly managed on a single app and access them faster than before.
DApp developers no longer need to worry about having dedicated wallets
I really like the fact that AlphaWallet makes their wallet available to be used by DApp developers. With this, developers no longer need to worry about having their own dedicated wallets (which can be expensive to managed and maintained).
---
Where I need AlphaWallet to improve on (Cons)
---
ERC875, the first protocol token to be published by AlphaWallet has yielded a good response through its use as a ticket experiment during the 2018 FIFA World Cup tournament held in Russia. AlphaWallet has since published three other protocol tokens; ERC1386, ERC1387 and ERC1388, all in September 2018. That was too soon and may affect the focus on ERC875 token that was published just four months earlier. I think the team needs to ride it slowly so as to not kill this awesome project with their divided focus.
The adoption of ERC875 by FIFA deserves more publicity
I am not here to underrate the absolute effort put to work by the AlphaWallet team. I think their achievement in seeing ERC875 being used for blockchain attestation experiment in 2018 FIFA World Cup deserves better publicity. So many organizations are working on mass adoption of cryptocurrency. There is no better way to attract public attention than through an established entertainment scheme. The team should have taken it from there to use this token to attest global crypto events in 2019. Their focus should be on the growth of ERC875 token for now and not on publishing multiple protocol tokens.
---
Rating
To be candid, the team behind AlphaWallet is doing inexplicable work. What they have achieved in just a year is very astonishing. I just need to to focus their resources on the survival of their established protocol token. I think that will even bring them to a new height. All said, I believe this project is underrated and undervalued. I hope to see it adopted by the mass very soon. Right now, I would give it 4 stars out of 5.
---
---
Github Repository
https://github.com/alphawallet
---
Links and References
---
---
DISCLAIMER
This is not financial advice, nor a guarantee or promise in regards to any result that may be obtained from using the above content. The information provided here is for informational and entertainment purposes only. It should not be considered as financial and/or investment advice. No person should make any kind of financial decision without first consulting their own financial adviser and/or conducting their own research and due diligence.