Radar Relay - Fast And Secure Decentralized Ethereum Exchange [Review]
---
INTRODUCTION
---
Since the introduction of cryptocurrency, a lot of exchange platforms and wallets have been rising up every now and then; both the centralized and the decentralized ones. However, with the attacks being perpetuated in centralized exchange platforms lately, users have become less comfortable trading with such exchanges, particular the ones where users are not in full custody of their keys and tokens. This is the reason many traders are switching to decentralized exchanges. Have you ever thought about an exchange platform where your Ethereum tokens are traded directly from your wallet without involving any third party or escrowing service? Here, I present to you Radar Relay.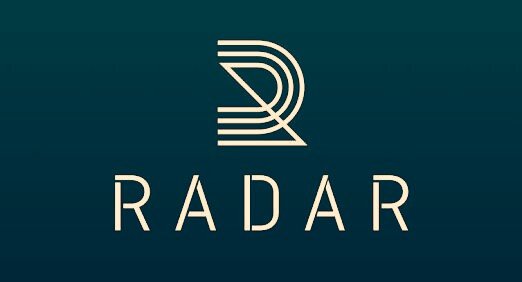 [Image Credit: Radar Relay. Edited by me]
---
OVERVIEW OF RADAR RELAY
---
Radar Relay is a modular decentralized exchange platform created by Radar Tech inc. and headed by Alan Curtis which has the purpose of providing traders with a unique trading options where their tokens can be traded directly from their crypto wallets without going through any middleman. If you have used any centralized exchange platform before, you will agree with me that you cannot trade until you have moved the cryptocurrency you want to trade with to the exchange wallet. This option has brought about loss of cryptocurrencies because any hack on the exchange wallet will render your cryptocurrency vulnerable - this is exactly the problem that Radar Relay has come to solve.
Radar Relay operates with the new technology of 0x which is the protocol that facilitates secure peer-to-peer exchange of ERC tokens. This means that a trade will not be executed until a particular order is matched and some conditions are met in the order book. With this, traders will not be worried about their tokens being hacked or intercepted by third party. As a matter of fact, there are no sign-ups when using Radar Relay and no verification whatsoever - you are absolutely in control of your cryptocurrencies and the transactions are effected from your external wallet.
---
UNIQUE FEATURES OF RADAR RELAY
---
Now we've had a brief overview of Radar Relay, we will take a survey of the key features that have distinguished it from other exchange platforms both decentralized and centralized alike.
Security protocol: Radar Relay has incorporated state-of-the-art security protocols to provide secure trading options. Firstly, whatever you do in the site, Radar Relay will never assume the custody of your cryptocurrency. More so, all transactions are void of escrowing service and are only accessible right inside the connected external wallet, because of this, KYC or any form of personal verification is not needed. To make it more secure, you are not required to make any deposit into Radar Relay, you only need to connect a supported wallet (Nano ledger, Metamask, Trezor or Fortmatic) to initiate a transaction.

Simple Interface and functionality: This is another unique feature of Radar Relay. Radar Relay has a very unique and user-friendly interface. To use the platform, you do not have to be a tech or crypto geek unlike some exchanges that come with very complex interface. With this, even first-time crypto traders can work themselves around the platform with ease and trading can be done in seconds with few clicks. Even with the simplicity of Radar Relay, it has very detailed market indices and order book chats to provide an overview information of a particular trade at just a glance. This is a perfect combo of simplicity and completeness. Radar Relay also has an easily accessible API for users to integrate trading automation bots - this feature has made Radar Relay to stand out among many decentralized exchange platforms, no wonder they have earned a place in the StateOfTheDApps ranking.

Trading fees: Someone might be interested to know the fees for trading in Radar Relay. Radar Relay does not have a direct maker or taker fee at the moment. However, traders will have to use Gas to effect a transaction - these Gas fees are very minimal and also adjustable when compared to the fees from some other exchange platforms.
---
GETTING STARTED WITH RADAR RELAY
---
With all the features of Radar Relay that we have seen, I'm sure you are piqued to know how to get started. The first step is to go to https://app.radarrelay.com (remember there are no sign-ups). Right on the site, you will see a "connect to wallet" tab by the upper right corner of your browser, click on it to reveal the supported wallet options. When these options are revealed, you can select the wallet you want to connect to Radar Relay.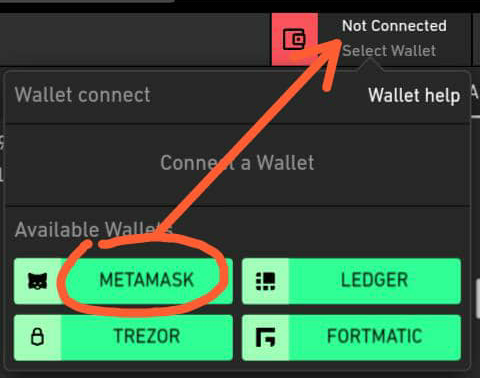 [Image screenshot from Radar Relay]
For the purpose of this tutorial, we will use Metamask wallet. Click on "Metamask" to sync your Metamask with Radar Relay. Once this is done, you will be required to wrap the amount of ETH you wish to trade with to get "Wrapped ETH" (WETH) - this has the same value as ETH and it is the trading pair supported by Radar Relay. Note: you can unwrap the WETH at any time to get back your ETH without any loss of value.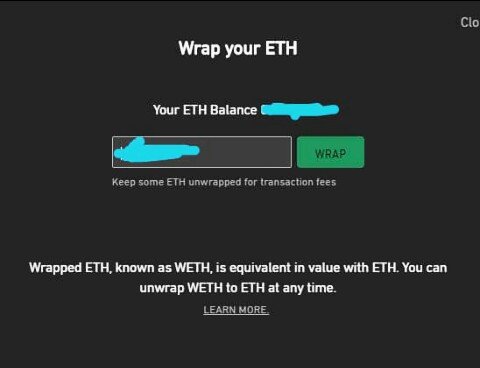 [Image screenshot from Radar Relay]
Once you have followed the above steps, you should have some WETH but you need to make them tradable by clicking on the "next" button at the base of the pane where you converted your ETH to WETH. After completing all these steps, you can now go back to your trade dashboard to initiate your first trade.
For the purpose of this tutorial, we will trade MANA against WETH. To trade this, go to the trade dashboard, by the upper left corner of your browser, select the trading pair of your choice - MANA/WETH in this case. When you have selected your trading pair, you will see the price and then a detailed chart by the right side of the browser. To buy MANA with WETH, click on "buy" and enter the amount of MANA you want to buy and click on "place buy order". Once the order is met, your buy order will be executed in your order book and your MANA will reflect in your wallet - the processes are so easy.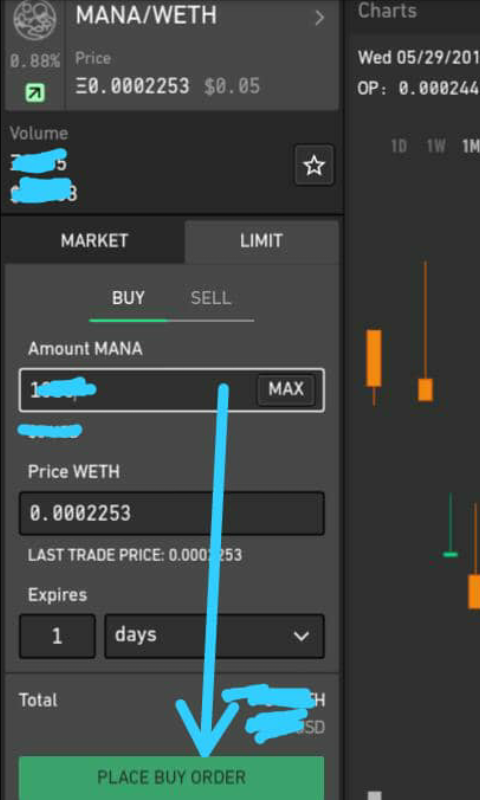 [Image screenshot from Radar Relay]
When filling your order book, there is an option to select an expiry date for your order. In an event where the conditions are not met and the order book is not filled after the stipulated time, the order will automatically expire. The expiry date can range from minutes to months depending on your preference. To select the expiry date, just click on the drop-down arrow beside the "expire' tab directly under your order book. To have a detailed video overview of how to use Radar Relay, here is a video for you.
---
Video credit: Radar Relay
---
FINAL WORDS - PROS AND CONS OF RADAR RELAY
---
First of all, I will give kudos to Radar Relay for bringing an exchange platform where every user will have absolute custody of their cryptocurrencies in their wallets and not on the exchange platform. Radar Relay has a very wide trading pairs and trades come with a very minimal Gas fee (for mining), for this, I will give another kudos to Radar Relay. However, on the pro side, trading on Radar Relay is only restricted to ERC tokens and cannot feature other blockchain platforms like BTC and the likes. This means that, for traders that love trading non-ERC tokens, Radar Relay will not be ideal for them as there are no trading pairs for such. Hopefully in the future, Radar Relay may look at the idea of incorporating other trading options to their platform apart from ERC-based tokens. On the overall, I give Radar Relay a 4/5 rating.
---
Project Github Repository: https://github.com/RadarTech
My Github Repository: https://github.com/samminator
Disclaimer: The content of this article is not meant to serve as financial advice, please do your own research.