STEEMMONSTERS A GAME OF COLLECTIBLES (DAPPREVIEW)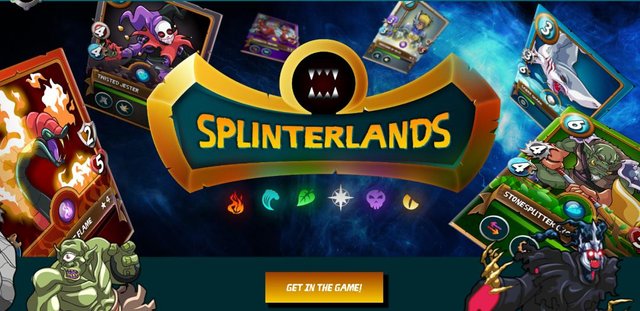 [Image from Sm website]
INTRODUCTION
The introduction of decentralized body like the blockchain has removed some major barriers in our mode of living.From finance to freedom of speech we now have the control and authority over some phases of our life.Blockchain has given developers and and programmers more avenue to channel their creativity amd brilliancy into a more pronounced project.By so doing this,more value is been added to the community and more traffic it brings.
The projects done by these developers are called dapps and these dapps are another form of fun catching or side income for users on the blockchain.One of this dapp is called steemmonsters.
WHAT IS STEEMMONSTERS
Steemmonsters now known as Splinterlands is a game dapp built on the steem blockchain by Aggroed and Yabapmatt as a decentralised entity in 2018.It is a virtual game that arose excitement and curiosity in its players.It also awakens the spirit of winnimg in its players.Steemmonsters was featured on the stateofthedapps list.This game dapp is abput building a team of card and taking them to war.The end reault will lead to your ranking in the game and the reward you will get. The stronger your team the more higher you go and more reward card you rake inSteemmonsters was designed in such a way that you can either be an investor by buying this cards and trade or be a passionate player by winning your way into getting more cards.Cards are sold in thw market section on the platform.
TERMS ON STEEMMONTERS
BUY: Here you can start by buying either the starter pack pr the booster pack in starting the game.Starter pack cost 30$ while booster packs cost 2$.

FAQ: Any question you think you might need to ask as a beginner has already been amswered here.

BATTLE: This is the major focus of this game, this is the arena where the real deal is.The battle signifies the start of a war between two opposing players.

MARKET: If you need to upgrade your cards or sell them, market is the place to go.

TOURNAMENT: This is another awesome feature of this dapp,here players come together to fight for a common stake or price.

CARD DELEGATION: Here you can delegate cards to anyone either for free or for a price
STEEMMONSTERS CARDS
SUMMONER: This are leaders of the pack.They determine the monsters to fight.

MONSTER: They are the minority whise opinion and hard work counts in the field.They fight the actual battle with the help of the summoner.

SPLINTER: This is a common name given to the summoners like : Dragon, Neutral, Life, Water, Earth, Death and Fire.

Steemmonsters also have card categorised by their rarity namely:
Legendary
Epic
Common
Rare

They also have foil cards in Regular and Gold.
STEEMMONSTERS BATTLE TERMINOLOGY
*LEAGUE: We have 6 leagues ranging from the Novice to the Champion, and each league rises from level iii to i.For example a player rank from novice iii- i before crossing to the next level which is Bronze iii-i again till you get to champion i which is the highest.
RANKED: Steemmonsters runs a seasonal fight for its player.Your rank in a season will determine your card reward at the end if the season.
GETTING STARTED
First you log in to steemmonsters with your posting key by making sure you have a steemit account.Then you proceed to buying the starter pack which will enable you play the game.
If you are doubting your ability in playing l, you can click on the underlisted icon on the steemmonsters platform:
How to play
Practicing
Challengingyour friend.
IT IS IMPORTANT TO KNOW THAT
steemmonsters cards comes in edition:That is the Beta form and Alpha form
Beta are regular cards while
Alpha cards are powerful and can also be converted into a beta card.They look different from the beta cards.
STATS & ABILITIES
The cards determines what ability they carry.
The card stats can either be in Attack,speed or form that is the melee,ranged or magic or the speed, armor or health.All this stats determines the power your card holds and in what capacity it can be used and played.
For ability we have the blast,dodge heal,inspire,life,leech,flying,poison among others.All these can be used against your opponent on the battle ground.
LIKES
Easy to play and learn
Has character and a lovely storyline
There is room for improvement in the game and each season comes with different unique feature.
DISLIKES
Consumes alot of data
It only favours the rich players because the more you invest the higher your chances of winning.
IN CONCLUSION
Steemmonsters now known as splinterlands is one of the best game dapp on the blockchain today and also. one of the best on steem blockchain.
I am rating this dapp 4/5