MEET.ONE
The idea behind cryptocurrency to some it is flawless and others not so much. Built on the blockchain, it serves as a peer to peer medium of exchanging funds for services rendered be it online or offline, within seconds, faster than any pre-existing banking or financial system, making it the ideal standard for any business enterprise to run on.
One of the issue cryptocurrency hopes to serve is ensuring funds own, truly belongs to the users and not to any third party organization which has the right to stop and halt any and every transaction a user might which to carry out now or the future. You might be surprised to learn that, such organizations still exist within the crypto-space and they are none other than centralized exchanges.
Like every centralized system, centralized exchanges are governed by a body whom have the right to control activities carried out under their governed organization. These activities might include deposit and withdrawal of funds stored within their system.
Before now, we have read articles, blogs related to exchanges halting withdrawals of a particular cryptocurrency due to hacks done on their system, this is usually done for security purposes but what about those who are urgently in need of their funds at that moment? They have no alternative than to comply and look for funds somewhere else.
Wallet hopes to solve this by implementing or randomly generating private key.
Mycryptopedia defines a private key as,
The private key consists of alphanumerical characters that give a user access and control over their funds to their corresponding cryptocurrency address. The private key is used to sign transactions that allow the user to spend their funds. In other words, the private key creates unique digital signatures for every transaction that enable a user to spend their funds, by proving that the user does in fact have ownership of those funds. Source
The difference with this and a centralized system is that, accounts created in a centralized system can be modified by the system, which can also be modified by users with just the right amount of information, which in other words, funds are not safe.
With a wallet, a private key is issued, with the user being the only one who has access to it.
My private key, my funds.
MEET.ONE
MEET.ONE is a wallet Dapp built on the EOS blockchain which offers the above and more. With the use of an EOS account private key, users will be able to import multiple or single account for on-chain activities like deposit, withdrawal, staking, and amongst others.
MEET.ONE is more of a straight forward to use wallet and does not encompass features provided like TokenPocket. It is more of fund security and transaction, and not much into the entertainment aspect of cryptocurrency usage.
Getting Started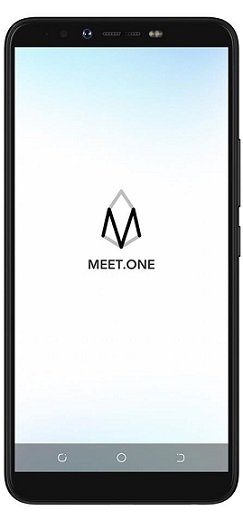 Like most EOS based wallet, MEET.ONE supports the importation of EOS based account and other chains like BOS, Binance, and others.
EOS account creation via MEET.ONE is a little bit limited when compared with the likes of TokenPocket, account creation at the moment, only supports invitation code, this means a user probably gift you an EOS invitation code to create one and without an invitation code, you are left to look for other means to create an EOS account outside the MEET.ONE Dapp.
That said, MEET.ONE is more of a wallet to hold your funds.
How to import an EOS account to MEET.ONE
Download MEET.ONE app via android playstore by searching for MEET.ONE or download via this page
Upon download completion, open the app via your android menu,
You will be prompted to import an EOS account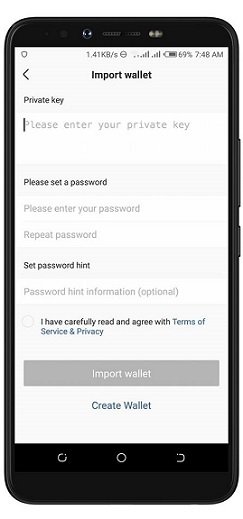 Fill in the right information, by pasting/typing an active EOS private key,
Create a password you can easily remember, this is required when you try to complete transactions.
Hint is optional, it can be left blank.
Agree to the terms and conditions and click Import.
If all information provided were accurate, your account will be imported within seconds.
---
Features of MEET.ONE
---
MEET.ONE is more focused on transactions related usage than entertainment and others.
---
Asset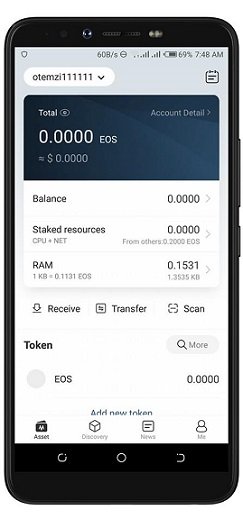 It shows the total amount of EOS, both staked and unstaked an account has. Here, a user can transfer and receive EOS coin and its tokens. Ram purchase, and CPU, NET stake can be done via this menu with little or no issue.
Scroll down, a list of other tokens received as airdrop or sent from another EOS account can be found on this menu. These tokens can also be sent, via this menu to another EOS based account, or another wallet that supports them.
In summary, it is more of a transaction page to perform different transaction related types of activities.
Discovery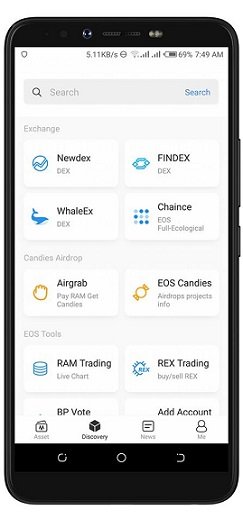 From our review on TokenPocket, we found out that the discovery menu is a Dapp portal to run different Dapps available on the supported chains.
MEET.ONE discovery menu is a little on the downside, meaning no much activities takes place here. It is more of a finance portal page which provides access to different exchange Dapp available in the EOS blockchain and also airdrop pages. Not the usual portal to different types of Dapps available in TokenPocket.
This is another point showing that MEET.ONE is more of funds handling than exploring different types of Dapp available on the supported wallet chains.
News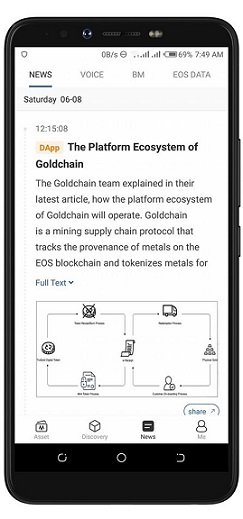 To keep its users informed about blockchain and cryptocurrencies happenings, the news menu provides information relevant to crypto enthusiast about the happenings in the crypto-space.
You no longer have to google or look for different blogs relating to Crypto and blockchain to be enlightened about the present day happenings.
Me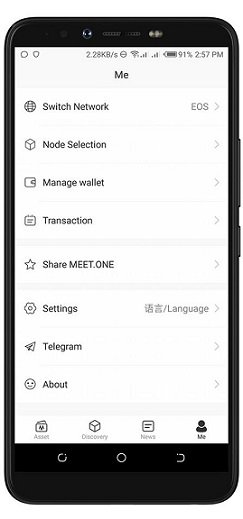 It is an in-app setting that allows users to modify the way MEET.ONE app interacts with them from language to unit currency.
Like any other software, users are likely to have different in-app desires or probably different region and language barrier, Me provides the option for users to modify MEET.ONE to meet their various requirements.
In-app modifications included are,
Language setting, this as to do with selecting your preferred language

Switch Network, unlike TokenPocket which provides easy access to swap one chain to another, MEET.ONE is a little complicated and don't have that easy to use swap function.

Node Selection, this as to do with the speed the app interacts with you and users can select from different servers.

Manage Wallet, users can delete any existing wallet from the app, and also add new ones to it.

Transaction, all activities you probably carried out on the linked account before now, can be located here.
---
Why should one use MEET.ONE and why not?
---
Unlike other types of wallet Dapp available on the EOS blockchain, MEET.ONE is more user-friendly, easy to install, and does not accumulate much storage on our various devices. Due to its less functionality, it is ideal for business-oriented groups and does not clog our mobile devices when not being used, with different notifications.
Although, users who demand more functions from a wallet or probably used TokenPocket before now, porting to MEET.ONE might feel a little restricted from the different Dapps available on the EOS and other chains.
---
My View
---
In terms of need from a wallet (unrestricted access to funds) MEET.ONE provides every bit of it. It was my best EOS Dapp wallet before now, but after using TokenPocket for some weeks, MEET.ONE soon became the least used software on my mobile device and was only opened when I needed to make transactions.
So, I use TokenPocket to access the different types of Dapps available on the EOS blockchain, and if any demanded a form of transactions, I would have to fall my back to MEET.ONE. In other words, I found a way to work with both.
---
Conclusion and Rating
---
For a Dapp wallet, MEET.ONE meets every requirement, light-weighted, user-friendly, good security, and easy access to funds everywhere.
That said, for a user who wants something more, MEET.ONE might not meet their needs.
For these reasons, I give it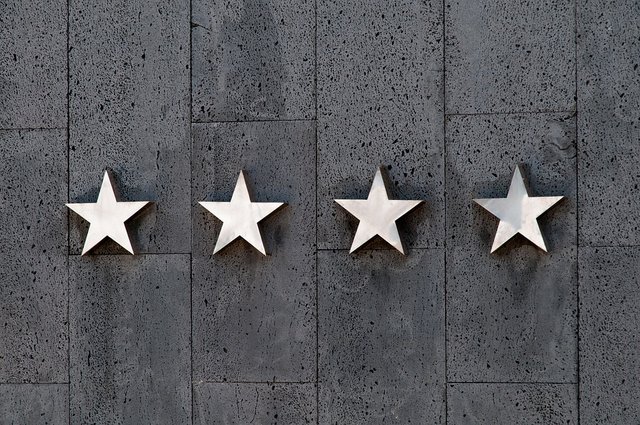 pixabay
---
For more wallet related Dapp, check Here
---
Useful links
---