Meet "CANwork": A Decentralized Freelance Marketplace For Digital Services
I don't think I would be wrong by saying freelancing is fast becoming a status quo in our modern society. The availability of freelancers go a long way to assist in the existence of many on-demand services. Come to think of it, don't you think the micromanagement of time and resources which eventually leads to extremely large savings might seem difficult to carry out in the absence of freelancing? Yes of course, it would! And talking about getting a job done when needed? No doubt freelancing do a lot to make that possible so that we can focus all our efforts on making that an accomplished mission. By so doing, we will be able to work more efficiently and achieve our goals with utmost certainty.
One of the things that freelancing is offering is the pliability to work anywhere and also have clients from anywhere around the world. Making extra cash in your spare time is interesting, and it also serve as alternative to unemployment for some people. No doubt, there are quite a lot of importance attached to freelancing. However, the freedom in freelancing comes at a cost, as the freelancers tend to face job insecurity, poor rewards and a whole lots of issues. In order to provide solutions to this problems, a team of individuals came up a unique blockchain-based freelancing platform known as "CANwork".
CANwork is a freelance marketplace decentralized application or blockchain-based platform built to find quality service providers who offers digital services (such as graphics design, digital marketing, content creation and software engineering) to clients, and it is currently categorized as one of the hottest DApps on stateofthedapps MEW DApp list. CANwork is currently accepting credit cards and Ethereum, with Bitcoin to follow soon as a means of Payment.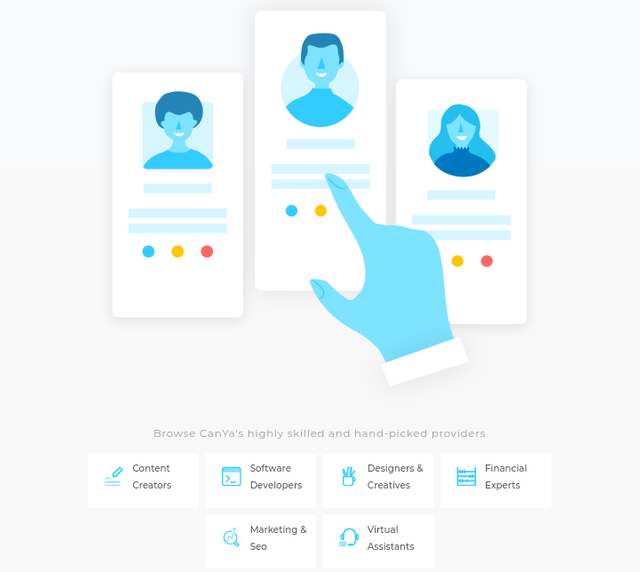 Screenshot from CANwork Website
1. Low Payment Fee: CANwork allows you to get maximum rewards for your work as they only take a 1% payment fee for every transaction you make.
2. High Service Providers: Since all service providers on CANwork are manually picked and vetted for their skills, then clients do not need to be scared of getting poor services, as all of their providers are highly qualified.
3. Fully Decentralized: Just as I said earlier, CANwork is a decentralized application. Thus, your data are kept personal and secured on the platform.
4. High Transaction Speed: It takes a shorter time for international transactions to be processed on CANwork since payment can be done globally with less fees using cryptocurrency.
5. Global Reach: The borderless nature of cryptocurrency payment improves the availability and usability of the CANwork platform to a wide range of people across the globe.
How Do You Get Started on CANwork?
You can either get started as a provider or as a client on CANwork. So, the first thing to do is to access the CANwork platform via this link
Getting Started as a Client
| S/N | Steps/Descriptions | Screenshots |
| --- | --- | --- |
| 1 | Sign in using either Google, Facebook or Dock. | |
| 2 | Since you are a client looking for talented service providers, choose "Clients". | |
| 3 | Set up your profile as client by including your full name, work email, ETH address and city. | |
| 4 | Complete your profile set up by adding an headline of your profile, create a Short bio of not more than 60 chars, click to choose a color scheme, write about yourself, accept the CANwork terms and conditions and then click on "Next". | |
| 5 | A page showing that your client profile is has been completed pops up and then you click on "Proceed". | |
Getting Started as a Provider
| S/N | Steps/Descriptions | Screenshots |
| --- | --- | --- |
| 1 | Sign in using either Google, Facebook or Dock. | |
| 2 | Since you are a service provider who want to find work, choose "Providers". | |
| 3 | Set up your profile as a service provider by including your ETH address, the service you provide, relevant skills, work email, hourly rate and city. | |
| 4 | Complete your profile set up by adding your full name, profession, a short bio of yourself, a writeup about what you do and your experience, choose a color scheme of your choice, accept the CANwork terms and conditions and then click on "Next". | |
| 5 | A page showing that your provider profile has been completed pops up and then you click on "Submit". | |
Take note that your application as a service provider on CANwork can take up to 72 hours before you are confirmed to be eligible as a provider or not.
How Does CANwork Work?
Post a request to a job to attract a qualified person for the job, or choose from the talented service providers hand-picked by CANwork itself.

You and your provider should agree to terms. Once there is agreement between both of you, pay into the CanYa escrow using credit card or cryptocurrencies.

Once the job is done and submitted to you, mark the job as complete so that your provider can get his payment. Do well to leave a rating and review concerning the service provided.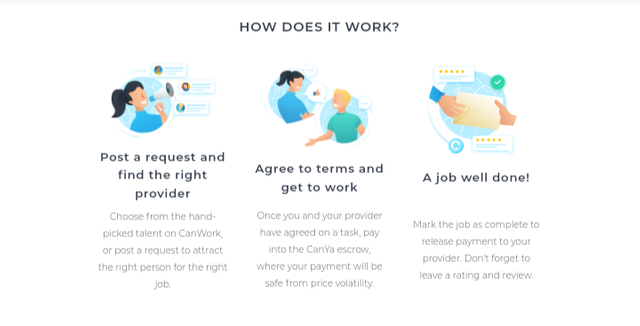 Screenshot from CANwork Website
CANwork's CanYaCoin - The Engine Behind CANwork
The payment system of CANwork is powered by the platform native token known as CanYaCoin or CAN. CAN helps in the implementation of blockchain-based trustless escrow service that is fully decentralized, which in turn form the bridge between a wide range of cryptocurrencies allowed on the CANwork platform. It is completely free to join CANwork.
CAN Apps - The Basic Components of CANwork
CAN Invoice: This is a basic component of CANwork that allows users to create their own clean, professional and accurate invoices without any difficulty.

CAN Track: This is a clearly defined and easy to use task tracker that assist you with the successful accomplishment of your project.

CAN Station: This particular CAN App helps you find out an ideal amount of gas required to successfully carry out your ETH transactions.

CAN Send: This App allows you to send ERC20 tokens to multiple ETH addresses at once, thereby saving you time and money.

CAN Share: This particular App allows you to send and receive files easier and faster using distributed technology.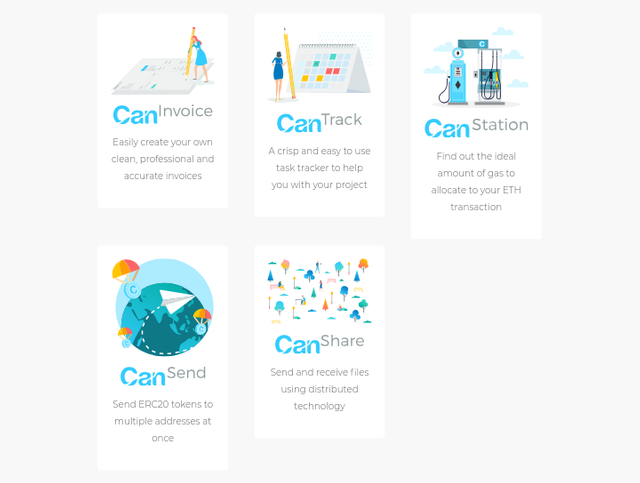 Screenshot from CANwork Website
What I Like About CANwork
I like the fact that it is easily accessible and it offers a simple to understand user interface to its users.

The low payment fee that allows service providers get more reward for their services is a turn on.

Clients are assured of getting high quality services from service providers.

International transactions can be processed without any delay.

It also have a wide range of Apps called CAN Apps that makes the experience on CANwork a crisp and easy one.
What I Do Not Like About CANwork
With the little time spent on the CANwork platform, I noticed clients who are looking for talented service providers are not readily available. Thereby, reducing job availability and the chance of providers to earn.
Final Thoughts
CANwork is definitely one of the best blockchain-based freelance platform with outstanding features that provides quality freelance service to its users. Their method of approach towards making sure that clients get high quality services, and providers get more reward for their work deserves accolade. However, it would be quite fantastic if more awareness can be done to onboard new clients looking for talented service providers. This will help make available more jobs for providers and you know what that means. More job equals more rewards!
Ratings
In general, CANwork is a unique platform and it has a very promising future in the freelance market. And as such, I will rate CANwork 4/5.
For More Information, Check these Links