CanWork - Next gen decentralised application providing a serviceplace for the world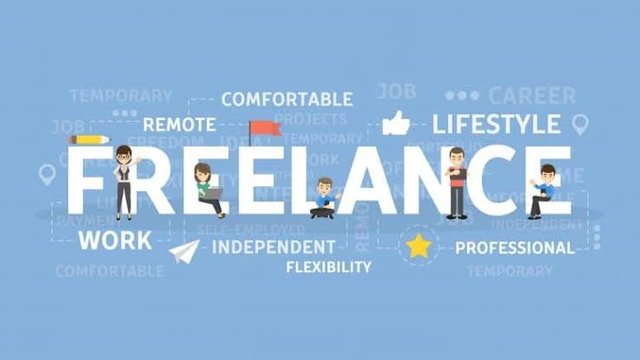 Source
Introduction
The internet has provided a global market place of various products ranging from the intangible to the tangible and almost anything one can think of, you need it? Just search for it and chances are that you will find your answer or get very close to it at the worst. One of the effects of modern communication fostered by the internet is the ability to for people to collaborate efforts, skills and ideas that provide solution to the public.
This development has led to the creation of several jobs opportunities where people have the ability to monetize their skills and services online, also known as freelancing, these skills and services include but are not limited to creative designing(website, graphics), content creation, programming, song writing, online assistant etc. Working online is a commonly sorted after endeavour as it provides people with flexible timing and a level of convenience in accomplishing their tasks.


Source
Today, there are several companies online that act as the medium through which users can list their skills and expertise while users who need these services go to the companies website to hire them. A typical example of how this works is this, Alice is a song writer that lists her skills on Tefwork, Tefwork is an online company that acts as a medium connecting businesses and freelancers in a collaborative effort in a remote environment. Alice states her price per time and is contacted by Bob who is a singer but needs the service of a song writer.
Bob hires Alice, company takes cut.
This has been the common practice in the last decade, however there's a huge loophole that is continually being exploited by these freelancing companies.
Online companies that serve as these freelancing mediums are known to charge somewhat exorbitant fees from freelancers, some go as far as charging 30-40% as commission just for being a medium on every sale, whereas the freelancers do all the work. Most of these online freelancing companies claim to charge high fees based on running expenditure and marketing, however, the truth of that is yet to be known.
While most freelancing companies charge high rates, a company stands out to take a different approach by charging just 1% remittance fee from freelancers, built on the Ethereum blockchain, CanWork is a decentralized freelancing marketplace application. It proves to be more ideal than similar freelancing companies because it helps save more money, personally it is only reasonable to think CanWork is positioned to serve the public better.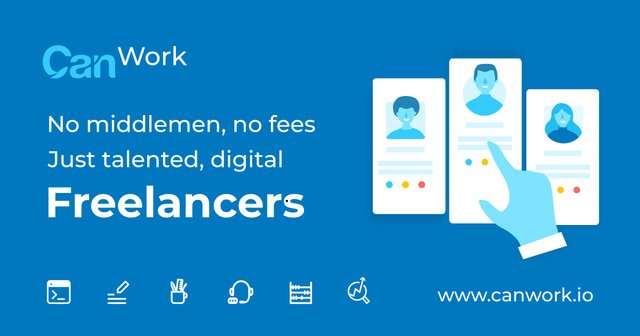 CanWork uses smart contract technology to process payments upfront. This is a trustless method intended to benefit both users, if any of the parties involved in a deal refuses to fulfil his/her own part of the agreement, the smart contract will not process the payment or it will return the money to the original owner.
canWork is positioned to switch to Binance blockchain early 2020, here's the post that explains more
How To Use
First thing is to ensure you've got an ethereum address and there's metamask installed on your system.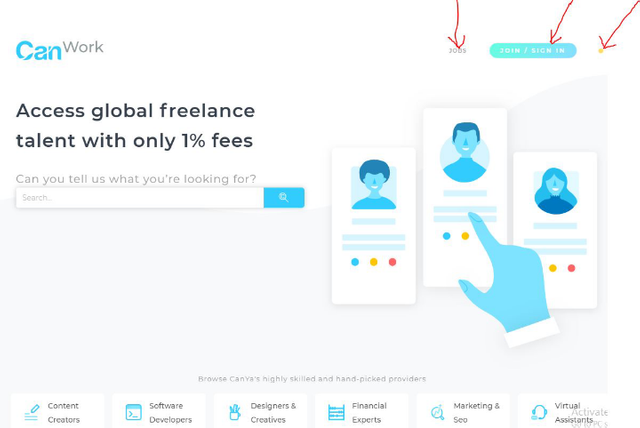 Visit canwork.io, click on the sign in button and sign in with gmail or dock account. After signing in youre presented with the next screen.

You either sign up as a client who is in search of a talent or you are a talent in search of Job. For illustration, lets assume I'm a talent.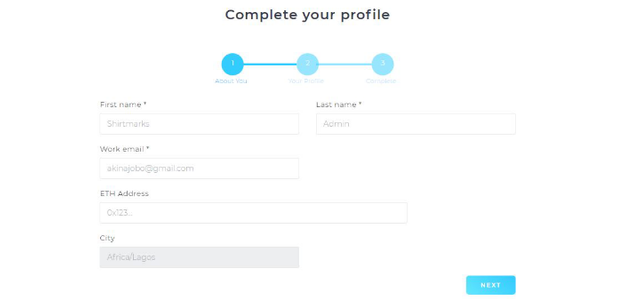 After filling all appropriate spaces with enough details then you're good to go.
Observation
After exploring each aspect of the Canwork Dapp, I noticed that not much activity goes on there, there is also a display of quite prominent professionals offering their services. The interface seems easy to use I found my way around easily.
Comparing Canwork with similar app Upwork
There are quite a number of companies online offering the freelancing services to clients, however the one I will like to make a comparation with is Upwork. Upwork, formerly Elance-oDesk, is a global freelancing platform where businesses and independent professionals connect and collaborate remotely.
Upwork has an easy to get around interface, and there are different level of tiers of users based on a subscription model with the beginner tier for free. According to this report, Upwork charges 30% fee from freelancers when they get a job. It is too expensive.
Conclusion
A very huge population of people want to work remotely, it provides more flexibility, moreover, there are a lot of start ups with great ideas with little or no capital enough to own an office space, hiring professionals online to work remotely is their saving grace thanks to online freelancing companies.
With the advent of blockchain and decentralization, these online freelancing companies do not need to be in charge of processing the payment as it obviously "incures" heavy charges, instead, payments are tied to a smart contract which benefits both the client and the freelance worker hereby mitigating the charges by over 90%.
CanWork is listed on the StateofDapps network with a profile strength of 100%, ranked number 26 in the MEW category with 829 transactions in the past month.
Why don't you give it a try. For more information, visit the following links.
Canwork Twittee
Canwork Instagram
Canwork youtube
Canwork github
Canwork telegram
Canwork facebook
Images are screenshots from usage on the platform, others are duly stated.