IRYO IS REDEFINING GLOBAL HEALTHCARE (DAPPREVIEW)
INTRODUCTION
We have seen how the blockchain has evolved from the days of just cryptocurrency to branching into different and important avenue that is beneficial to human. From financial aid through the means of investing and loaning, to ecommerce and game. Now we have the blockchain medical created for the betterment of the users lives.
In the medical world, we see how patients are not powerful enough to own their medical record and also how some can't relate well with their doctors. A sick person may be referred to different medical centers which in turn means that he/she has to move around with their medical records. This treatment is not restricted to a geo location, rather this is what people face all over the world. This is due to the lack of connection between healthcare providers around the world. Patient records can be seen scattered around all medical institutions and laboratories.
With this problem, doctores are rendered powerless and out of option other than to sometimes work with incomplete medical history of a patient which in most cases will cause an incomplete care for the patient concerned. Meaning without no complete medical record, some ailment cannot be completely treated. This is what Iryo thought of and why they created a solution to all problems plaguing the medical institutions. They are providing a platform for patients to have complete authority over their medical record or data to do as they like. Iryo is reshaping and redefining the usefulness of medical data across all medical field.

Image from iryo
Listed on the stateofthedapp data page Iryo originated from Slovenia and it's an open-source dapp built on the EOS platform by a team of intelligent minds namely :
Vasja Bocko. - CEO
Dominic Znidar. - CTO
Andrej Mihelic - Ux/UI Designer among others.
There sole aim is to create a "globally participating healthcare network" with an improved user experience for patients, healthcare practitioners and workers.
They are bent on resolving all issues relating to the disruption of healthcare medical data by using the OpenEHR medical standard by using the interoperability mode of working.
This is why they are based on the EOS blockchain because it gives them an efficient and scalable network. With means to share this said data with the parties involved in a more cheaper and less time consuming.
WHAT IS INTEROPERABILITY
Interoperability is the act of transferring medical information from one source to another in the form of a device or software.
WHAT IS OPENEHR
This can be said to mean a general form made specially for the medical field. It is build for the medical specialists like surgeons, cardiologists, cosmetologists among others.
Open - To make something public.
EHR - Electronic Health Record.
This means that the OpenEHR is a software that is helping to convert physical medical data form to electronic medical data form. This is built in such a way that it ensures universal interoperability among the medical field.
IRYO NETWORK
This is the name the Iryo dapp carries legally and it also summarises what the company is about.
NETWORK PROPERTIES
Zero - knowledge data : Ability to help the patients monetize their medical data without the means of revealing their privacy. It is a software that provides complete privacy from cyber attackers. To ensure this safety, all data are backed by 3 storage nodes namely;

Patients mobile dewie nodes: It gives users round the clock access to their data and avenue to exchange this data for token.

Encrypted iryocloud backup node: This is the place where it shows that all data are clearly audited while being maintained and securely backed up.

Encrypted clinic backup node: Data can be accessed here without any neteork connection due to the fact that they are locally stored and evenly distributed.

Having a general platform like openEhr for interoperability among medical practitioners can bring about blackmail on patient who do not want their record open to the public.

Unified Ehr: Provides a general electronic health record for all medical institutions.

Open-source Api: This dapp was made open so as to encourage developers to create additional solutions that will help scale the network.

Private key management : Launching this project on the blockchain gives patients full ownership of their medical data and also provides transparency in their medical dealings.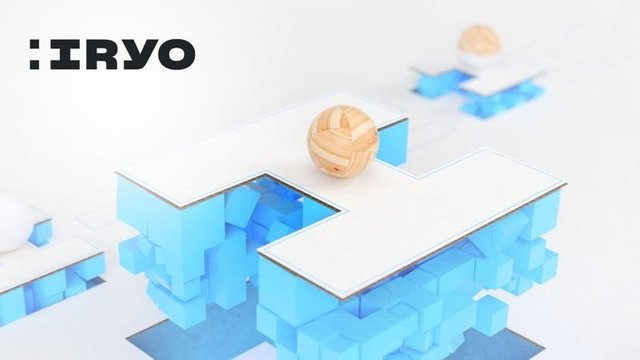 image from iryo
IRYO TOKEN
This token is called Iryo and its an Erc-20 token. It gives patients the ability to monetize their medical record by selling to researchers. Iryo token holders needs to stake some of their token for easy transaction on the chain.
WHY I LIKE IRYO
It gives patients autonomous power over their medical data
They provide interoperability by making sure medical systems are interconnected for effective treatment.
With the zero-knowledge software in place, all data are stored securely.
It is gives the medical worker easy access to patient files and an easy workflow.
It creates a wide pool of data source for medical researchers and also reduces cost when gathering this data.
It provides decentralised protection for medical data.
WHY I DON'T LIKE IRYO
With the improvement of technology, anything can happen tomorrow and zero-knowledge software might have a technology built by cyber attackers to access this secured files. Hereby exposing patient records to the public.
IN CONCLUSION
The Iryo network is partnering with an NGO called walk with me to help people in the war zones country to be able to walk around with their medical data. They have taken this information to the Middle East so as to make sure they are aware that their medical data can be carried around on their mobile phone.