Introduction
In our present world, it is not uncommon for brilliant, revolutionary and major problem-solving ideas that could be positively massive for humans and humanity to never come to fruition due to insurmountable hindrances. These hindrances can be in the form of logistics, manpower and in most cases, finances. If I were to be given a dollar for every brilliant idea that does not make it to the incubation stage due to financial constraints, Bill Gate might have to queue behind me in world's richest ranking.
The good news is that with the internet and advancement in technology, less and less of these radical ideas are being thrown into the oblivion as it is now easier for founders of ideas or projects to use the power of the crowd to get not just funding but other logistics and manpower that might be necessary for their successful incubation. No matter what you think you might need for that brilliant idea to become a reality, someone somewhere in some parts of the world has it and might be ready to give you.
Conventional crowdfunding using the opportunity offered by the internet, however, did come with its own challenges. Most of the platforms take a certain percentage of the donated funds as their fees while founders and backers of projects become nights and days that will never meet. As if those are not enough, donating through debit/credit cards or any other centralized payment method attracts pesky charges, some of which might deter backers from donating towards projects they fancy.
Crowdfunding with a difference
It is quite refreshing to know that the proliferation of blockchain projects with the immutability they have to offer has also created a niche for a crowdfunding platform that seems to have proffered solutions to all the problems associated with centralized crowdfunding platforms. Describing the platform using her own words'
Fundition is the next-generation, decentralized, peer-to-peer crowdfunding and donation platform brings project founders, backers and followers together.

The platform capitalized on the numerous opportunities provided by the blockchain to provide a peer to peer crowdfunding services, one that is devoid of a third party interference. As such supporters of projects in the form of backers and collaborators can directly donate to and relate with the founders of their favourite projects respectively. All forms of fees are also eliminated both from the founders' and the backers' sides.
The basic components of the Fundition platform include:
The founder: The founder is that person with great, innovative ideas or cause that could affect humans and humanity positively but lacks the resources to execute such. As such, he/she puts up a project on the Fundition platform with clear goals, objectives and resource requirement or financial implication that will bring the idea into fruition.
The backer: This is a financial supporter of a project on the platform. A backer donates directly to the founder either by using the steem token or other acceptable cryptocurrencies on the platform which have to be converted to the steem token before they can be transferred to the founder.
The collaborator: Fundition does not only offer peer to peer crowdfunding opportunity to project founders but also an opportunity to collaborate with people in order to achieve a particular goal/objective. Collaboration can bridge some of the resources gaps hindering the successful incubation of innovative ideas.
Onboarding and the Fundition Economy
Anyone and everyone can actually get access to the Fundition platform but only those with complimentary steem account can create, collaborate with and back projects.
Steem is a blockchain-based rewards platform, upon which users are able to monetize their content and grow their community. It is also a next-generation blockchain, uniquely designed to run real-time applications with near instant, fee-less transactions. Steem has been battled-tested since 2016, and has the capability of processing more transactions per second than Bitcoin and Ethereum combined.
Owing a steem account will automatically create an online steem cryptocurrency wallet as well as give users the power to create their crowdfunding projects on the platform and or collaborate with or support projects that tickle their fancies. Project founders have to upload their projects on the user's friendly platform which will enable backers to donate towards the project. In order to have a successful campaign, founders will need to be posting regular updates concerning their projects so as to keep backers updated on the project status as well as attract new backers for the project.
Collaborators get peer to peer access to project founders and can directly donate or receive funds from them. The primary currency on the platform is the steem cryptocurrency. However, donations can also come in the form of Bitcoin and Ethereum cryptocurrency but these will be automatically converted to the primary currency before they are transferred to the founder's wallet. The founder can then use the appropriate outlet to convert the steem into fiat currency in order to execute the project.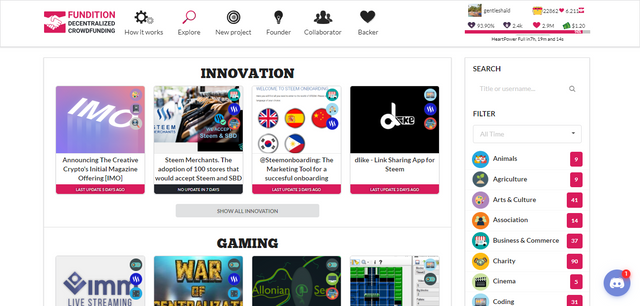 All forms of projects ranging from innovative ideas, gaming, charity, education to personal cause can be uploaded to the platform but it is left for the backer's to support the ones with proof of merit. However, projects on the platform must fulfill some basic rules in order to prevent abuse.
Defamation, insults, or coarse language. - Any comments suggesting endorsement of unlawful or dangerous acts - Overtly offensive remarks of a sexual, political, racist, or harmful nature. Any user engaging in such behavior will run the risk of exclusion from Fundition without prior warning. Please respect one another, and yourself.
Pros of using Fundition for Crowdfunding
Peer to peer interaction between project founders and backers/collaborators.
Founders get 100% of the funds donated by backers without any fees/charges
Backers do not have to pay any charges for donating. In fact, they get rewarded for donating towards a project.
Founders retain the rights to their contents.
Users friendly and well-engineered interface.
Cons of using Fundition for Crowdfunding
There is no option for direct fiats donation.
Project founders need to keep updating at least once every seven days in order to keep accepting donations from backers.
Project founders, backers and collaborators need to be compliant with blockchain and cryptocurrency in order to have a successful campaign on the platform.
Final thoughts
Fundition as a decentralized crowdfunding platform is still quite young (just about a year old) but has featured almost 300 unique crowdfunding projects with almost a hundred thousand US dollars raised as funds. It is not totally surprising to see the platform at the upper end of Dapp ranking on the state of the dapps.
The lack of an option for fiats donation is been worked on and that might change very soon. If will be more friendly if the developers can find a way around the compulsory updates in order to keep receiving donations as real-life situations can genuinely hinder project founders from uploading updates.
Cryptocurrency and blockchain technology are still quite young and mainstream adoption may be imminent in the nearest future. Hence, decentralized crowdfunding like Fundition who happens to also offer collaborating option might come in quite handy as far as the future of crowdfunding is concerned.
Personal Rating: 4/5