Github Repository
Project Github Repository
Introduction
It is the burden of any cryptocurrency owner or investor to have a secured place to keep his digital assets. There are many cryptocurrency wallets out there on the blockchain that are used to store specific cryptocurrencies belonging to a specific blockchain (Steem, EOS, Ethereum). Day in day out several cryptocurrency wallets are been launched.
There are many safe and secured cryptocurrency wallets on the blockchain and there are cryptocurrency wallets that are not secured too on the blockchain. I am not here today to say this cryptocurrency wallet is the best or that cryptocurrency wallet is the worst.
When it comes to the Ethereum blockchain or when it comes to cryptocurrency tokens that are backed by the Ethereum blockchain then one can tell a number of wallets without mentioning imToken. imToken is currently ranked 495 on State of the dapps.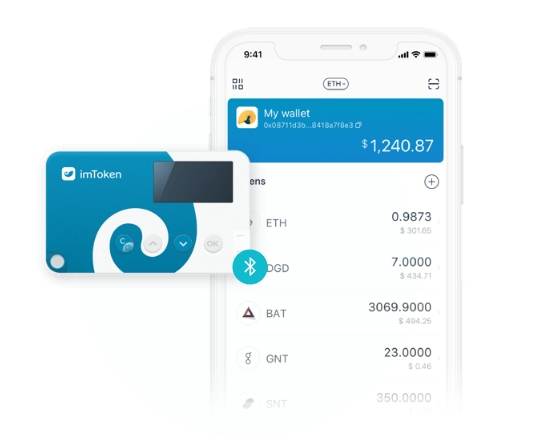 Screenshoot from https://token.im
About imToken?
In May 2016, imToken was launched as a mobile cryptocurrency wallet on the Ethereum blockchain. The brain behind imToken is Consen Labs, one of the early adopters of blockchain. Consen Labs has a wonderful team of specialists that live in Hangzhou, China. The mission of Consen Labs in producing imToken is to build a secure and trustless crypto-world for its users. imToken, therefore, is a powerful digital asset management tool that enables you to store a wide range of Ethereum, Bitcoin(BTC) among others.
imToken started its journey in 2016 with imToken 1.0, which only supported ERC20 tokens. imToken 1.0 bridged the gap between blockchain and millions of users across the globe with their support of ERC20 tokens that are based on Ethereum. It is about a year ago, that the team of Consen Labs released its latest version imToken 2.0 which goes beyond just the support of ERC20 token only but with mult-chain asset management and the introduction of a new identity concept.
imToken is a secure, safe, simple, and convenient mobile wallet for all your digital assets. Aside imToken being safe and secured, it also has a multi-chain asset management, decentralized application (DApp) browsers and private exchange of value for you to experience a great deal of the crypto-world.
Features of imToken
As the saying goes, every good thing has certain qualities that make it cherished by all that comes into conduct with and imToken is of no different here. The following are some components of imtoken;
Multi-Chain Wallets Management
This feature of imToken allows you to create a multi-chain wallet with one identity thereby enabling you to manage all your wallets with one mnemonic. You get to create your Bitcoin (BTC) and Ethereum (Eth) wallets for all your tokens and the great news here is that you can back them up in just a single click.
Wallet
This feature allows you to import your various wallets to imToken in just a click. The wallet feature helps you to interact with all your accounts at the same location. This makes you to better have the knowledge of all your digital assets to better manage all at a go. Your public address to help you import all your digital assets to imToken is also displayed here. All you need to do is to copy your wallet address to help you transfer all your digital assets to imToken.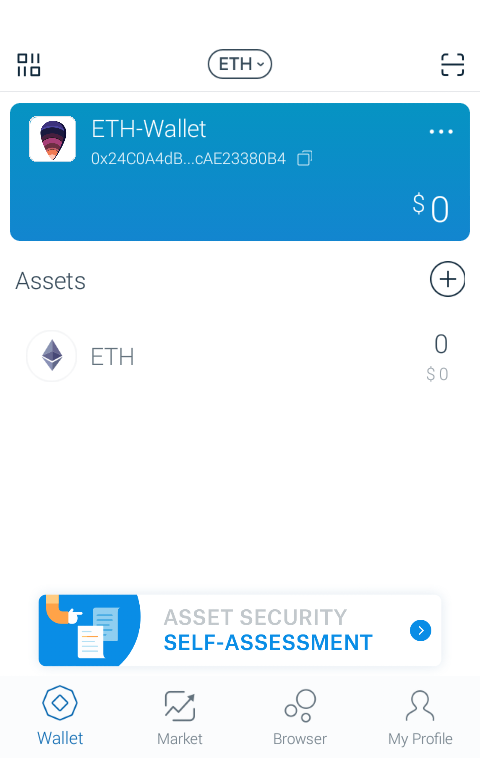 Market
The market feature on imToken allows you to view the prices of crypto tokens over a given period of time. This means that you get to know the change in prices of cryptocurrencies, you get to know which cryptocurrency is making it over a period of time and the various cryptocurrencies that are not making it in the market at a given time.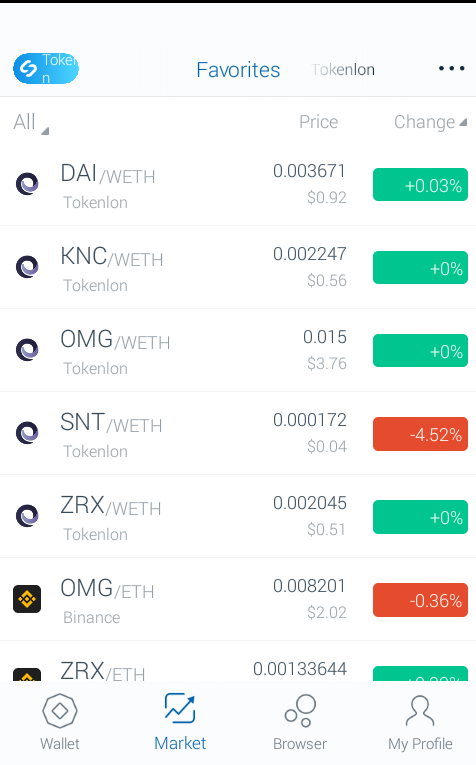 Browser
This feature allows you to browse through a wide range of decentralized applications, you get to do all you want at the same location and do not need to be opening different widgets to make transactions. All the browsers you need to make your blockchain experience on digital assets are laid before you.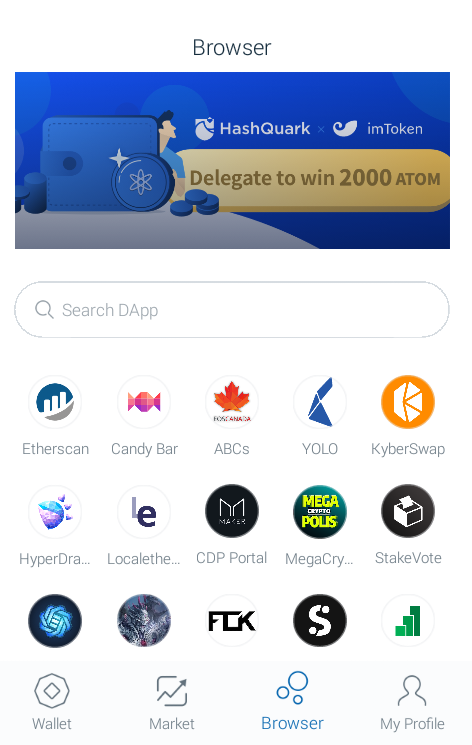 My Profile
This feature allows you to set how you want your experience with imToken to be. My profile allows you to access your setting, address book, notifications, support and feedback, terms and conditions to imToken, what you need to know about imToken, and subscription to their newsletter.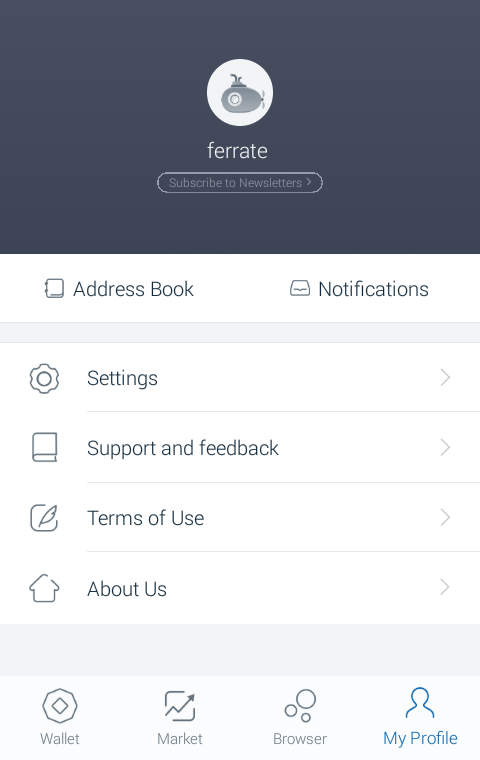 Friends Of imToken
imToken is partnered with great friends on the blockchain such as Ethereum, Cash, Polkadot, Cosmos, Enterprise Ethereum Alliance, Consensys, Etherscan, Ox and Kyber.network.

Getting Start With imToken
After you have successfully installed imToken on your mobile device, launch the application

Click on new wallet, agree to the terms of service to imToken, and click continue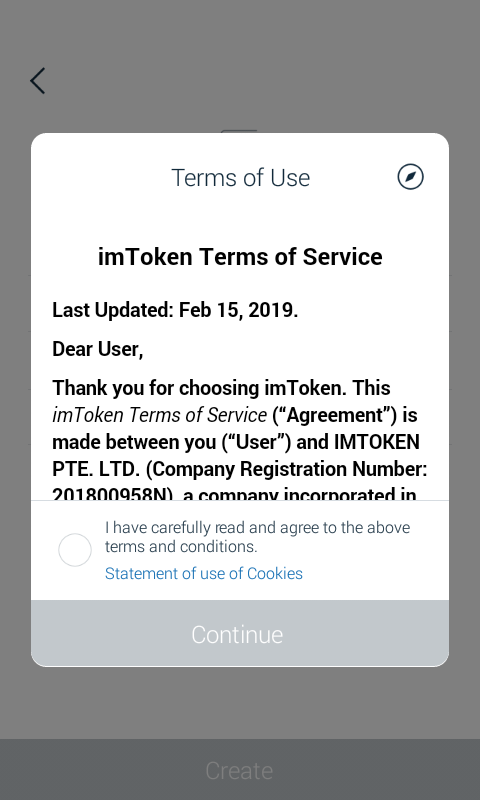 Create your identity by keying in your user name and password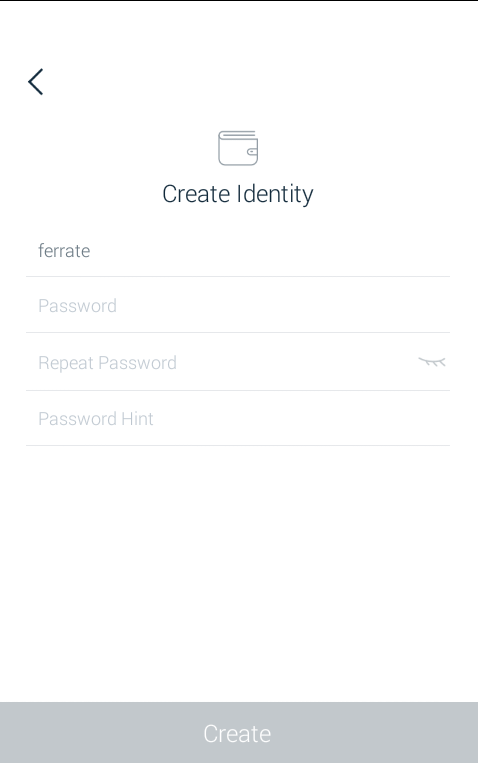 Backup your wallet with a mnemonic phrase. Note to not take a screenshot of the mnemonic phrase but you write or store them in a secure location.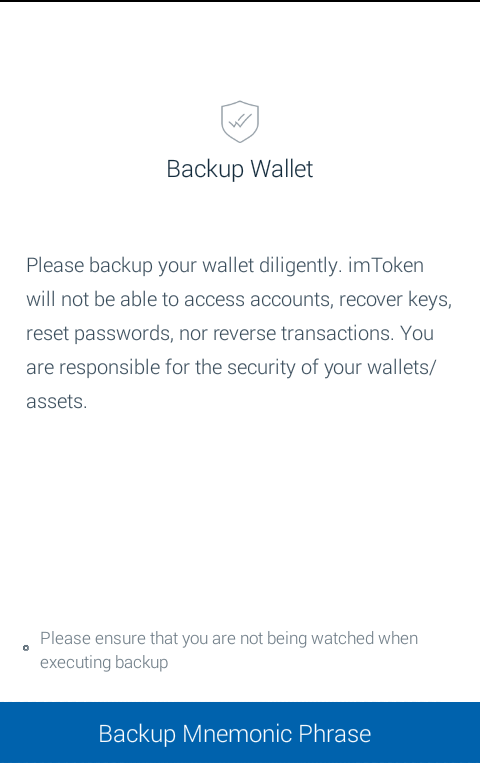 Confirm you have stored your mnemonic phrase at a secured location by arranging the phrase in ascending order then your account with imToken will be successfully created.

Now you start to import your various wallets to imToken

After importing your wallet(s) you can now send, exchange, receive, and manage your digital assets with imToken.
Why imToken
imToken allows you to manage your tokens in a way of adding, sending and receiving tokens via QR codes. There is no stress in making transactions. imToken also gives you a one-click token search.
imToken simplifies your experience with blockchain through safer transactions
With imToken, there is a digital identity system that allows you to login any DApp on the browse option. This happens automatically in the background of the decentralized applications on the browser feature, for seamless authorization and interaction.
imToken allows developers to get compatible with Web3 APIs and comprehensive imToken SDK documentation and provides extended functions such as identity interaction, token payment, and distributed storage management.
Conclusion
imToken is a mobile compatible cryptocurrency wallet is here and is here to make your experience with tokens and key a great one by building a secured and trustless crypto-world. With imToken your digital assets are safe and secured from hackers and frauds. Join imToken today and say bye-bye to hassling, you get to view all wallets on the go.
I give imToken 4.5/5 star rating.
All images used are screenshots from my imToken installed application, where as the rest of the images used from other sources have being sourced.
References
Github Repository
Project Github Repository
imToken Blog
imToken Website
---
Disclaimer: This is not a financial advice, nor a guarantee or promise in regards to any result that may be obtained from using the above content. The information provided here is for informational and entertainment purposes only. It should not be considered as financial and/or investment advice. No person should make any kind of financial decision without first consulting their own financial adviser and/or conducting their own research and due diligence.