Introduction
Crowdfunding is better when people make collaborations, I have been included in the Crowdfunding project for a great period of time and I know how important that is. There is a similar project that explains how important collaboration can be. It is Crowdholding which a dapp based on Ethereum and is a revolutionary collaboration network. It targets mostly businesses, by helping them to connect with the crowd through a website which is their platform actually. Where people can give feedback about the business and will support their brand and ideation. As much the crowd is contributing they will earn rewards if with time business becomes successful so do supporters will be rewarded. The ideology behind this dapp is very original and their main target group and economy are well-designed.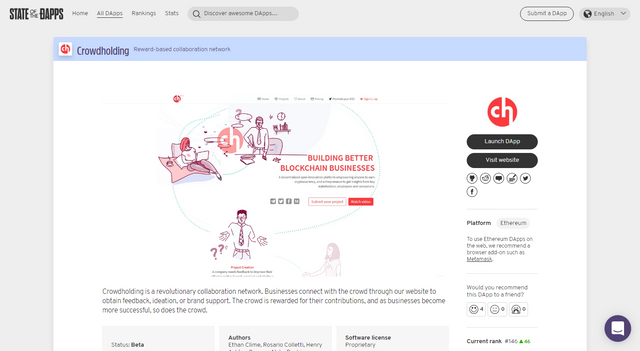 If you want to invest your time and make contributions to earn rewards here are the steps how you can log in to this amazing platform;
Firstly go to the website https://www.crowdholding.com and you will see the homepage, in the right corner of the homepage, there is a button to sign in or sign up if you do not have an account. Once you click here it will automatically pop up to connect with an easier way with Facebook or with Google account if you have any of those. The dapp will not get any authorization to post anything from your Facebook or Google account.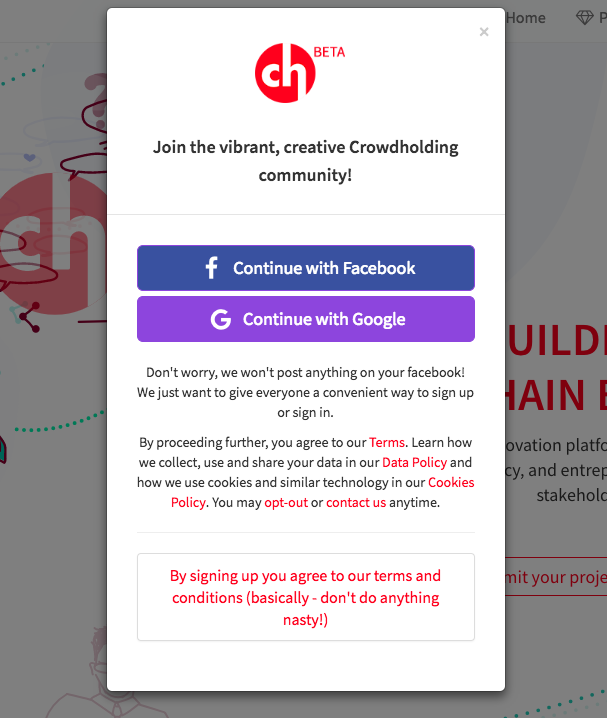 Once you are done with your profile than is your turn to finish up or edit your profile. Do not forget to add wallet on your profile so you can earn rewards on your wallet by giving responses to the tasks.
Your Pitch — A summary about yourself
About — Detailed summary about yourself
Skills —It can be anything of your skills, like Marketing, Blockchain
Social — You can share your social media accounts to
Wallet Address — The wallet address where you will send your earned tokens. Make sure to add Ethereum wallet address, not from any exchange.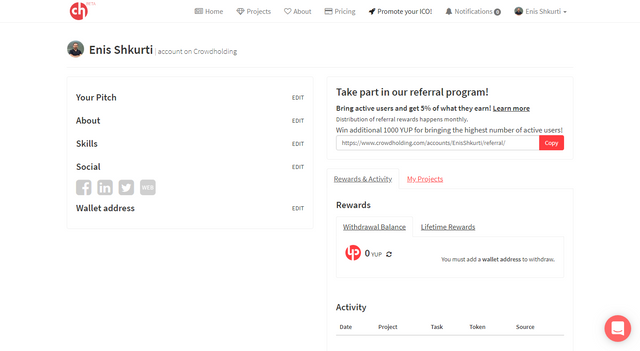 Withdrawal process
In your wallet section, make sure you add your wallet that is ERC20 compatible by clicking in the edit. If you do not have one, you can create a wallet on myetherwallet.com or download the metamask browser extension for that. Click 'withdraw' after you give information about your wallet and a popup will display what tradable tokens you are able to withdraw, because there are few tokens and based on Ethereum transacions you will recieve your tokens into your erc20 comatible wallet and if it is in any exchange you can exchange it to any other currency.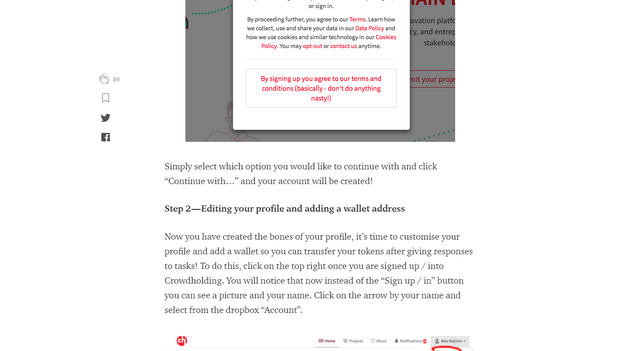 Conclusion
The reality of crowdfunding is different or collecting funds from the crowd is different than this project, but it does not mean that this project is useless. It has its own importance. It gives a chance for users to get rewards and with its model it is useful. The controlling may look like the other crowdfunding projects only the rewards are additional. So it shows that the project may have a problem with the centralization a little bit. But it will take some time for the project to get better because the Crowdfunding industry has great potential and will develop even more. So this will turn as an innovator in the business sector. What could be suggested is the connection with the network.
Have any questions? Here are the links about the Dapp;
You can send a message to in Facebook, or chatting with them on Telegram.
For more details watch the video below:

Disclaimer: The content of this post is not intended as financial advice, please observe to do your own research.
These pictures are a screenshot by me using Screely.com!