Reviewing OpenSea - A Decentralized Marketplace for Crypto-Collectibles on the Ethereum Blockchain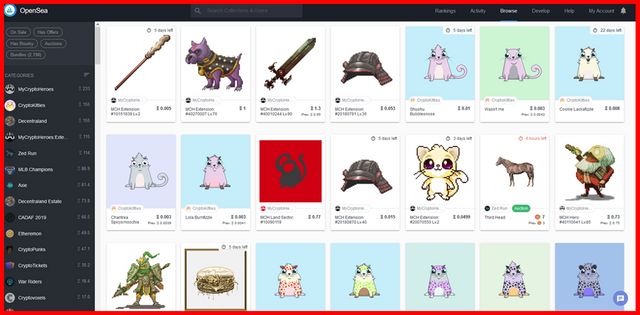 ---
OpenSea is currently listed as one of the featured DApps on the State of the DApps website and I'm really glad that I've found it there. When it comes to crypto-collectibles, the Ethereum blockchain has the absolute majority of virtual collectible items to choose from.
To invest in these crypto collectibles can be quite a daunting task, especially when you have little or no experience buying or selling them. OpenSea makes it extremely easy to see which different crypto collectibles are out there and they allow you to purchase or sell them straight from their website.
OpenSea provides their users with a lot of different statistics on the items that are listed for sale. It has an intuitive interface which allows you to quickly see the sales volume for any specific crypto collectible & you interact with their website through Metamask or other Ethereum wallet browser plugins.
---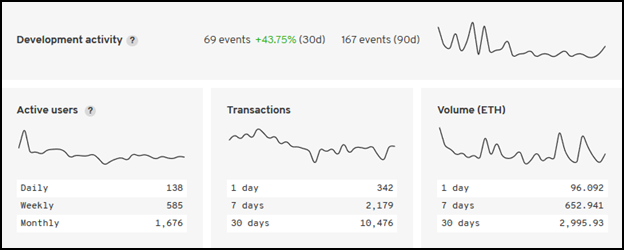 OpenSea Activity Stats on Stateofthedapps.com
---
Crypto Collectible Sales Listings
When you click on an item you want to buy, you will end up on a page that gives you information about the item. You can choose to make the seller an offer or buy the item directly, by paying the listing price. Make sure that you check out the listing history and all the traits the item has, so you're not overpaying.
---

---
As I've mentioned before, OpenSea provides you with many statistics of the item you're buying. What they exactly offer, depends on the type of crypto-collectible you're buying. CryptoKitties items will have different stats than items from BlockCities for example. It's your job to research every item to the best of your abilities and buy the ones that you deem to be a good investment.
---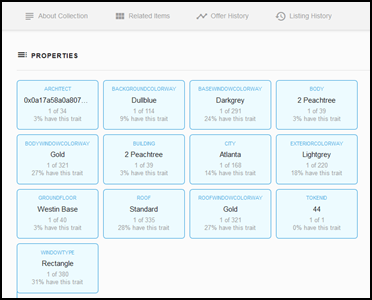 ---
One excellent feature that OpenSea has, is that you do not need any gas to make additional bids on an item. The first time you make a bid, you will have to sign an Ethereum transaction, but every subsequent bid will not cost you any extra gas.
---
Bounties & Referral Earnings
This is where OpenSea really shines! They allow you to earn commissions for referring people to buy individual items, which means that there is absolutely no limit to what you can earn with this. Given the fact that some items get sold for more than 100 ETH and bounty payments are typically between 1% and 2.5% of the item sale price, you can earn quite a lot with them.
---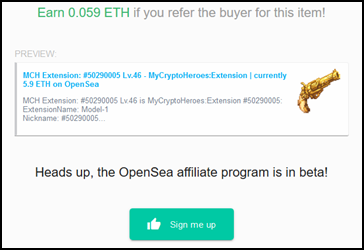 ---
Bounties can be found when you click on any given crypto collectible that's for sale on OpenSea. Sellers can also increase their bounties, for which they do not pay extra themselves, since bounties are paid through the general fee that OpenSea charges for each sale (which is 2.5%).
---

---
Conclusion
When going through the OpenSea digital asset marketplace, you'll notice that there are so many different games to buy crypto collectibles from. You can obviously choose from the more popular ones, such as the famous CryptoKitties, Mycryptoheroes or Decentraland - but there are literally dozens more to choose from.
Perhaps there are a bit too many games added, some do not have any volume at all, which is a bit of a downside for me. On the one hand, I like the fact that they've included so many, but on the other hand they could have also focused on the more popular ones.
OpenSea is obviously just focused on games on the Ethereum blockchain, so I'm a bit sad to see that something like Steem Monsters isn't included. Then again, having such a narrow focus isn't always a bad thing, especially not since there's a lot of trading volume on OpenSea, having even more crypto collectibles from different games included would definitely dilute the trading volume.
Because OpenSea offers an excellent experience for both buyer and seller, I give them a rating of 4 out of 5 stars!

---
---
Disclaimer: This post is not intended as financial advice. I am not responsible for any losses you incur by trading crypto collectible items. It's a very volatile market, practice due diligence!