Stargazing on a summer night - fundraising for a better camera for nighttime photography
Hello everyone! Yesterday, I made the 2 hour drive to Tuccahoe State Park in Maryland to star gaze with two of my friends (we social distanced). One thing which may not be considered about star gazing is how important it is to find an area with as little light pollution as possible, and how pressed for time these trips can be. You have to find a night when 1) the moon will not be out 2) the sky will be free of clouds 3) the weather will be nice and 4) everyone can go. Over the past 3 years, @astronomyizfun, @remlaps and I have gone on star gazing trips averaging twice a year. We have driven as close as fifteen minutes, and as far as five hours to try to get good quality photos of the stars in the past. Yesterday, my dad could not join us, so I had to make the trip alone.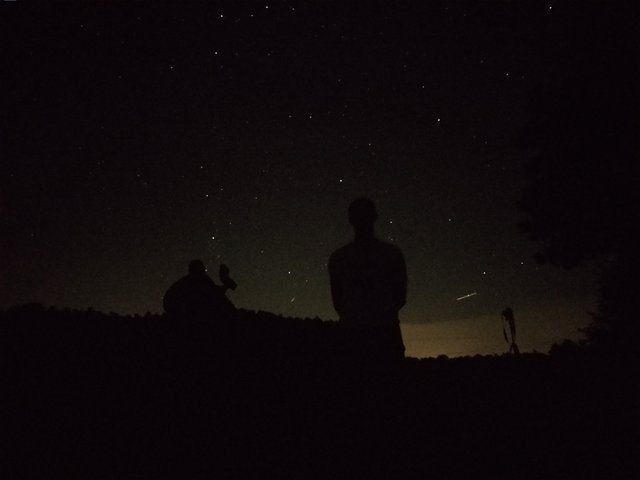 I am, in fact, wearing a Steem t shirt in this image
The 2 hour trip on largely abandoned roads forced me to finally learn how to use the cruise control in my car. This was my first time driving such a far distance, and I did it alone (despite my parents' worries). Before leaving, I stopped by Wawa and bought 3 bottles of mountain dew (so the caffeine would help me stay energized) as well as dinner.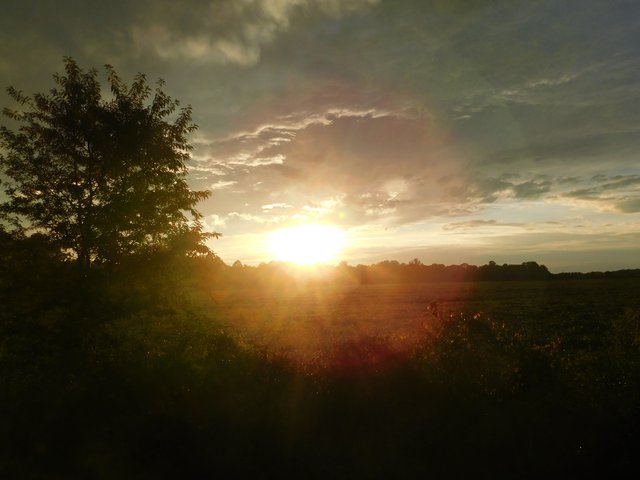 On the drive down, I listened to Beethoven's violin sonatas 6, 7, and 8. The disc was recorded by my piano teacher with Ms. Barbara Govatos, and given to me by him as a gift several years ago when I turned pages for their performance of the 8th violin sonata. I made it through the entire disc 1 and a half times on the drive down. On the way down, it rained really heavily at times. When it stopped, a very beautiful rainbow was visible. I pulled over and took a picture of it:
I arrived in Tuccahoe around 8:00pm. It was getting dark, and I did not know how to get to the park office (which is wear the permit we had gotten said we would be). I drove down a road for about ten minutes, and did not find the office (and likely left the park). I turned around, and drove all the way back to where my GPS had said that I'd arrived. I found a parking lot next to the lake, and parked. It was raining pretty heavily so I put on my rain coat and got out to look for signs about where the park office was. I walked for a while, and only found the sign that I'd seen on my way in. It was getting dark, and by this point, it was 8:30pm (when we were supposed to meet at the park office). I tried to call the park office, but I had no signal. I then thought to look at the directions I had printed in case my GPS stopped working. I realized that the GPS had told me to turn when I should have gone straight, and I drove straight. It still took me about 15 minutes to figure out where the office was.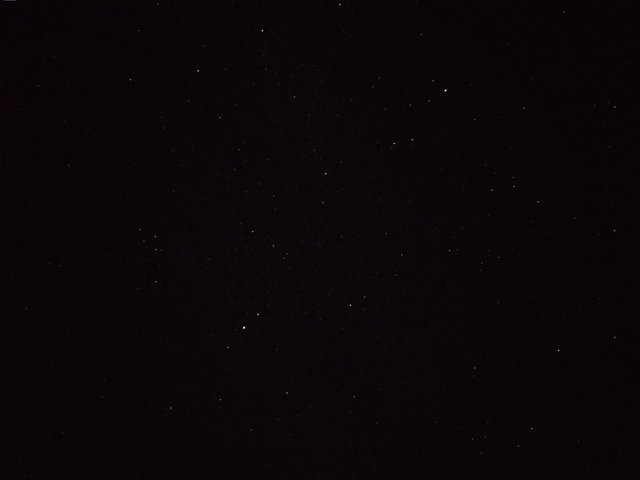 @astronomyizfun and our other friend pulled in about 5 minutes after I got there. It was still raining, and cloudy (it was supposed to clear up around 10pm). So while we waited, we walked down one of the park's trails. We talked about politics since yesterday was the first day of the DNC convention. We went back to our cars for bug spray, and then walked some more.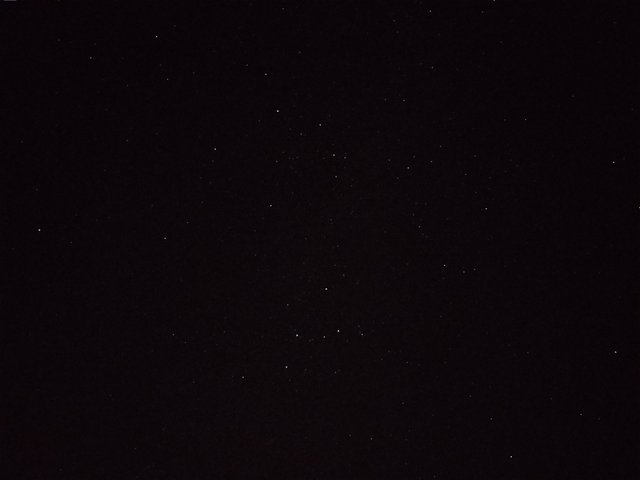 When it started to clear up, we walked back to the cars and got the telescope and my tripods. We began to set them up just in time. It is incredible how quickly the sky went from being cloudy and empty to being full of tiny stars. I tried to take photos with my dad's camera, but the settings are not good for nighttime photography (at least not yet. We may not be using it right). I quickly gave up that effort, and instead focused on taking photos with my cell phone.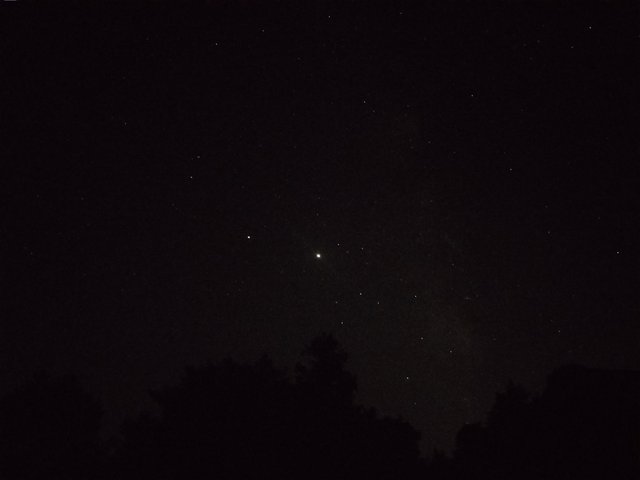 My cell phone only has a max iso of 800, and a max shutter speed of 10 seconds. Compared to my father's old cell phone (and @esouthern3's current cell phone) those settings are very limiting. I am still proud of these photos. For comparison, here are 2 photos. The one on the right was taken yesterday by my cell phone, and the one on the left was taken two years ago by my fathers old cell phone: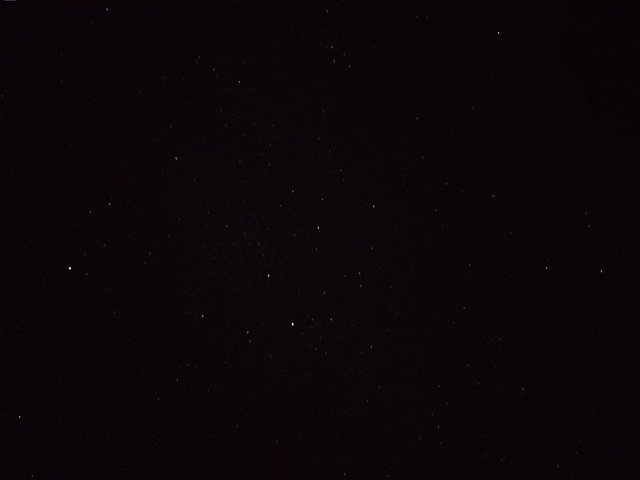 For reference, that phone had a max ISO of about 3000, and a max shutter speed of about 30 seconds. That photo was taken at Cherry Springs State Park in Western Pennsylvania. The skies there are much darker than at Tuccahoe, and my phone was virtually worthless (in comparison) for taking photos because of how dark it was. My father's old phone worked really well at picking up the stars!
Last night, I tried to use the telescope as a subject for artsy photos, and it went semi well. When we tried to take photos through the telescope, it had already gotten condensation on the inner lens.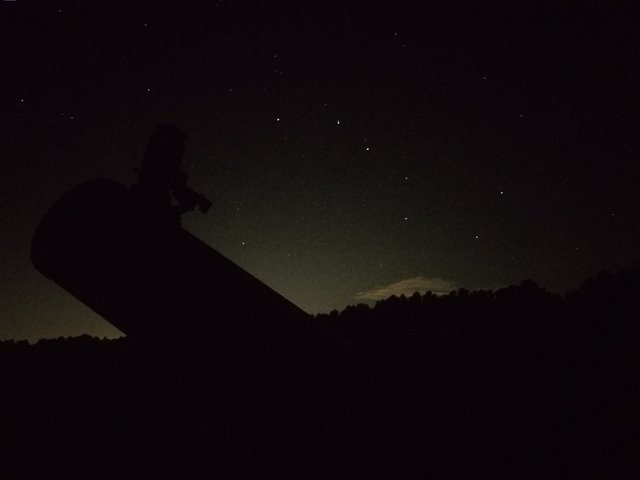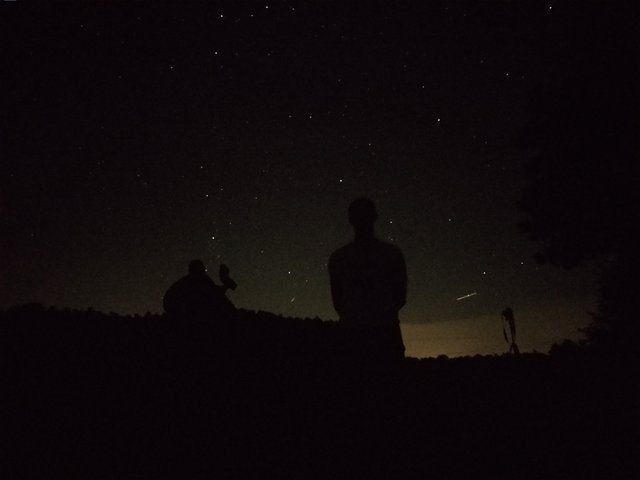 Fundraising to buy a better camera
My father, @astronomyizfun, and I (and several different friends) have been making these star gazing trips several times a year since 2018 (to serious locations about twice). I have decided it might be worthwhile to invest in a better camera for nighttime photography since we have been doing this pretty often. So, I am going to begin setting the account @steemstargazing (which we own) as the beneficiary for articles to fund raise for a better camera for us to use. The camera that I found has a maximum ISO of over 50,000! It costs about 1,000 dollars. I hope to fund raise that in time for our next trip (which might be as early as this Winter because 1) the sun goes down earlier in winter, and 2) the stars are much more prominent). Please consider supporting these articles!
To finish, here are some photos from our first trip to Cherry Springs (which has some of the darkest skies on the East Coast). On that particular day, there was a meteor shower; it was one of the coolest things I have ever seen. The background music will always make me think of our star gazing trips.
Conclussion
Thanks for reading this! I have not done a very good job at documenting our previous trips. I have a lot of photos from them, and I may put more videos together like the one from Cherry Springs. Please comment if you would be interested in seeing that!