Ferrum Network will launch $FRM Staking 2.0 as a value-added service to $FRM hodlers and users.

About FRM (Ferrum) Staking 2.0
With Staking, FRM Hodlers will be able to grow their funds by receiving rewards after a definite period by simply sending funds to the staking smart-contract.
Unlike the usual and traditional staking program, the Ferrum Network Staking 2.0 is kinda unique and in my own perspective, the only competitor of this staking program was themselves. Yes, their own Staking 1.0, although it's already finished, the idea of itself was an upgraded version of their 1.0. You can find the overview here.
Staking 2.0 Advantages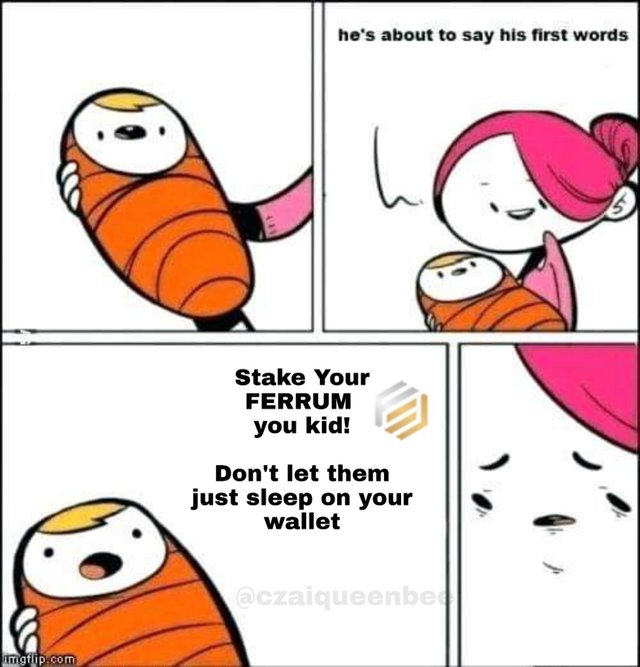 The Ferrum Staking 1.0 is indeed one of most successful staking on it's Field, infact one of its pools was sold out in just a minute after it's launch. They have learned from the past staking program that most users prefer higher higher rewards, and so, Staking 2.0 adopt the idea of 1.0 with more benefits and advantages, including;
Staking Amount- Ferrum Network team decreases the amount of minimum tokens needed on Staking 2.0. On version 1.0, the minimum amount of FRM needed to stake was 5000 FRM, while there is only 2500 minimum of FRM tokens needed on Staking 2.0.
Staking Wallet- There is only one Wallet compatible on Staking 1.0, and this is done through Metamask, while on Version 2.0, aside from Metamask, Staking 2.0 is now also compatible with Mew, Trust Wallet and MyCrypto.
Gas Charges- the Gas charged by the standard transaction fees on the version 1.0, while these will be reduced automatically on the Version 2.0
Ferrum Network staking 2.0 countdown can be seen on their website. There will be 3 staking pools, and once stakers stake their $FRM, it will be locked for a designated time of what pool they've chosen.
Staking 2.0 pools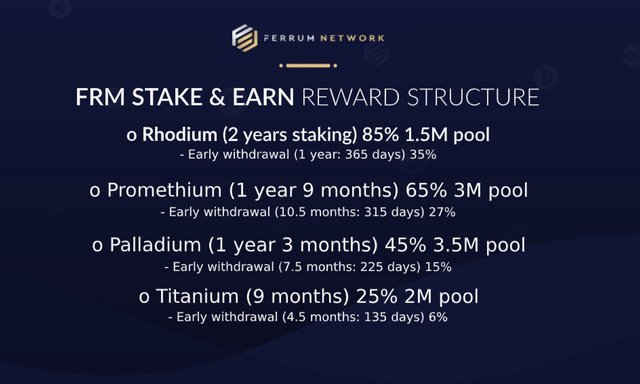 And if you 're interested in participating in any of these pools, you should Note that they will be open for 7days only.
Ferrum Network will also unvarying its initial FRM amount of the staking pool in order to provide a more accurate distribution of these rewards. It means, Stakeholders balances will now be derived by taking daily snapshots to calculate a final snapshot for each day from the day that they become eligible to get the rewards up til their maturity time. Meanwhile, the stakes of those who leave their term before maturity ( yeah stakeholders can leave before their maturity) will linger in the Staking pool and will be divided among stakeholders who waited their maturity aside from the 85% rewards for the fairest distribution of rewards to Stakeholders . In other words, another slice of pie for the strongest hands, Even you couldn't say no to that!
Author's Foreword
I have been holding FRM tokens since August 2019. I participated in their Social Mining where I can also earn by creating quality content for Ferrum Network. When I first heard that they were going to launch staking 2.0, the first thing that came to my mind was,* "Can I participate in Social Mining and Staking with the same FRM Tokens?"* I came up to their Telegram and asked about it, and they said YES! The minimum for Social Mining is 5000FRM, and as mentioned above, the minimum for 2.0 was 2500 FRM.
Disclamer: This is not investment or the financial advice. I'm not the financial expert by any stretch of the imagination. Most information within this article is speculative and merely my own personal opinion that was based on the research that I've done before writing it. Always conduct your own research.