Steem Social Media Blast Day Exclusive! The real story behind the distracted boyfriend MEME | #ssmbd | #WeAreSteemit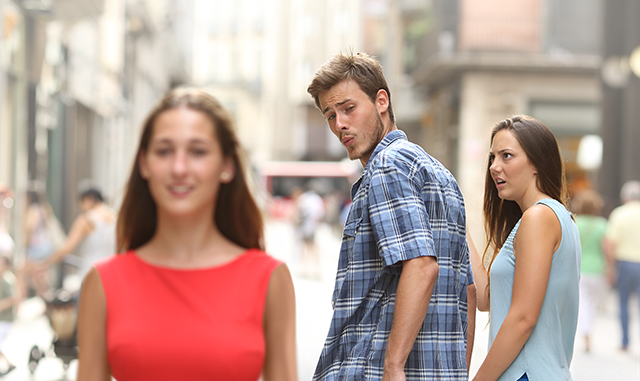 Many of you know the distracted boyfriend meme that has been around on the internet for a long time.
But do you know the true story why the boyfriend was distracted?
Today we share the full story behind this picture with you and show you exclusively for the Steem Social Media Blast Day from @timcliff why the boyfriend turns around for the other girl.
For years, the young couple was happy about their shared social networks and had a really great and fun time. But one day they realized that the published postings had lost a bit of flavor. Their friends and colleagues did not respond anymore to their selfies and only tagged them in sweepstakes and promotions. Even the news pages only published fake news and spread fear uncertainty doubt about all kinds of topics.
So they started searching for a new social network. A network based on a new technology. A network that is decentralized and provides new confidence to its members (thanks to the blockchain technology).
A transparent network where it's no longer easy to manipulate the shared information and every user has the same rights. A network created especially for the users and not the operators of the network.
And so one day the boyfriend saw the girl with the Steem bag walking along their way and he instantly fell in love with the new decentralized social network that is based on the steem blockchain - Steemit.com
Here it is. The full picture that shows the real story behind the distracted boyfriend meme!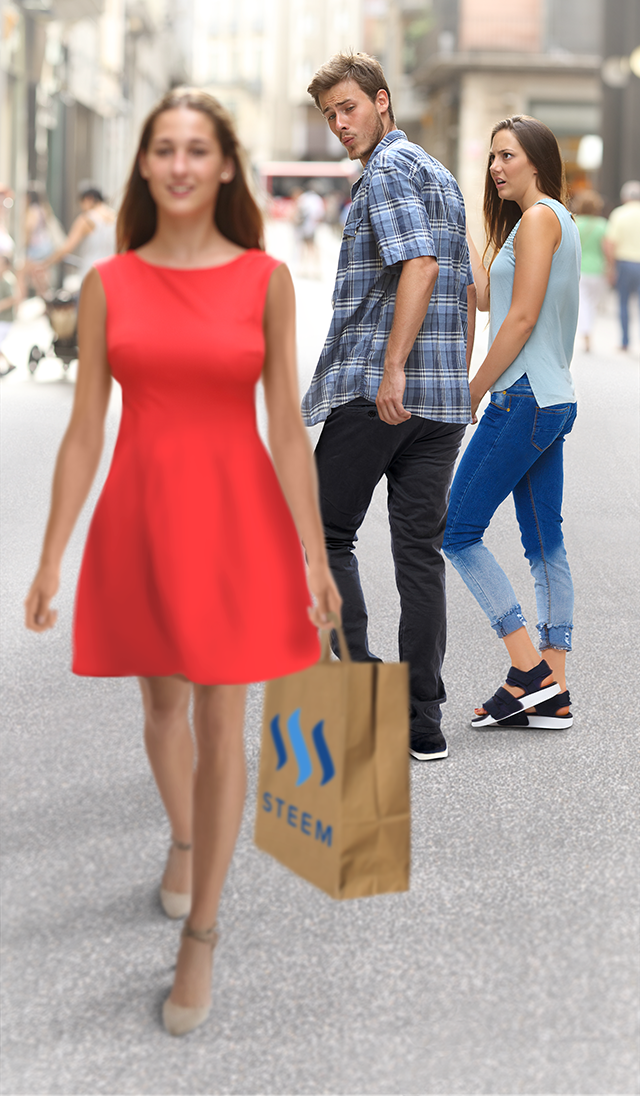 And so they discovered steemit, registered an account, became responsible members of the steemit community and since then they could live an independent and carefree social life on the steem blockchain.
The End
*This story is fictional and should only be used for entertainment purposes.
---
If you want to find out more about the Steem Social Media Blast Day, head over to @timcliff's article and read the full announcement.
At @LimeSoda we also wrote a very cool Best of Steem Blockchain Projects Article to give you a quick overview about what we have done so far for the Steem Blockchain and promoting teemit.
You can find the awesome collection here: https://steemit.com/steem/@limesoda/our-resources-for-tim-cliffs-steem-social-media-blast-day
We even have lectured on universitys about blockchain and steemit on different universitys in Austria. :)
I hope you enjoyed the story and the full MEME picture!
---
I also wrote an article on ONO Chat for the #ssmbd campaign: https://www.ono.chat/ono/article/?id=5b8e4483ad06420db44c84a12fadd542&content_type=2