| WHITEPAPER | WEBSITE | ANN THREAD | TWITTER | FACEBOOK | TELEGRAM | KAKAO | MEDIUM |
Coin Name : SRCOIN
Accepted currency: ETH
Total supply: 15 Billion SRCoins
-1st Pre-ICO Price: Jan 1st ~ 31st 2018 (UTC) 1 ETH = 700,000 SRCoins + 100,000 Bonus SRCoins
-2nd Pre-ICO Price: Feb 1st ~ 28th 2018 (UTC) 1 ETH = 700,000 SRCoins + 50,000 Bonus SRCoins
-Main ICO Price: March 1st ~ 31st 2018 (UTC) 1 ETH = 700,000 SRCoins + No Bonus
JOIN ICO
SEND ETH TO: 0xC1E137855E42d081ba1fA166cbC36EC09c223A3C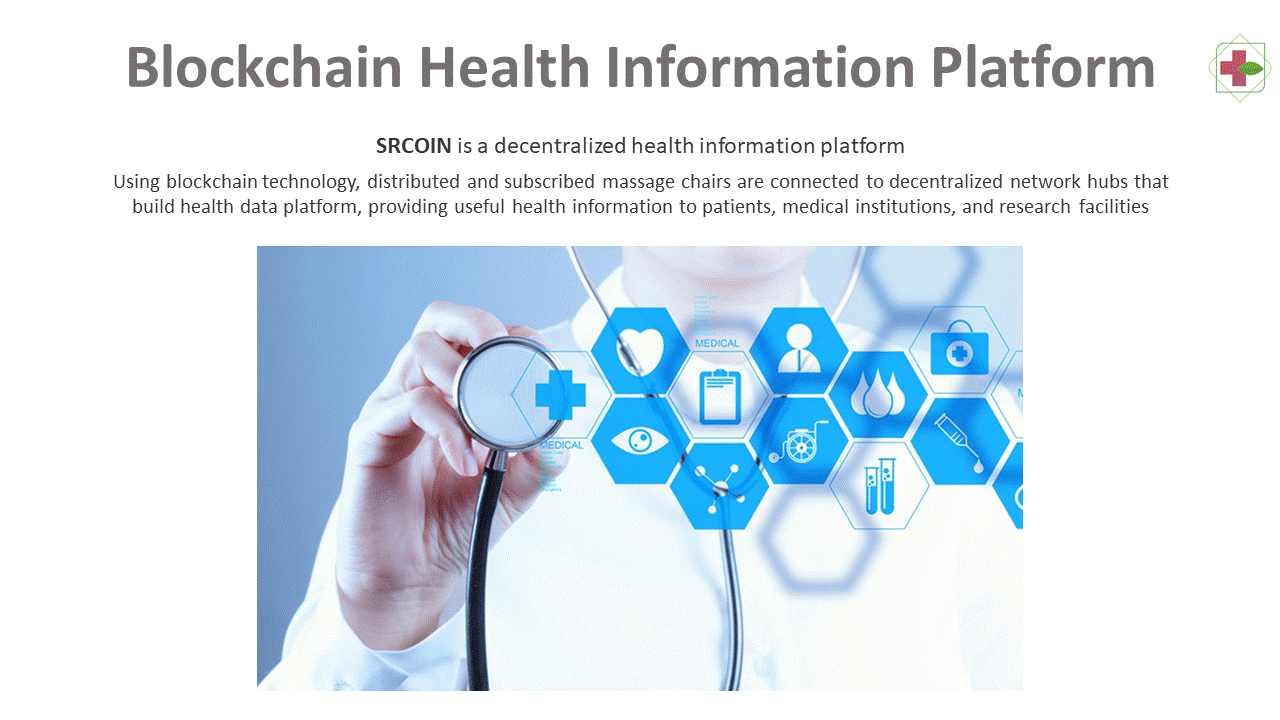 SRCoin is created with an account receivable as the underlying asset, which occurs when customers purchase subscription plan for K Rental products. In other words, the cash flow of the account receivable is the value of SRCoin. The account receivable represents the cash flow generated from the 5 year subscription contract's monthly fee.
SRCOIN is the product of utilizing state-of-the-art BlockChain technology with a foundation in the
profitable subscription business.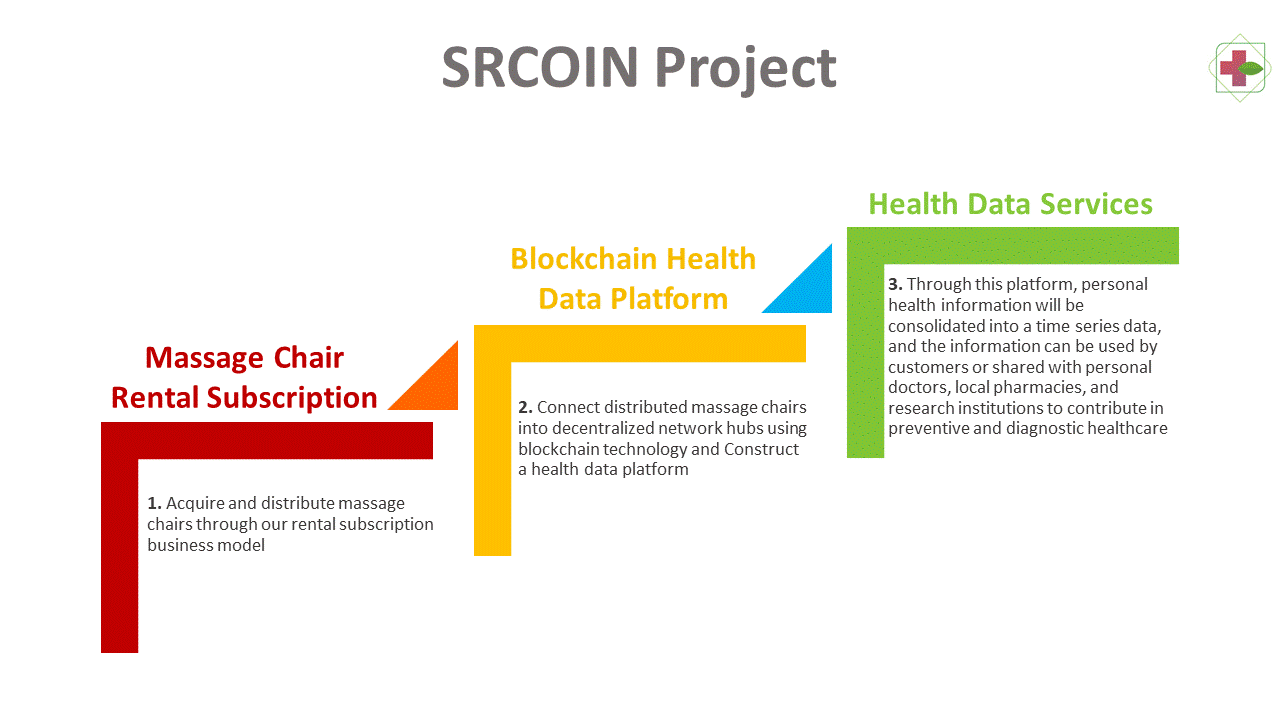 Key Advantages of Subscription Business?
Higher margin
Business consistency and continous cash flow
High company
kind of health data will be provided by SRCOIN Project
o Time Series Heart Rate Data
o Time Series Blood Pressure Data
o Time Series Sleep Analysis Data
o Time series Relaxation data
o Body Mass Index Change Data
o Body Fat Percentage Change Data
o Elevated Heart Rate Notification
o Blood Pressure Notification
o Before and After Usage of Message Chair Data for Heart Rate
o Before and After Usage of Message Chair Data for Blood Pressure
SRCoin: Smarter Choice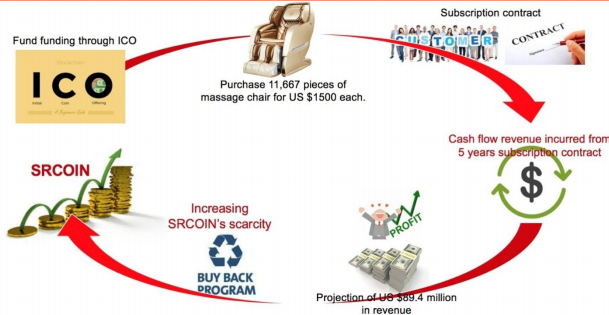 !
The value of SRCOINs is supported by underlying assets
SRCOIN is made so that the accounts receivable from subscription payments that customers pay for the products rented serve as the underlying assets. In essence, the cash flow from accounts receivable will be the underlying assets that support the value of SRCOINs.
Here, an account receivable (AR) refers to a subscription contract for at least 60 months and the monthly
cash flow that results from it.
 AR = (Monthly Subscription Fee) * (60 months)
 AR from a subscription contract of 1 unit of Massage Chair = US $4,967
 Hence, if there are new subscription contracts for 1500 units each month, the resulting increase
in AR for 1 year is US $89.4 million. (1500 units * $4,967 * 12 months)
In particular, the cash flow from subscription contracts for massage chairs, as follows from the contract itself, is guaranteed because the customers are legally responsible for paying the monthly subscription fees for the time period outlined in the contract
2.Established Company & Experienced management
The funds raised from the crowdsale of SRCOINs will be invested in K Rental, an already established company, and its project for starting the massage chair subscription business. Hence, there is fundamentally no risk of business not proceeding, meaning safety of investment and stability is guaranteed.
Also, SRCOIN's will commence a "visitation" program to Malaysia's K Rental every quarter for ICO contributors, and through this, they will be able to witness and verify the progress of SRCOIN's business. The method in which this will be carried out will be updated on the main website,
Buyback & Burn policy
Through our "buyback & burn" policy, we will constantly maintain SRCOIN's scarcity and create a stimulus for SRCOIN's price to rise. SRCOIN's buyback and burn policy will be carried out via smart contracts using BlockChain technology,
Also, for the first 3 years, 20% of the profits that result from the massage chair subscription business will be returned to ICO contributors in the form of Ethereum currency.
And over next 6 years, the amount of SRCOINs in circulation will decrease by ~81%. After 6 years, only ~19% of SRCOINs will be left in the market.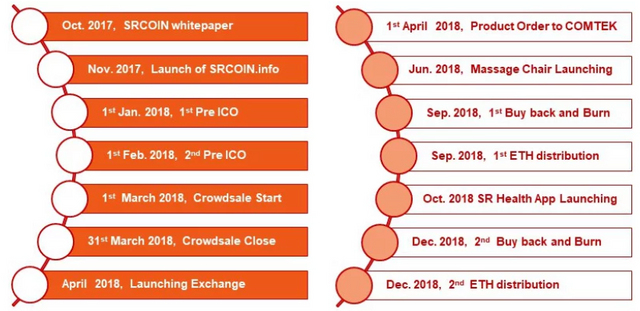 All health information shared with government and medical institutions will require customers consent, and the customers can decide to consent with the information collection and usage when they enter into subscription contract for message chairs.
Through our health platform app customers will be able to closely monitor their own health and immediately send required information to medical institutions if needed. This will lead to a decreased medical expenses and an increased efficiency in maintaining ones' health .Through more effective adult preventive care using time series health data, government spending can be decreased by more than 30%.
PLEASE JOIN BOUNTY
Bounty campaigns will last until the end of SRCOIN ICO. The rules of each bounty pool are different, the sizes of the pools are different, and points do not carry over from pool to pool. PLEASE READ ALL RULES CAREFULLY.