#SPUD4STEEM Confirmed Winners November 2020 🥔🌎🎈🎁🎉✨
24 hours has passed since the preliminary results were posted for the November edition of #spud4steem, we can now confirm who our five winners are and invite them to confirm acceptance of prizes.
🥔🥔🥔🥔🥔🥔🥔🥔🥔🥔🥔🥔🥔🥔🥔🥔🥔🥔🥔🥔🥔🥔🥔🥔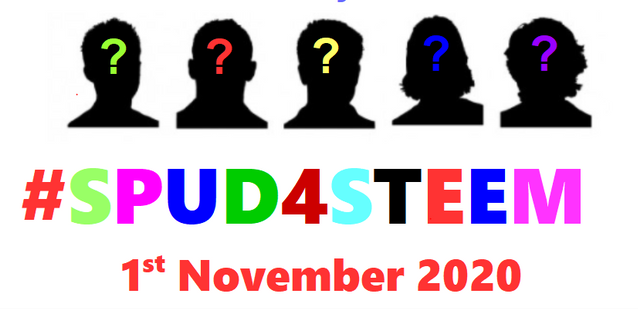 Lets meet our 5 Winners for November 🎈🎈🎈🎈🎈


A Steemian from Bangladesh who has been on Steemit since July 2020, he powered up 1,114 SP to claim first place with a increase of 478%, well done
🥔🥔🥔🥔🥔🥔🥔🥔🥔🥔🥔🥔🥔🥔🥔🥔🥔🥔🥔🥔🥔🥔🥔🥔


Another Steemian who joined in July 2020 and is also from Bangladesh who powered up 649 steem giving them second place with a 474% increase.
🥔🥔🥔🥔🥔🥔🥔🥔🥔🥔🥔🥔🥔🥔🥔🥔🥔🥔🥔🥔🥔🥔🥔🥔
3rd Place @hivemini Location TBC


Had a power up of 395 Steem which equated to a 295% increase to come third place, has been on Steemit since July 2020.
🥔🥔🥔🥔🥔🥔🥔🥔🥔🥔🥔🥔🥔🥔🥔🥔🥔🥔🥔🥔🥔🥔🥔🥔
4th Place @mesonia Nigeria

With a 519 SP power up coming in 4th is a Steemian who has been on Steemit since March 2020 - and is also very good at making Gif's.
🥔🥔🥔🥔🥔🥔🥔🥔🥔🥔🥔🥔🥔🥔🥔🥔🥔🥔🥔🥔🥔🥔🥔🥔
5th Place @alaraf Bangladesh


Is another Steemian from Bangladesh who powered up 298 SP for a 117% increase, has been on Steemit since August 2020.
🥔🥔🥔🥔🥔🥔🥔🥔🥔🥔🥔🥔🥔🥔🥔🥔🥔🥔🥔🥔🥔🥔🥔🥔


Click here to see full results/rankings
Well done to the above winners and everyone who powered up.
🥔🥔🥔🥔🥔🥔🥔🥔🥔🥔🥔🥔🥔🥔🥔🥔🥔🥔🥔🥔🥔🥔🥔🥔
@stephenkendal also announced his winners from the competition he runs every month to support #spud4steem
SBD Prizes
Big congrats to those winners
🥔🥔🥔🥔🥔🥔🥔🥔🥔🥔🥔🥔🥔🥔🥔🥔🥔🥔🥔🥔🥔🥔🥔🥔
Winners duties Prizes 1 -5
We now ask all winners to make a post about what prize they won like the example winner did below with (Selfie), This is done to protect our kind sponsors from accounts that do not act in the spirit of the #SPUD4STEEM message.
NO SUNGLASSES please
Here's an example
https://steemit.com/spud4steem/@sajannair/spud4steem-acceptance-of-prize
Winners have 24 hours to complete this task - the ⏰is ticking....
Once that is completed i will then ask sponsors to start the delegation prizes to applicable accounts
🌎🌎🌎🌎🌎🌎🌎🌎🌎🌎🌎🌎🌎🌎🌎🌎🌎🌎🌎🌎🌎🌎🌎🌎🌎
Sponsors
Thank you thank you, without sponsors we would have nothing please join me in thanking them
@xpilar
@steem.history
@reflektor
@hingsten
@bippe
@kiwi-crypto
@steem-supporter
@stephenkendal
@steemchiller
@kiwiscanfly
@randulakoralage
@steemcurator01
@steemcurator02
@steemitblog
Lets issue some prizes this time tomorrow...
All pictures and graphics are designed and owned by me :)
🌎🌎🌎🌎🌎🌎🌎🌎🌎🌎🌎🌎🌎🌎🌎🌎🌎🌎🌎🌎🌎🌎🌎🌎🌎
I am @kiwiscanfly