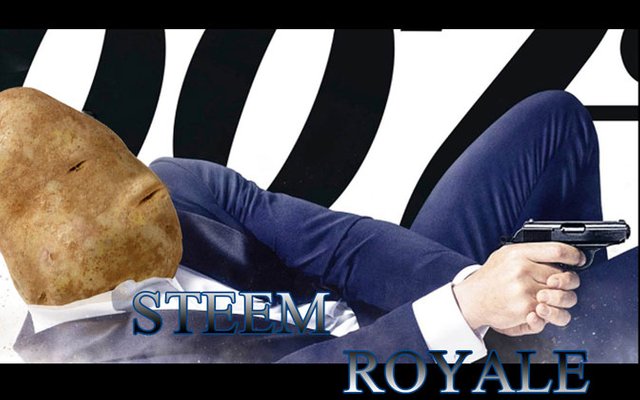 The Name is SPUD, STEEM SPUD
In a world filled with high stakes financial danger, SPUD 007 is here to help.
What is SPUD and How Will It Help?
SPUD stands for STEEM POWER UP DAY, and SPUD 007 is a Steem secret agent helping to keep the Steem blockchain safe and operational while helping to get the Steem price to the Moon!
Ok, ok, SPUD 007 is NOT a secret agent.
Instead, SPUD 007 is simply our Steem community's seventh time having a STEEM POWER UP DAY. The first SPUD event took place May 1st 2019, and has since gained support and popularity with the Steem community to where now we have prizes sponsored by other Steemians. At this point, we have prizes totaling around 9000 Delegated Steem Power along with other smaller prizes consisting of Steem Power, Steem coins, Steem Basic Income Levels (shares) and other prizes. There are around 20 prizes to be won, so plenty of winners for those that participate.
For those who still do not know what SPUD is, STEEM POWER UP DAY (SPUD) takes place the first day of every month.
On this day:
We ask that Steemians that are able, to POWER UP any amount of STEEM they have on SPUD day.
We ask Steemians that are currently Powering Down, to put a Stop on Powering Down for that Day, and if desired to commence the Power Down the following day.
We ask that those that trade or sell Steem to Not Sell or Trade Steem on SPUD Day, but to do it the day before or after if possible. Also, to cancel any type of Sell Order on the Exchanges.
Looking for SPUD Agents (Sponsors)
I was so surprised and encouraged a few SPUD's ago when without asking, @xpilar and crew offered to sponsor some major prizes for SPUD on a continuing basis. Since then, others have also offered to sponsor prizes, to the point where SPUD now has at least 20 prizes for those qualifying accounts that participate in SPUD. A few Steemians mentioned that they would like to sponsor a prize for SPUD 007, so please let me know what you have in mind.
Stay tuned for SPUD PRIZES and RULES.
FULL STEEM AHEAD!
+++ @streetstyle